It was the end of a long, fantastic day #1 for our group, the FAShion Arts Society of the Indianapolis Museum of Art. We were overnighting in Chicago, a first for our still-new affiliate group, in one of its grand downtown hotels. My roomies and I, pajama clad and tucked into our respective beds, were sipping on a night-cap bit o' wine (a soft French red) and chatting on the day. My friend Murph asked us, what our favorite aspect of the day was.
Having visited the studio of Nick Cave (creator of the spectacular "Soundsuit" that resides in the IMA's airy upstairs galleries, a riotous humanoid sculpture in every color of the rainbow and then some, topped with a gramophone and a sky-high, wire-formed, exquisite monstrosity in which a thousand birds, beads and doodads reside, which looks like something Marie Antionette would have commissioned to commemorate her wardrobe of monumental wigs); having stopped in at Viva Vintage (a gem of a vintage wearables showroom with a retro-chic proprietress who embodied to perfection the look and vibe of the business she has built); and having spent an über-luxurious couple of hours at the architecturally significant Burberry flagship store, fawning over gorgeous, hand-painted shoes and garments and being granted mini lessons in iconic trench coat history while champagne was sipped), this could have been a difficult question.
My best, most favorite impression of the day had been the intangible magic that happened over and over again as the women in our group (accompanied by a couple gallant husbands) tried on, and made theirs items and garments as we shopped, our senses having been stimulated - almost as if drugged - by the visual smorgasbord that was our privileged hour with Nick, his staff and the layers upon layers upon layers of hand-stitched and beaded fabrics that breathed with a life all their own.
You see, the fashion love as shared by FAShion Arts Society members is the glue. The diversity by which it is manifested in each member is the thing that makes our group singularly purposeful and fun. No income level or method of one's proverbial 9-5 or level of expertise is an issue. Therefore, creativity in fund-raising, fashion education and appreciation is tapped time and again because that diversity defaults to keeping things a tad outside the box and fresh.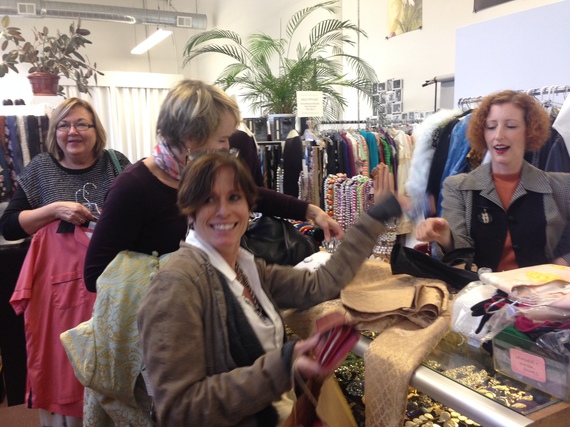 And the magic? Again, as the uniqueness of each member in attendance exists from the get-go, so was it reflected as everyone shopped. What I love about this is realizing that deeper meaning and some element of true happiness borne of things n stuff (a theme I touch upon again and again) is as alive as it is real. Something wonderful happens when the just-right piece meets its new owner. I was blown away by how vintage items - feathered hats, brocade vests, angora mittens, beaded evening bags - came alive in the hands of the women who tried on and bought them. This is fashion reincarnation of the best kind; everything old is new again, indeed.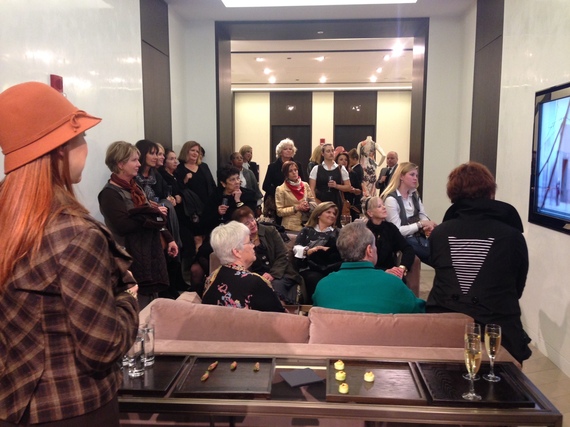 The same thing happened again at Burberry, when out of exquisitely lush, high fashion collections that filled salon after salon, pieces were quickly zeroed in on and pronounced "perfect" by fellow FAS members - collectors and venerable patrons who quickly morphed into good-times relishing FAShoppers. Not only that, I was impressed by how these just-right choices so instantly enhanced each and every person in their own, unique context. On one, it was an earthy, fringed plaid cape draped over the shoulders; on another, it was the added elegance of a bit of fox trim, belted and tucked. For one, it was the utilitarian refinement of a top-notch clutch. For me, I confess it was the lure of what I have long dubbed my 5th food group, a little work of art commonly known as a shoe.
Fun with meaning, fun with a purpose, fun for fun's sake, uniquely found within each participant and with each other. My easy answer to Murph's question was this: to have witnessed and shared into that simple magic was the best part of the day.
Thanks to Niloo Paydar, IMA Textile & Fashion Arts Curator, to Lauren Lucchesi, IMA, and to Patti Curan, FAS VP and trip co-planner. Thanks to Nick Cave and his staff; thanks to Amy Ernst Mayberry and Viva Vintage. Thanks to Leah Yancy, Burberry Indianapolis, to our Chicago Burberry hosts and to Burberry Group.
For more information on the FAShion Arts Society, click here
Related