If you're anything like us, you've spent many an hour (as much as you can without it having a negative effect on your productivity) scrolling through Instagram. If you're even more like us, you love fashion and Instagram at the same time. If that's the case, there are some lovely ladies we'd like to introduce you to.
These bloggers are masters of the mismatched print, know precisely which filter to use every time and provide a healthy dose of outfit inspo every time they post. Basically, we love them, and you should too.
Gabi's blog gives us some of our favorite outfit inspiration, and her Instagram does not disappoint. She documents moments from her personal life (like moving into a new apartment and late-night cupcake runs) as well as fashion posts and collaboration announcements. Her most recent is this FABULOUS bikini that she designed with SwimsuitsForAll.
We recently had the chance to chat with Nicolette, and learned what we already thought was true -- she's pretty amazing. Her Instagram, much like her blog, maintains a lovely aesthetic. Oh, and did we mention she's getting married AND has an adorable pup? Those two things alone are reasons to follow this gorgeous gal.
Our go-to for style tips -- and inspirational quotes. Tanesha's style is always on-point. And for any moms-to-be, her pregnancy photos are a perfect example of maternity chic. Bonus: She posts adorable photos of her new baby.
What we love most about Franceta is that on top of being a fashion blogger, she is also an extremely talented graphic design student. Her photos show off her urban-chic style and give her an opportunity to showcase some of her amazing drawings.
Looking for a dose of fabulous? Look no further than Garner Style. Not only are we obsessed with her bold statement pieces and fearlessness when it comes to color, she ALSO has a really cute dog. Can you tell we kind of love cute dogs? Add to that a splash of funny memes, and this girl's photo feed has it all.
This gal posts a combonation of epic California views, delicious-looking eats and, of course, some excellent style. She also thinks that "pants are overrated," so expect a ton of cute dresses on her page, too.
Jill and Aisha are the names behind this burgeoning blog. Together, they have been featured on TED, and even created a body image film and arts festival. On their Instagram you'll find photos of the two ladies in action -- and even if you don't like cats, you won't be able to help falling in love with their furry friends.
Nadia is a master of curve-hugging clothing that is actually flattering. She uses her Instagram as an outlet to show off those amazing outfits and also, occasionally, an inspirational quote or two.
If Marie of Curvy Fashionista's killer curls aren't enough to get you to follow her, maybe her fun posts with celebs (Hi, Oprah) or playful attitude will do the trick. Also, anyone who uploads a photo of themselves in a pajama onesie is OK in our book.
Ragini is one of the most adorable bloggers we have ever seen (Even her blog name -- A Curious Fancy -- is cute), so naturally her Instagram is no exception. Check her out rocking some amazing hats and headscarves. And, even though she doesn't need it, her no makeup shots provide a bit of fresh-faced inspiration, too.
Hanna started her blog with a challenge -- to wear every item in her closet at least once. Now, it has evolved into a place for her to show off some great style, and her photo feed is just that. Daily outfit posts provide insights into how she makes her clothing work for her body.
Who are some of your favorite fashion bloggers on Instagram? Sound off below!
Related
Before You Go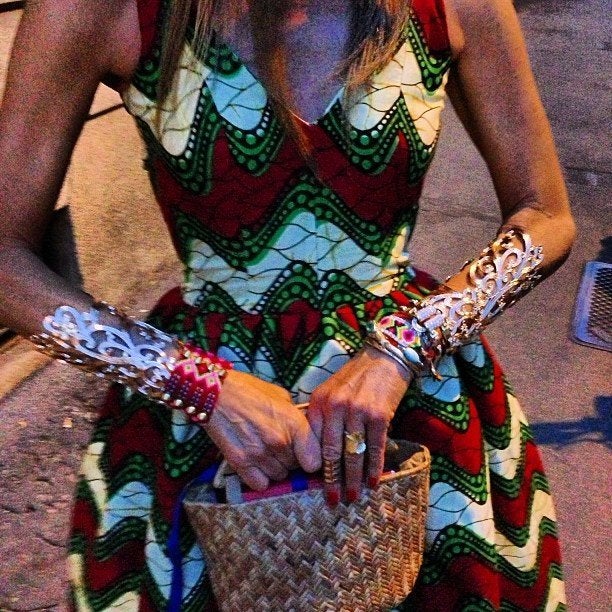 Instagrams We Love