I am a convinced supporter of the power of dreams, and I know for a fact that when you are able to visualize your goals, and you work to make them happen focusing on becoming a better version of you while impacting the world, life will treat you right, at the right time and in the right way. I am dedicated to finding women that empower the world as part of their mission, and I feel particularly proud when fashion can be used to uplift women and make them feel the better version of themselves. I have a special woman I want you to meet, a fashion designer, a dreamer, an achiever, a mom and someone that lives with the mission of empowering women: Shahida Clayton.
"Shahida, the founder and designer of Shahida Parides, grew up in India. Her family taught her to follow her dreams - and follow them she did! Relying on her strong entrepreneurial spirit, she launched a manufacturing company. Shahida spent fifteen years successfully designing, manufacturing, and distributing private label dresses for major retailers. It was during this time in life where she met her future husband, fell in love, and moved to America and became a citizen. There she raised a family and continued to design and manufacture for retailers around the globe. In 2012, it was time for Shahida to launch her own dream. Her dream was a dream of creating clothing that strengthened women's desire to bring all their fairytales to life. It was a dream to have a collection that reinforced women's ability to walk in the world with pride and power. In a matter of just a few years, Shahida's talent and success has lead to her being featured in fashion shows around the world receiving international acclaim and now her line is placed in over 200 specialty boutiques. Her signature bright colors, custom prints and contemporary versions of the traditional kaftan and jumpsuits, thrust the wearer into fashion leadership. Inspired by breathtaking creativity of other cultures, the mystical allure of nature and her travel experiences, Shahida delivers a simple chicness for the customers, allowing them to take on the world, to embrace their dreams, and live their own fairytale."
I was introduced to Shahida by an other great woman, Tracie May Wagner, who believed in us working together in the name of fashion and the greater good. I was asked to be the ambassador of a capsule collection by Shahida Parides with models that I would have selected from her new collection, and to benefit the charity of my heart, The Wishwall Foundation
I felt a sense of pride discovering also with more details about Shahida, her story and her mission. When she grew up, she saw her mom and grandmother struggle trying to provide for their families. They had no education and there was not a lot of opportunity for growth. Many women are in the same position now and it's a vicious cycle continuing on from generation to generation. Shahida wants to empower these woman to never feel desperate and be able to work and provide for their families. She is teaching skill sets and creating jobs for woman in India that these women can feel proud of, so that they can take care of their families without having to rely on men. Independence for women is very hard to accomplish in India, she wants woman to know they don't stand alone, that we stand together in support of one another.
I visited India many times and I have a special connection with that beautiful country, Shahida's heart risonated with mine and together we decided to launch the #heart2heart collection, with outstanding and unique models that give 30% of the proceeds in the support meaningful wishes coming true. I want you all to get to know better this great woman and what inspired her to become who she is.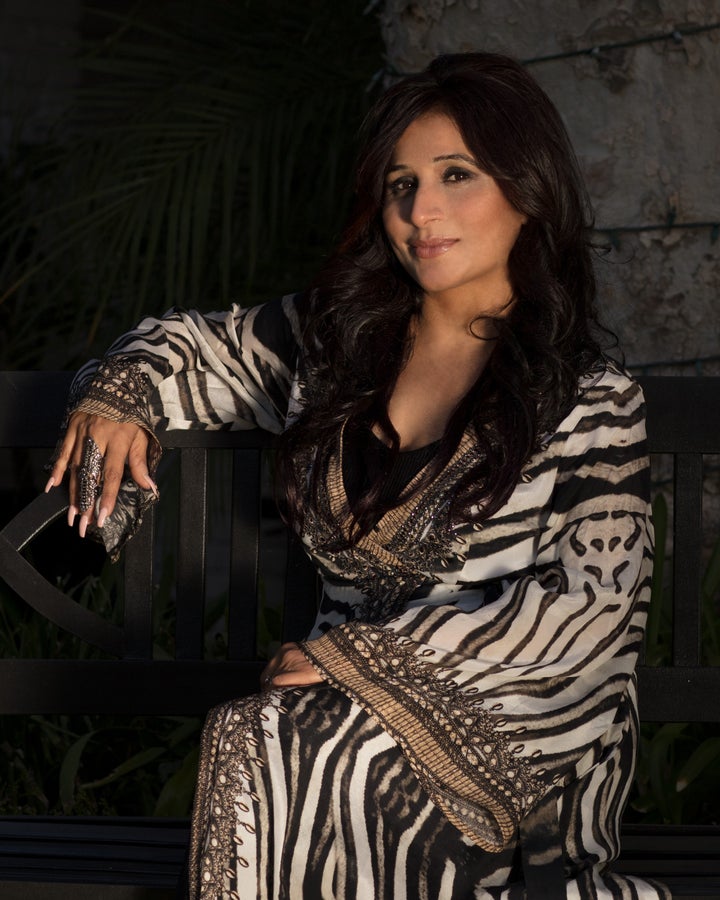 When you were a child, did you wish for the career and for the life that you have manifested today?
When I was a little girl, I was fascinated by a local television news anchor named Salma Sultan. I wanted to grow up to be like her. She was incredibly chic and elegant, and I was captivated by her unique sense of style. I grew up in a conservative Muslim neighborhood within Old Delhi in India, and women wear hijabs in public so that their heads are always covered in modesty. Salma's signature look was big rose worn behind her ear, similar to that of Billie Holiday, and that was so exotic and beautiful to me. It's not that I wanted the career of a news anchor per say, I just wanted the freedom to express myself through my style choices like Salma did.
Name a wish that you had for your life or for humanity that finally came true.
I wished to become my own boss and launch a fashion brand that reflects the beauty of my culture and heritage, while making every woman who wears it feel beautiful, luxurious and empowered. I also wish to continue having the ability to create job opportunities for women in India who are living in hardship, while simultaneously teaching them the necessary skill sets for self-reliance and financial independence. I feel like I am accomplishing that every single day through my brand and that gives me a tremendous amount of pride.
**I am proud of you too, Shahida. I made a choice to represent and work only with who I really believe in, and everything about this brand makes me prouder every day. The lines are to die for, the first time I wore some Shahida Parides pieces I seriously felt like a rock star. We took a photoshoot in my beloved Philadelphia and I litterally stopped traffic. I felt so confident in my red kimono - a special creation of our collection - and when a woman feels beautiful everybody can see it. Together we can support the international movement of The Wishwall, bringing walls of hope around the world, and this gives me even more a sense of pride.
If you were granted one wish for humanity or for our planet, what would it be?
I would wish for humanity to never lose hope.
**That is why we are fighting together Shahida, and I hope everyone out there can feel the power there is behind the #heart2heart collection and decide to support us. Together we can be part of something really big, bringing The Wishwall in every city and making women beautiful and empowered.
If you could go back in time and ask one question from anyone from history, who would you want to meet and what question would you ask?
I would want to speak one last time with my mother who passed away many years ago. I would ask "How did you know? How could you foresee that I would succeed and become the matriarch of our family?"
Please tell me what influences your unique sense of style?
My personal sense of style is definitely a cultural fusion- Bollywood meets Hollywood. I love pairing a colorful and ornate silk blouse with a jacket, a pair of skinny jeans and stiletto heeled boots, mixing my rich Indian heritage with current Western trends.
Who is your favorite fashion designer or brand right now and why?
Naeem Khan, who is also a fellow Indian Muslim designer I might add. I love his work and the intricate detail within his garments. He is exceptionally talented.
What is your fashion mantra?
**What a powerful yet deep fashion mantra. Your personal style is a constant research to make your inner self reflect outside. Paradoxly, it is not easy to be just you and at the same time it is the real key to winning.
What is your final message for our readers?
No matter where you are from and what obstacles life puts in front of you, if you dream big and work hard, you will succeed.
**When your life is your mission you can create something magical. Once again fashion shows what a powerful tool it is in making a difference. I am very grateful to you Shahida and I toast to us, women who want to empower women. We are many and we need to stand together. Please become part of our dream, wear a #heart2heart piece and send me and Shahida your pictures. We want to see our women out there giving back in style!
As always, make your wishes come true.
From Philadelphia, The Celebrity Wishmaker Simonetta Lein