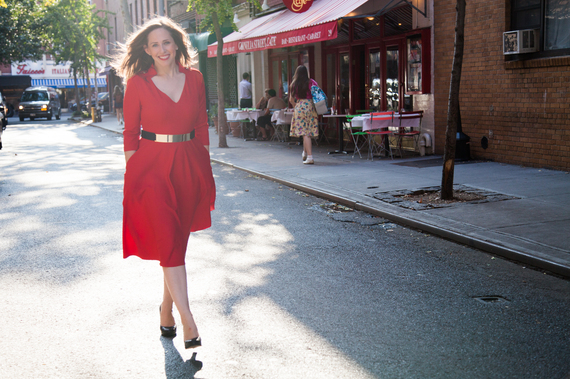 Carrie Hammer may soon become a household name after rocking New York Fashion Week for her Spring 2015 fashion show, featuring role models, not runway models.
Hammer, who started out in advertising and sales and never intended to enter the fashion industry, faced a problem one day a couple of years ago when she went in search of a custom dress to suit her professional life. "All the other men were getting their suits tailored and custom made," says Hammer, "so I wanted a custom outfit, too." Her request reached a dead end when "those just don't exist for women," someone told her.
What could have been a stumbling block turned into an opportunity for Hammer, who decided to make dresses for herself. "Every day, people would stop me on the street multiple times a day and ask me where I got my dress. I realized there was a need for custom dresses for professional women." And so her brand was born, which markets to professional women in need of custom, tailored garments primarily through her website.
But when it came time for her debut fashion show at New York Fashion Week in February 2014, however, Carrie dreaded one part: casting models. "All my clients are such role models. I can't send under-age women down the runway," explained Hammer.
The fashion industry is no stranger to controversy surrounding the use of models who are under-age and/or underweight. Carrie Hammer's brand, however, which exists to "empower women by making them feel incredible in their business and personal lives to help them achieve their goals" is rooted in a different, broader definition of beauty.
So instead of traditional fashion models, Hammer selected 24 successful "role models" of all shapes and sizes to send down the runway, ranging from CEOs, Lawyers, Entrepreneurs, and more. By doing this, she wanted to make a statement to the fashion industry:
"Beauty to me is confidence. The woman's beauty shows by integrating her interior disposition and radiating it outward. The dresses only enhance that. My clothes are a frame; the woman is the piece of art."
Fun, tailored, and professional are adjectives that came to mind when seeing the garments on the runway. The dresses serve not only a practical purpose fulfilling an unmet need, but also inspire joy from the women who wear the designs. As Hammer described:
The women walking the runway outshone the clothes, but I wanted that to happen. Women want to buy the clothes because they see the role model walking down the runway and they say, 'That's me!' They want to know how the clothes are going to look on their own body. The viewers had an emotional connection and identified with the role models. They want to feel like that woman feels.
Her non-conventional approach to fashion sales may have raised a few eyebrows from the occasional skeptic who told her, "the women won't know how to sell the clothes because they are not professional models." On the contrary, Hammer says requests for her designs are only increasing. For now, she plans to continue only showcasing role models in the future. And she shouldn't worry, because it is working. Says Hammer, women are "parched and thirsty for something like this."
Will other fashion designers follow suit? Says Hammer, "I hope this gets copied."
Popular in the Community