This year the fashion industry appears to be feeing a different kind of burn. Everyone from Alexandra Wang's recent shows, to legendary purveyor of the marijuana life style, High Times have made inroads into fashion that proudly emblazons that other lucky three leafed plant. Weed's slow burn into the ether of American pop culture has reached its zenith and no band represents that more than PUFF PUFF PASS. Created by SoCal designer/entrepreneurs Tom Hamilton and Kyan Edwards, and celebrity stylist Nicolas Bru, with a super sexy campaign shot by fashion photographer Mike Rosenthal, PPP is a distinctive lifestyle brand that put a high fashion spin on the typically stoner image, celebrating good times, good design and sharing culture that has permeated the cultural landscape.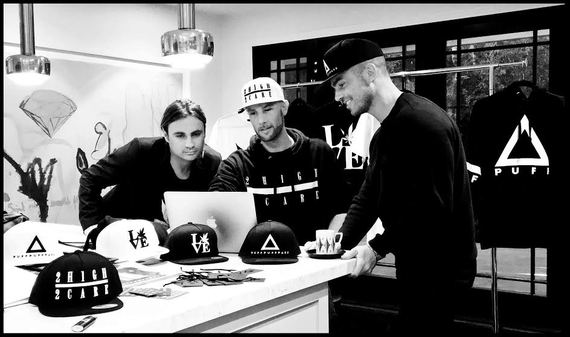 PUFF PUFF PASS is a luxury lifestyle brand rooted in the current modern youth culture celebrating the marijuana movement sweeping the US and the World. Reminiscent of skate gear brands like Vision Street Wear, and magazine vanguards of youth style likeTHRASHER, the talented trio have created a high quality collection that bridges high fashion design with youthful American exuberance evident in contemporary youth culture. I spoke to co-founder and designer Thomas Hamilton on why you should NOT pass on their gear.

What was your inspiration for PUFF PUFF PASS?
The concept and inspiration stems from the true root of what PUFFPUFFPASS actually stands for "Take what you need and then pass it on." This mantra has been applied to smoking for decades, but particularly how it applies to life in general, is really the core of what we stand for at PUFFPUFFPASS. We found it fresh and interesting to blend fashion with the counter-culture that is currently dominating headlines. What was once taboo, is now widely gaining acceptance amongst scholars and skater-kids alike. We've come a long way since 'Reefer Madness'. This inspires us.
How do you think weed has affected pop culture?
I think it's safe to say marijuana was really a building block in defining past generations of pop culture and what pop culture is today. Imagine Woodstock without weed... and Coachella for that matter.
What's the connection to fashion?
Fashion is a form of self -expression and at PUFFPUFFPASS we believe in expressing yourself freely. There's a movement happening right now with the youth that's about the freedom of expression, the freedom to be whoever you are and not be judged for it.

The brand has a very 80s skate wear inspired look-was this intentional?
Growing up in LA, NYC and Paris in the early nineties really does leave an impression on you. There is a certain street kid element that transcends through our collection due to the fact that we came up in that scene. It's a part of PUFFPUFFPASS's DNA.
You can get PuffPuffPass here
Calling all HuffPost superfans!
Sign up for membership to become a founding member and help shape HuffPost's next chapter