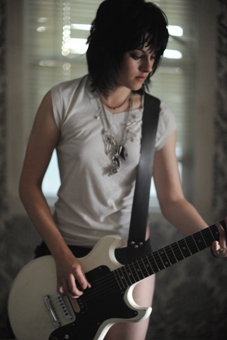 Like The Runaways star Dakota Fanning, I wasn't thoroughly familiar with the '70s all-girl rock band, which is the topic of the movie that hits theaters tomorrow (and proves that there's more to Kristen Stewart than Bella Swan). While the film, directed by Floria Sigismondi, left me with a multitude of questions (this biopic has too much info to squeeze into 105 minutes, unfortunately), I did walk away with an appreciation for the style of The Runaways-most notably the band's stars Joan Jett and Cherie Currie. So when I sat down with the two young and extremely talented starlets (Dakota and Kristen) as well as Joan herself, I was ready to talk fashion.
Joan Jett, in signature black-on-black with layered leather and studded bracelets wrapped around her lithe wrists, agreed that she has a "strong look" and she appreciated Kristen Stewart's willingness to adopt her look to play the singer in the film. When the two spent a day together before filming, Joan enthusiastically recalls, "I asked her if she was going to cut her hair and she said "Yeah!" Adds Kristen: "I would've felt like a fraud if I wore a wig. Dakota's wig looked amazing, though." There was one poignant scene where Dakota, as 15-year-old Cherie, cuts her hair to resemble David Bowie's sexy shag.
While Joan's fashion in the film consists mostly of leather and homemade T-Shirts, Cherie finds herself performing in the over-the-top looks. (Cherie was a clean-cut blonde Valley girl who was hand-picked to front the band for her look; but she quickly fell into the hard-partying rockstar lifestyle, using her glittery platform boots to crush pills so she could snort them.) Dakota says she "got to keep pretty much everything" from the wardrobe, including the platform glitter boots and a lingerie set she wears to perform "CherryBomb" in Japan. ("That was exciting!" says the teen star.)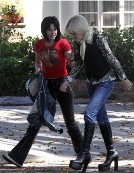 On the day I spoke with the girls at a hotel in L.A., Kristen wears a yellow blouse tied at the waist, cropped leggings and lace-less oxfords, and Dakota wears black skinny jeans and a purple tank. These girls are the age of the target audience most likely influenced by the looks from this film. Will we see these starlets and other teenagers inspired by the fashion and beauty in the movie? Yes, according to Joan. "By the summertime, all the girls will have shag haircuts and be wearing platform boots - but things that won't kill your feet - when we wore them, the angle wasn't so severe. You could run around on stage in them."

Popular in the Community