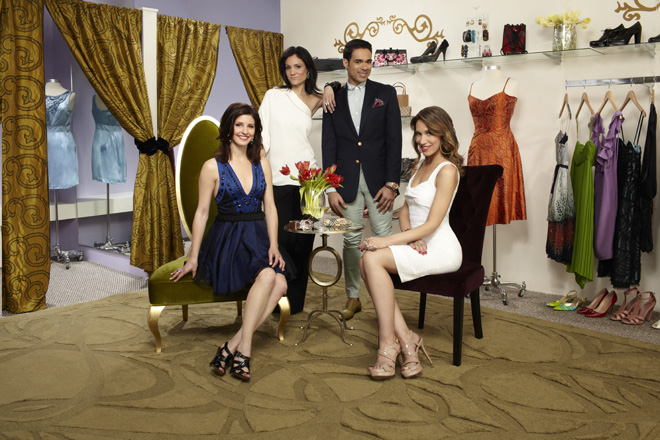 Courtesy of Bravo
We're just a little bit obsessed with "Fashion Hunters," Bravo's reality show that follows the retail action at Second Time Around, a well-edited consignment shop in New York's Nolita neighborhood. The series' first season wraps up tonight with a double dose of episodes. In honor of this sad event, we caught up with cast members Tara Muscarella, Karina Lepiner, Ambria Miscia and Wilson Payamps to discuss job perks, why you should capitalize on your friends' designer duds and what it was like working with tonight's guest star Kelly Bensimon. Oh, and of course to get their money-making tips.
What advice do you have for people looking to consign their clothing?
Karina: We connect with a lot of people who clean out people's closets and they probably charge their client a little percentage to bring this stuff for them to the consignment shop. And housekeepers get great things from the women they work for. There are a lot of different ways that you wouldn't necessarily think of.
Ambria: Who knows where you get this stuff? Maybe you bought it, maybe you didn't. Maybe your friend slept over one night after a party and left this at your house. Whenever you get stuff, bring it in. It's New York, so we have more of a playground here. We have people in the garment industry, there are models and sample sales. The point is, that you can make money off of it. Obviously, it has to fit a certain criteria and you want to make sure that there is value. Online is obviously a great way to do some research. But don't stop at your own closet. Look at your friends' stuff. A lot of people nowadays swap with their friends.
What's your favorite item that has been brought in?
Ambria: There was an orange Versace dress from the Gianni Versace era in the '80s: criss-cross back, orange silk-wool blend with gold embellishments. You know the clothespins dress that Elizabeth Hurley wore? It had the same vibe. It was in perfect condition, and fit like a glove. It looked like something that Christy Turlington or Claudia Schiffer would've rocked. But I couldn't afford it. We sold it for around $500.
And what was the most bizarre?
Tara: There are so many every day. Ambria and I started calling them "mercy consigns."
Ambria: It will be like "YSL, YSL, Missoni and then ... what the f-ck?"
Tara: And the funnier part is when it will sell. There's something for everyone! You have to really think from a wide perspective. It's not just what you like, it's for a lot of taste levels. That's my favorite part of the job: curating. A lot of it is very subjective.
Ambria: The worst was a yellow, linen, sleeveless dress with a V-neck and there was an old-fashioned, gold, embroidered key on the front. The fit was awful--it was just a sack. And, a lot of times, people bring in designer pieces that are just ugly. It's like, yeah this is Prada, but there's a reason you gave it to me. It's an ugly, brown, wool, frumpy thing. We have to be aware of that--if something is ugly and unsellable, I'm not going to price it.
Do you look for specific trends when deciding what to sell?
Karina: If people are bringing it in, that means it's done. What I get out of shopping at consignment stores are staples and classic pieces. Everybody needs to find that great blazer.
Ambria: Dolce & Gabbana does polka dots every three or four years. If we had women watching the runway shows and they would call and say, "I saw that Dolce is doing polka dots again, and I have this polka dot dress from four years ago," and we got it on the rack right as spring/summer 2012 was coming out, and everyone's coming in for polka dots, that would be great. Color trousers are in, and we tried to get colored pants, but a lot of times people are like "Colored pants are back? I'm not going to give them up." So, when the trend comes back in, you sometimes end up not getting it.
Are there any particularly memorable stories attached to the items brought in?
Wilson: Divorce stories and breakup clean-outs.
Kelly Bensimon appears on one of tonight's episodes. What was she like?
Ambria: She was nervous, because she didn't know what kind of fashionistas we were. But we don't have any of that attitude. I loved having Kelly on our show, because she's one of us. She loves fashion, but that doesn't mean you have to be a snob about it. You can love clothes, but that doesn't mean that you're just so amazing and you're written about in Vanity Fair. Fashion comes from art, and it's supposed to be a way of expressing yourself. I think it's sad when celebrities don't feel like they can wear what they want anymore. That's why Lady Gaga does so well; she just doesn't care and it's all about the art. Fashion shouldn't be a snobby industry. It should be a fun industry.