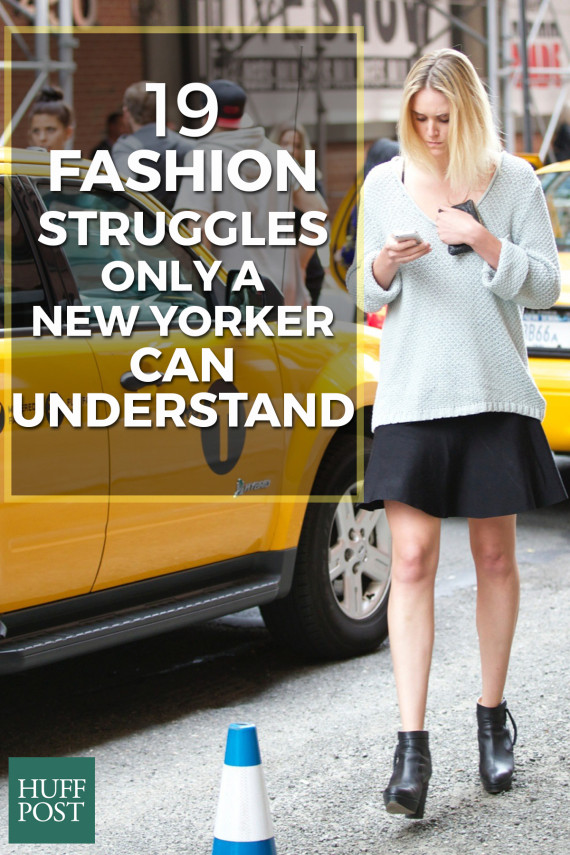 Photo credit: Joe Kohen/Contributor, Getty Images
Living in the fashion capital of the world has its perks (hello, sample sales and flagship stores!), but it also poses its own unique set of challenges. (So. Much. Walking.)
For anyone who lives or has lived in New York City, behold! Here are 19 fashion struggles only a true New Yorker can understand:
1. Your purse needs to fit all the stuff that you formerly threw in the trunk of your car.
2. Flip-flops are a no-go in the summer, unless you want to spend hours scrubbing dirt off your feet.

3. If you MUST wear heels, you're gonna need to bring them in a tote bag and swap them once you get to where you're going.
4. Bike shorts are your friend when worn under skirts, because walking long distances = chafing
5. Even if it's 90 degrees and humid, you need to bring some kind of cardigan for the subway, the movie theater, your office, a restaurant ... pretty much everywhere, really.
6. If you wear a sundress, be prepared to have a Marilyn Monroe moment on the sidewalk (thanks, subway grates).

7. Zara, H&M, Target and TJ Maxx are all way better outside of the city, because the selection is way less picked over.
9. Walking = blisters = Band-Aids.
10. Wearing the same thing every day is considered a "look," not lazy.

12. Fashion rules are meant to be broken: Socks and sandals, black and navy blue, white after Labor Day ... DO IT.

13. A fan from Chinatown is a must-have for summers on the subway platform.
14. You will never be the best-dressed person in the room.

15. You often skip wearing a coat in the freezing cold of winter, just so you don't have to hold it or check it at the bar.
16. Mastering the art of applying lipstick on a crowded and shaky subway car is a rite of passage.

17. By the time a trend hits fashion mags, you've already seen dozens of downtown girls wearing it on the streets ... for months.
18. If you're not wearing an oversized hat to brunch that blocks your vision and intrudes upon other peoples' personal space, you're doing it wrong.

19. Wielding the power of your legs in a short skirt or high-slit dress is the easiest way to hail a taxi during rush hour. #WorksEveryTime