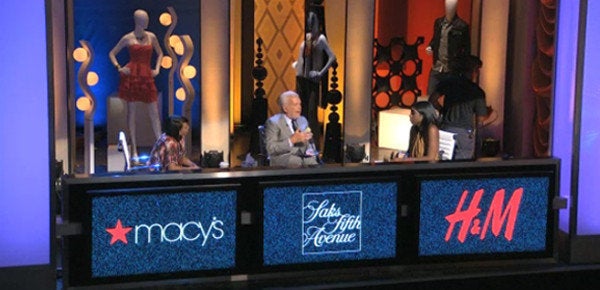 On Tuesday night, during one of the most anticipated show premieres for the fashion and retail obsessed, NBC unveiled its newest reality competition Fashion Star, hosted by Elle MacPherson. Sitting at the helm of an era when designer capsule and limited-edition collections are serving as the basis for fast fashion retailers' core strategies, NBC's Fashion Star has found an innovative way to give aspiring designers exposure as well as stimulate immediate sales for large scale retailers like Macy's, Saks 5th Avenue, and H&M. Celebrity designers Jessica Simpson, Nicole Richie and John Varvatos serve as mentors on the show.
Above the excitement over this new integrated concept comes the surprising and empowering fact that two of the three judges of this national competition are women of color. Caprice Willard, featured buyer for Macy's, serves as Vice President/Regional Planning Manager for Women's Apparel for Macy's Southwest Region. She brings to the table nearly 18 years of retail experience going from an executive trainee at Macy's and working her way up to Vice President. Nicole Christie, featured representative for H&M serves as the head manager of all US communications for the company and worked her way up from being a sales manager at one of H&M's first US stores to now being the national spokesperson for the brand.
To see not one, but two minorities sit at the head of the judging table in such a nationally syndicated fashion-focused show targeted towards a mass audience is rare. Aside from seeing the likes of supermodel Tyra Banks and her self-produced hit series Next Top Model or singer Kelly Rowland as co-host of Bravo's The Fashion Show, we rarely see women of color calling the shots in these competitions. Better yet, you'd be hard pressed to find them in high-ranking positions within the fashion industry, in general. Whether it's the retail buying industry where they come few and far between, or the fashion editorial and PR industries where the same standards hold true, seeing black women with this much power in fashion and retail is an anomaly.
Erica Milton, a seasoned corporate employee of a mass retail giant reminisces on her initial days in the industry, "As a black woman starting out in the corporate retail environment, it was quite discerning to see that there were very few people, specifically women, who looked like me making senior executive decisions regarding the business."
Even with the massive buying power of the African-American consumer population, many of the top-level buying decisions taking place at mass retailers are not executed by people of color. Though diversity is always lauded as a top priority for mass retailers, who often count diversity outreach programs and dedicated recruiters as part of their ongoing HR initiatives, there are very few positions above the Divisional Merchandising Manager level held by women of color.
"Now to have a nationally syndicated show shine light on women of color making power decisions for some of the top retailers in the country, its more than eye opening, its extremely encouraging," says Milton.
With NBC's Fashion Star making a successful premiere this week (H&M's capsule collection completely sold out online within 20 minutes), it's obvious we'll be hearing and seeing more from all three judges in the coming weeks. Whether or not the public will be watching them with a keener eye is still to be determined. But by challenging the stereotypical image of retail executive leadership, these women put aspiring fashion professionals of color across the board in a better place for making strides in the future.