Co-Authored With Karyssa Wilhelm
Fashion trends come and go as fast as you can change your lipstick shade, but could hemlines and the amount of shoes lying around in a woman's closet predict the economic future? The website BlogHer teamed up with Taubman Centers and collaborated on a survey that asked women of all ages fashion-related questions from how much their purses weighed to where their hemlines hit to find out.
Statistics have their place in the world of business, but they unquestionably hold their own significance in the fashion realm. The survey polled 1,600 women aged 18 years and older from the Millennial generation to the Baby Boomers, giving a large demographic to the survey results.
The results were surprising. Not many would venture to guess that there would be a direct correlation of hemlines to economic success or failure. But according to BlogHer and Taubman's survey results on September 13, 2013, "Ankle-dusting maxi skirts predicted 'uncertain times ahead'; just below the knee indicated 'cautious optimism'; above the knee implied 'light at the end of the tunnel'; and micro-mini proclaimed 'good news ahead!'"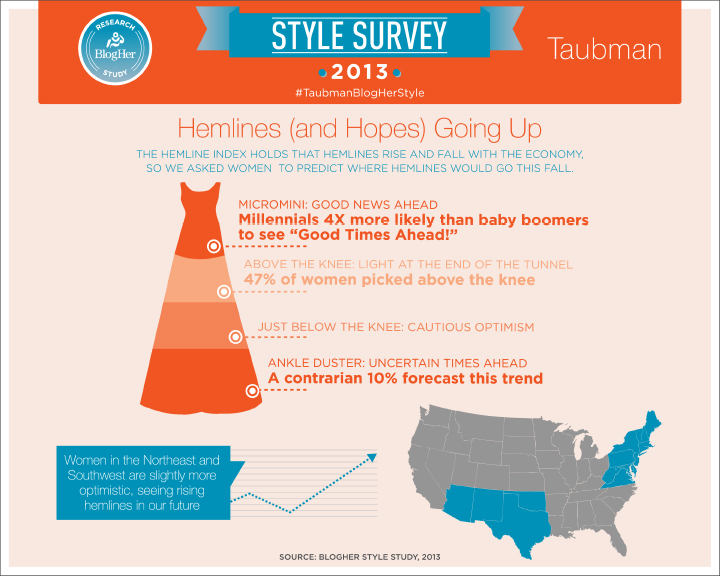 Since 2008, the economy has taken a plunge, and so have popular skirt lengths. The maxi skirt has been in the spotlight for the past two years. At all the fashion weeks this month, skirts are still speckling the runway with their longer lengths. Although times are improving, the trends of skirt lengths are shockingly on point with the fall in the economy and saying that we are pressing forward with cautious optimism.
The old adage, "Diamonds are a girl's best friend," is one that women can undeniably relate to. However, wearable technology is becoming the new "best friend" accessory. The inseparable bond between society and technology is causing wearable tech to appear hot on the fashion scene.


A whopping 74 percent of women say they rely solely on their smartphone to tell them the time. Also, Millennial women are more likely than the Baby Boomers to try new technology trends on for size with 41 percent saying they would be likely to sport a fitness tracker of some kind.
Women need to have a bag to tote all of their necessities while on the go. It seems that there are a lot of mandatory items that need to be transported around because 1 in 3 women reported carrying a purse that exceeds six pounds. As if six pounds was not heavy enough, women from the Northeast are three times more likely to carry a purse exceeding 10 lbs than women in the Northwest. So it seems that Northeasterners have the liberty to skip arm day at the gym every so often!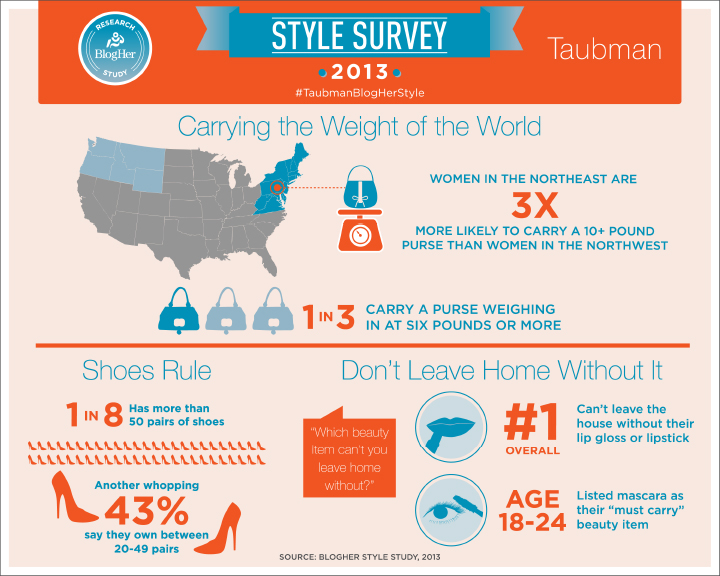 When it comes to choice beauty products, all women surveyed came to a consensus on the number one beauty item they would never leave the house without. Lipstick or lip-gloss came in at the top of this list of traveling beauty essentials with mascara being the number one item women ages 18 to 24 would throw in their bag each morning.
Now to mention the unmentionables; what do women wear underneath it all? What about when they're sleeping?The number-one undergarment of choice for all women surveyed, at 38 percent, was the bikini brief. However, Millennial women chose the slightly more risqué thong as their favorite undergarment.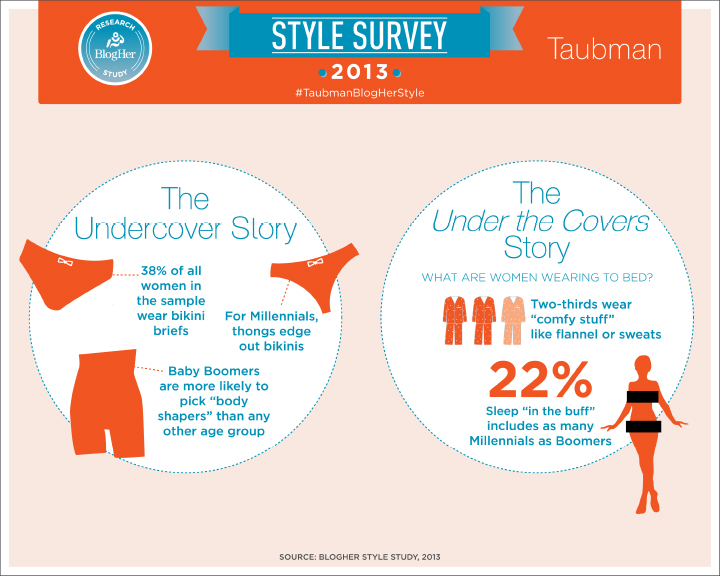 Shoes are the things that tie a little kick into an outfit. The survey found that 1 in 8 women have more than 50 pairs of shoes. As if that is not enough foot candy for one woman, an astonishingly 43 percent of women claim to own the startling amount of between 20 to 49 pairs of shoes. It seems that even in the hard economy, women were still able to sustain happiness for their feet.
Trends will come and go but these surveys show that they interestingly have an intimate relationship with the economy. It seems we are all looking for the days where maxi skirts are replaced with mini-skirts symbolically screaming, "Good news ahead!"
For more from Clarissa, like her on Facebook at Clarissa Burt Official and follow her on Twitter @asurmedia