After a solid and full career as one of the most successful and "real" fashion stylists in the business, Lori is still every bit the unpretentious little girl prancing in her favorite yellow polka-dot bikini, "a tomboy who loves sparkly things." She is from Ohio, and says that her obsession with individuality expressed largely through her love of clothes began as far back as she can remember. Lori's forte, then and now, has been mismatched combinations that are "never too put together or precious." She recalls feeling like "Eddie Munster" in her unique outfits until she moved to New York, where she blossomed into her "Marilyn," albeit a funky version of the starlet, as exemplified by Lori sprawled out on her bed in a tiara for this interview. She is glowingly loaded down by her beloved chunky jewels in Marni's version of a long hippie dress, Margiela's f-you to glamour, split toe pumps, and a hand-knit in vibe, Missoni shawl. Keep reading below. This was originally posted on StyleLikeU.com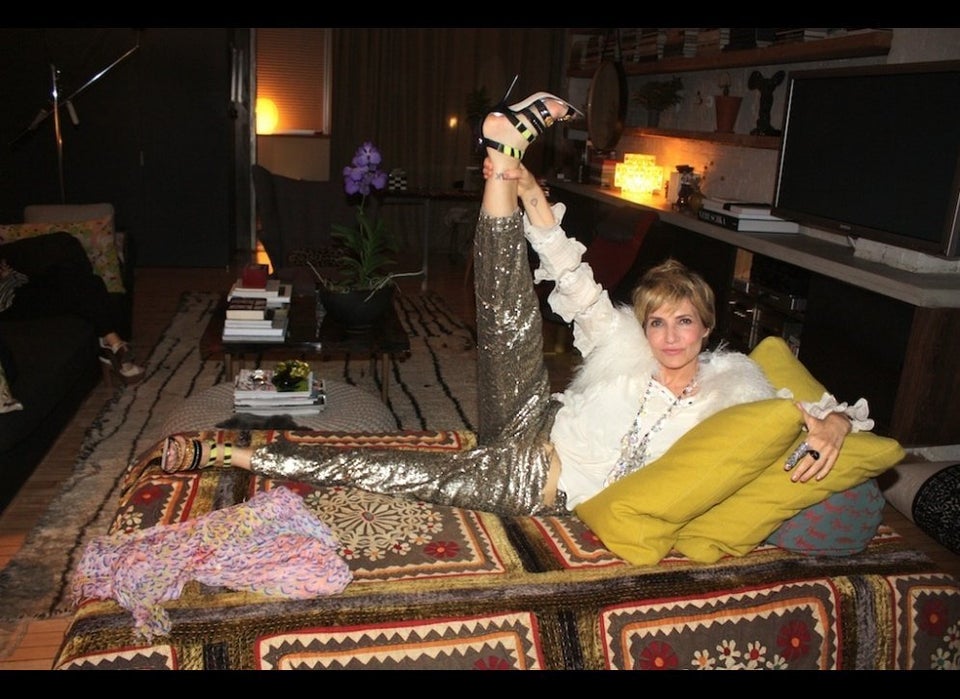 Fashion Stylist Lori Goldstein for StyleLikeU
Lori has been a non-conformist from the beginning. She spent the formative years of her career working with fashion industry innovators like herself, including Mario Testino, Patricia Fields, Anna Sui, Steven Meisel and Annie Leibovitz. It was an era in which I, too, was educated in the business and it was a time that set the bar high for taste, originality and a collaborative creative energy, all of which seems sadly missing of late. Lori made a conscious decision to remain a freelance stylist and eschewed joining a corporate magazine. In addition, she still lives for the hunt to find new and undiscovered designers to feature in her shoots. I took note when she pondered, "Why does someone need to have already been featured somewhere else to be able to be acceptable within the industry?" Hallelujah - what ever happened to taking a stand of your own and true editorial? "Follow your heart and passion" is Lori's motto and she has never regretted walking out on a nine to five job during a lunch break and not returning. For the past couple of decades, she may have worked 24 hours a day, but she has done so with ecstatic enthusiasm.
Styling professionally and personally for her is a form of painting and portraying a vision. For example, Lori's romantic Chloé blouse is an obsession stemming from her desire to channel Olivia Hussey in Zeffirelli's "Romeo and Juliet," and a fur capelet adds just the right proportions. Sexy is something loose and baggy, and a folkloric Dries Van Noten skirt that she wasn't wearing is now a pillow in her eclectic loft. Lori's home, like everything about her, is a complete reflection of how she dresses.
An impeccable eye like Lori's knows when to spend less - her sequin J. Crew pants - and when to spend more - her well-curated collection of Birkin bags. She feels that her Birkins are so perfect in form and function that she needs an intervention to curb the relentless desire to own them. The genius of all things iconic, like the Birkin bag and its namesake, is that it is less about a label and a trend and all about the person carrying it. For Lori, all forms of consumption are ultimately about personal artistry. Worn with drop-crotch jeans, a fedora, striped socks, a print blouse, oversized reading glasses, crocheted slippers, layers of crystals and Indian beads and a red Mongolian fur, the Birkin becomes an extension of her, authentic and "freakish" and proud of it.
Related