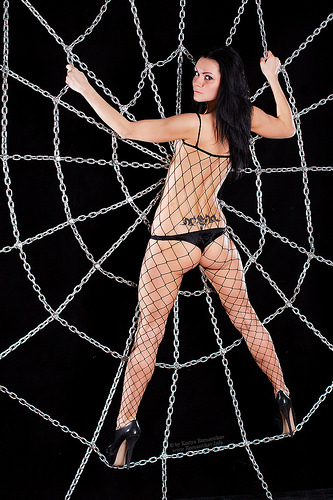 After scouring magazines and websites for spring fashion trends, I have concluded that there are more than a few fashion trends I won't be rocking this spring. Here is my list of the 2016 spring fashion disasters that would make me either look fat or ridiculous, and would probably scare most children.

See-through netting
See-through netting or mesh, as it is called, allows complete transparency in an outfit. We may endeavor to achieve that in the functioning of our government but my body is not seeking that goal. I'm looking for clothes that obscure my imperfections not ones that show them all off. See-through netting is being touted as sporty mesh but I think it is more accurately called "look at my underwear mesh." And no one really wants to see me in my underwear. Really. Trust me. You probably look better in your underwear than I do. No no no to the clothes made from see-through netting for me.
Wide leg trousers with paper bag waists
Paper bag waists are created by taking yards of excess material and cinching it in with a belt or waistband. Add a generous wide leg and you have the "in" pants for spring! But not for me. This new style of pant is a great choice for women who have mile-long legs and tiny waists. But a pant with a roomy silhouette and a lot of material scrunched in at the waist would make me look like a Mack truck swaddled in miles of material, like some wacky Cristo sculpture. Especially if the roomy silhouette was actually filled up with unwanted fat. (Not talking about you. Just talking about me, here.)
Neon orange is the new color for spring clothes, according to some pundits. But as a Caucasian woman whose skin tone resembles skim milk, bright orange looks ridiculous on me. Women with darker skin tones can rock that color and other neon colors but I just look like I am at death's door with one foot in the grave and the other foot knee-deep on a tomato farm.
The new spring trend of wearing slinky satin and silk clothes that resemble pajamas from the 1950's is actually pretty funny but you won't see them on me. The boxy top and pants with the contrasting piping look really comfortable but I've never worn them, to bed or anywhere else. But if I were to wear them, I wouldn't wear them outside of the house because I would look like one of those crazy cat ladies who had lost touch with reality. Lucille Ball and some twenty-somethings may be able to get away with that look, out and about in the city, but the rest of us would need bail money if we wore them on the streets.
So I guess I will not be very fashionable at all this spring. Oh well. I can live with that. And trust me, you can live without seeing through my neon orange mesh clothes with the paper bag waist that look like pajamas. Really.