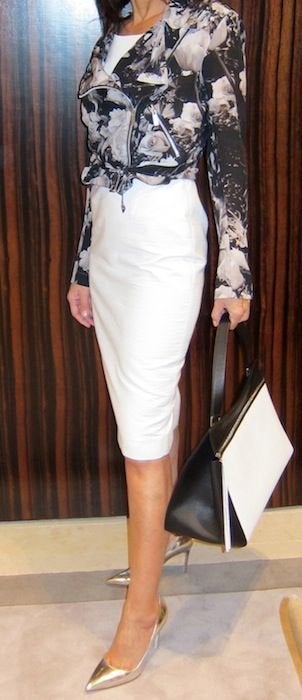 "I always say that women should wear whatever makes them feel good about themselves. That's what I always try to do... I also believe that if you're comfortable in your clothes it's easy to connect with people and make them feel comfortable as well. In every interaction that I have with people, I always want to show them my most authentic self." These words by Michelle Obama in the latest issue of Vogue really spoke to me, because this is exactly the philosophy behind our company, Visual Therapy. Your image is what you put out there, your identity is who you really are inside, and clarity is achieved when the two are in sync.
A favorite client of mine recently came to NYC to line up some new looks for the season. She is the definition of a woman in charge of her life and career, always impeccable and on her game. She breezed into our appointment on a messy rainy NYC day totally together. It's one thing to be fashionable, and another to be stylish; but at the same time real, organized and functional with your look. Her black trench had pockets in all the right places and was super flattering from every angle. Sometimes we get so caught up with the hype of a designer that we forget about the 360 rule (is it flattering from every angle!?) Also, do I have a pocket for my iPhone, gloves, plane ticket and, most importantly, reading glasses!? She had on the chicest rubber soled ballerina flats that she got from J. Crew. Her new Manolo Blahnik stiletto was of course in her perfectly functional Bottega Veneta tote that she bought years ago. I told her how I still loved it and she said it's one of those things that gets better with age. Which brings me to my next point: Spending our time panicking or complaining about getting OLDER and AGING actually speeds up and manifests the negative side of the whole process. All I'm saying is spend more time living in the now enjoying friends, family and life. My client is 56, and all I see is a vibrant, attractive, modern woman who has the world by the tail. Her style plays an important role in how she moves and functions in her busy life.
Here is how she approached this season's trends and kept it REAL!
This is a trend that you have to be careful with, a geometric dress with white color blocking in the middle could leave you looking like a penguin. We chose a white piqué lady dress from Dior and a black and white floral short jacket from Christopher Kane.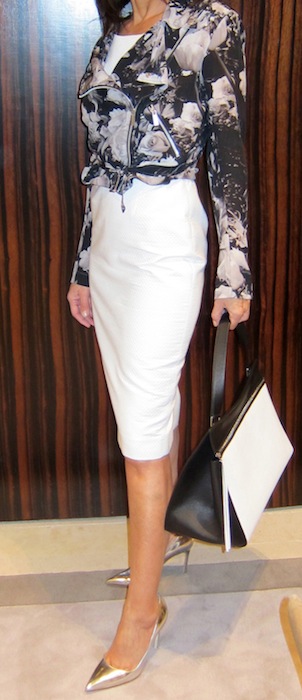 Photo: Visual Therapy
This gave her a ladylike look with just enough of an edge. She could also style this jacket with a white tee and skinny black cotton pants for a weekend look. It's always great to buy pieces that can multitask.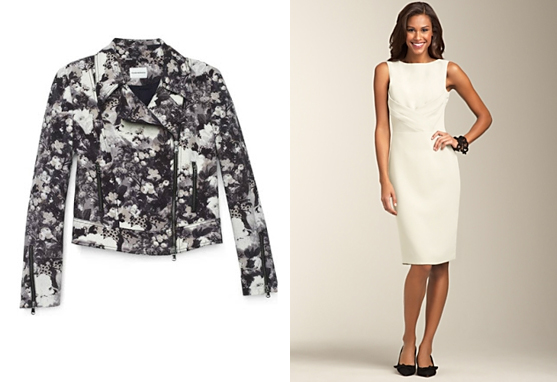 Photo: Club Monaco Davie Moto Jacket Talbots Fluid Crepe Bateau Sheath
There is a lot of neon and bold colors out there, it is important to first choose one that is flattering (refer to our book "Life In Color" to find out more) and then make sure you're wearing it and it's not wearing you. We chose a Victoria Beckham bullet-proof dress in an electric orange color that will take her to a special occasion or a cocktail party.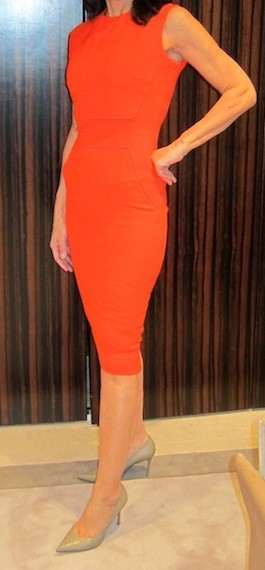 Photo: Visual Therapy
Another way to infuse this trend is to put a bold color sleeveless blouse under a neutral cardigan. This is going to be a go-to look for most of my clients this season for sure.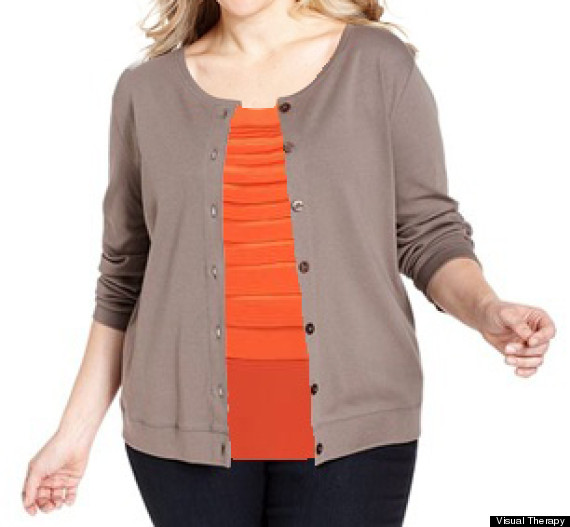 Wearing white and/or neutrals in the summer is always a good idea, but when done the wrong way you can end up looking like a nurse, the ice cream man or just like someone wearing a drab uniform. The first rule is to make sure that the neutral that is closest to your face doesn't wash you out. Putting a neutral on bottom and stark white on top or vice versa usually works best. My client's signature is white jeans, so we will do this look with a white cotton sweater from Vince but break it up with nude or metallic accessories: a belt, bag, and shoes do the trick! I always love a good cuff, and the one by Elsa Perretti is the perfect detail to complete this look.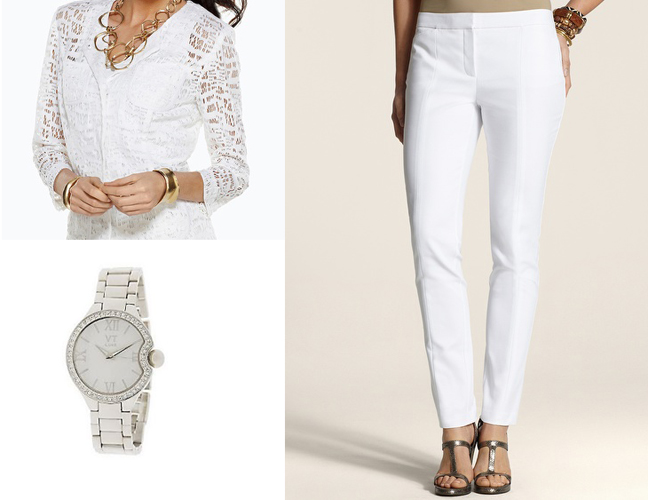 Photo: Chico's Black Label Textured Jacket and So Slimming Smooth Stretch Ankle Pant, VT Luxe Bold Pave Case Bracelet Watch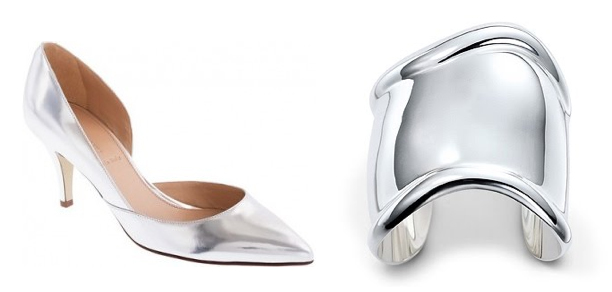 There is nothing more feminine, functional, and dramatic than a beautiful scarf or wrap to complete your wardrobe this season. I prefer one that is big enough to wear as a wrap (it's necessary in and out of air conditioning), but in a light enough fabric that it can be collapsed and worn as a neck scarf as well. From bold colored paisleys to dramatic animal prints you will go crazy with excitement as you style this trend many different ways! We will be on QVC's "Shawn Says, Accessorize" with our Zebra Printed Wrap on Friday, March 22 at 1pm ET so tune in or set your DVR to find out all the best ways to wear a wrap.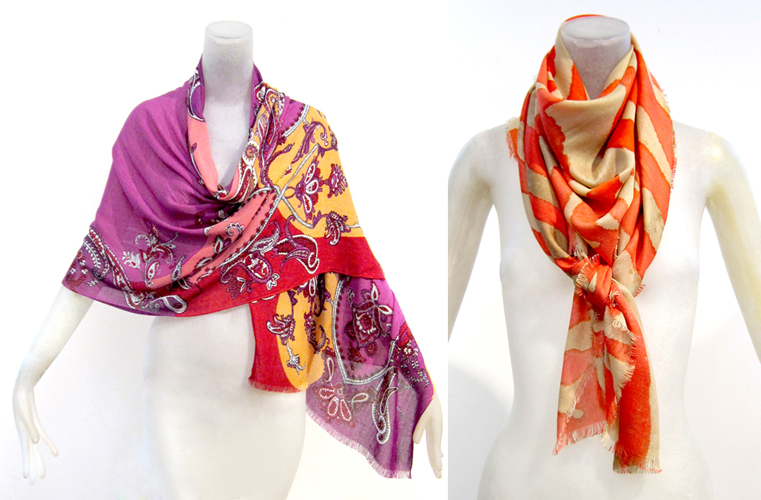 Photo: VT Luxe for QVC Paisley Scroll Printed Wrap and Zebra Printed Wrap
This trend for me is to only be worn on the weekend or date night. The contrast of something sleek paired with something romantic feels very right now. What's great about this is you can wear something super skinny on the bottom and a slightly oversized blouse to get some coverage in all the right places. This ad campaign by J Brand really nailed this look.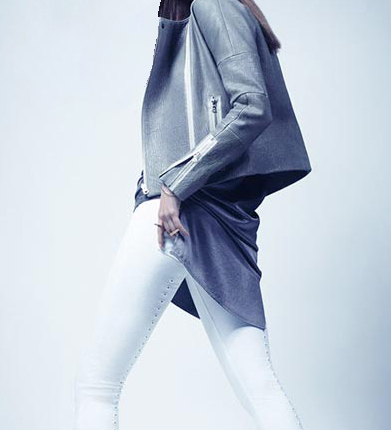 Photo: J Brand Spring 2013 ad campaign

Now I'm sure some of you ladies might think this trend is not age appropriate, but I promise you that when done the right way it's completely tastefully sexy and modern. I would complete this look with hoop earrings and a clutch.
Speaking of purses and clutches, for those of you who want and need to be hands-free there are a multiple uber chic and fun crossbody bags out there this season.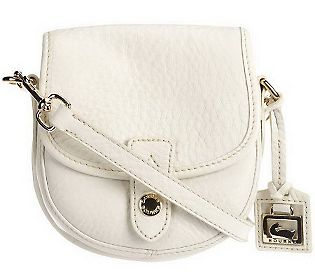 Photo: Dooney and Bourke Dillen Leather Mini Flap Crossbody on QVC.com
I always say that it's not about a lot of things, but the right things that will update and get your wardrobe in shape for the new season. Think things through, be proactive, and most importantly keep it REAL and focus on health and happiness!
Related
Popular in the Community