Inspiration from the simple black-and-white movies of yesteryear as well as projections of a geometrically perfect future abounded at the A/W 2011 collections at Farah Angsana, Rebecca Taylor and Nicole Miller. See how the catalyst of Helmut Newton's erotic glamour shots, a dimly lit Parisian nightclub, and space-age chic all coalesced on the runway.
Farah Angsana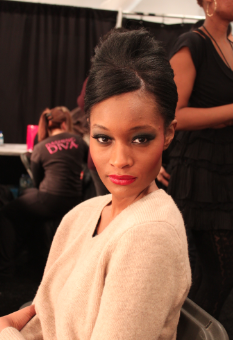 Inspired by German-Australian photographer Helmut Newton's erotic and sexy glamour shots, Eddie Ngai, stylist at the Rita Hazan Salon, created a full-volume, not too perfect, high-fashion French twist. The look was strong and a handful of models were seen with black lace masks obscuring the eyes, adding to the intensity of the look.
Rebecca Taylor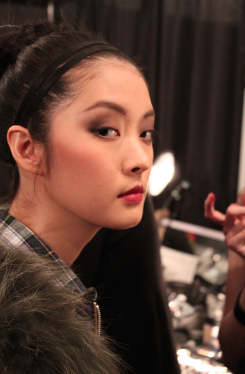 Rebecca Taylor's Parisian nightclub of the 70's theme extended to savoir faire hair and makeup. A pouty dark burgundy lip stain was topped with gloss, cheeks were kept a rosy cool, and the smudgy gray shadow color wash in the not-yet-released shade, Keep Your Cool framed Margot Hemingway-type eyebrows. The eyes feel "just like a shadow," explained Sil Bruinsma, lead makeup artist for MAC Cosmetics about the look that just slightly darkened the eye area, as if walking down a dark lamp illuminated street.
Nicole Miller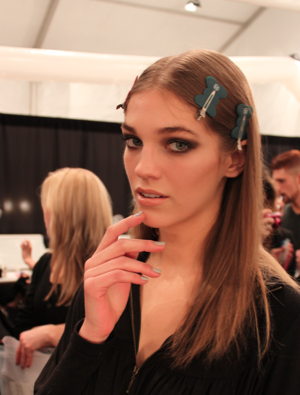 The geometric sci-fi A/W 2011 collection paralleled the sharp, blocked smokey eye at Nicole Miller. Cool metallic gray shadows layered the look and makeup artists removed color from the top quarter of the eye with a sharp horizontal line, giving it a geometric feel. Paired with perfect skin, a peach blush and beige lips, James Kaliardos, MAC Cosmetics makeup artist kept the rest of the look subdued.
How wearable do you think these looks are?
Check out the artists at work: