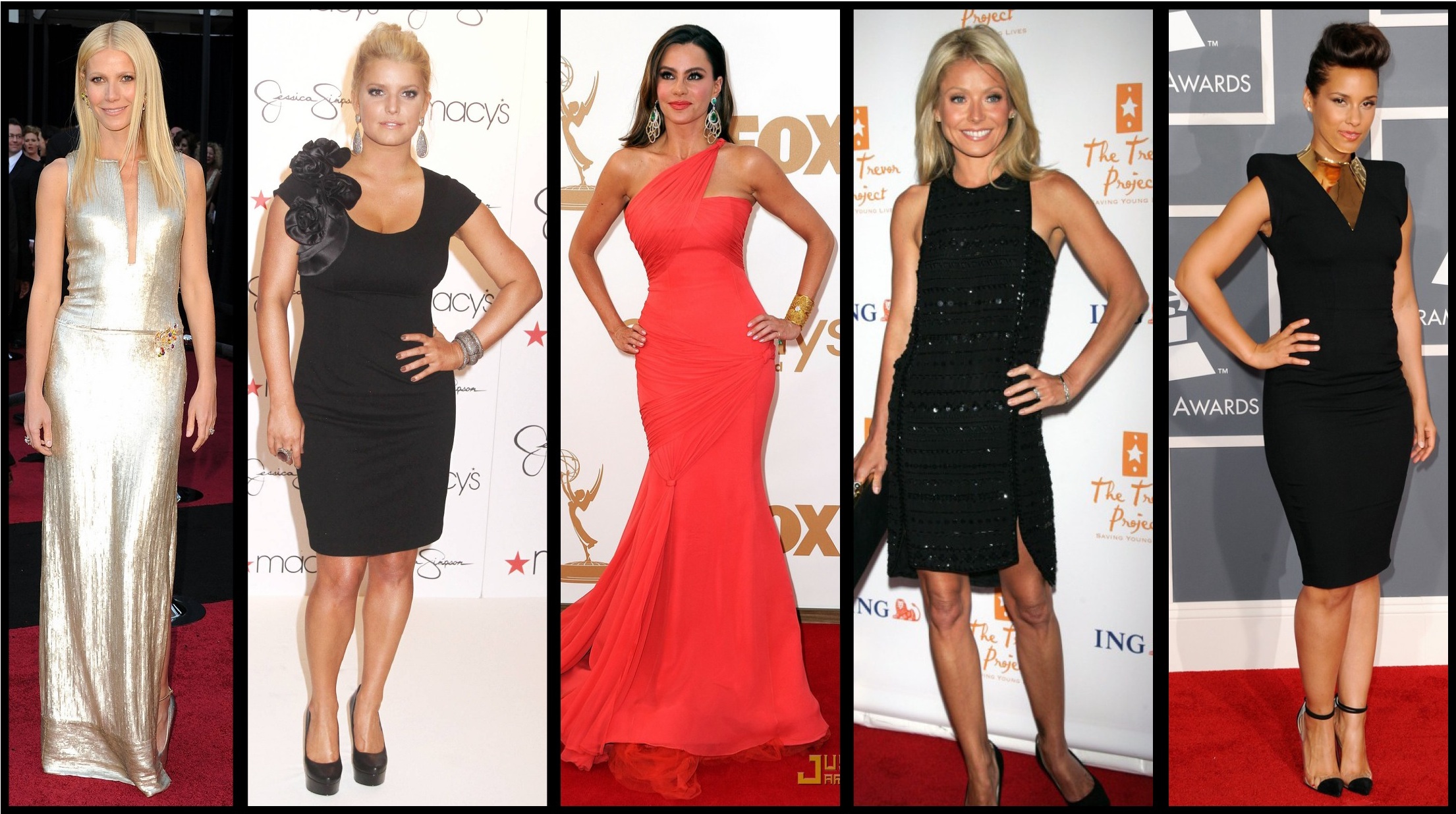 We all -- even celebrities -- come in many shapes and sizes. Whether you're long and lean like Gwyneth Paltrow, apple-shaped like Jessica Simpson, hourglass like Sofia Vergara, petite like Kelly Ripa, or pear-shaped like Alicia Keys, the key is to embrace your body type and pick clothing that will flatter it, not fight it! In anticipation of Mercedes Benz Fashion Week, we've been shopping for looks for everything from lunches to meetings to cocktails, and we thought we'd send a little inspiration your way for Dressing for Your Body Type from these fantastic selections from Bloomingdale's.
The LONG AND LEAN look is every designer's muse. Lucky you! You are thin and in-proportion with a slender shape. It is a very chic shape and most clothing will look good on you. Make sure to play up the femininity of your shape by using a few simple tricks. Chose clothing that accentuates your bust-line. For a bit of a more curvy look, wear a bra with a little padding. A peplum can also add extra shape to your lower half, and is so flattering.
This fitted dress by Robert Rodriguez uses an optical illusion to accentuate your femininity. A peplum waist like on this dress by Tibi can work wonders. This great Milly dress uses a leather inset to create a similar effect.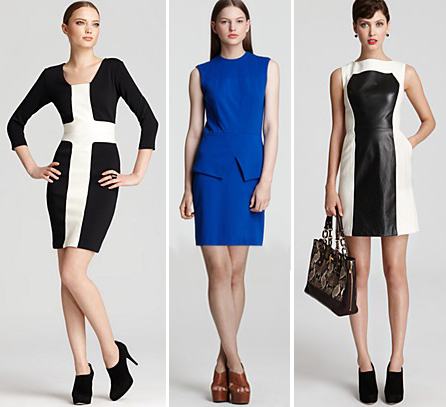 THE DELICIOUS APPLE SHAPE
Are you fuller on top and in the midsection and slimmer on the bottom? We call this a delicious APPLE SHAPE. You will want to choose necklines that are a little lower-cut to emphasize your lovely bosom and take the attention off of your mid section. Wear dresses rather than separates for a pulled-together look that will flatter your best features. Go a little shorter to show off your great legs.
The beadwork at the bust of this dress by Basler draws the eye up and away from your midsection. The gorgeous teal Rachel Zoe dress subtly adds just the right amount of volume to your upper body to balance and minimize any problem-areas below. We love this DVF shift dress for its relaxed shape and perfect length for showcasing your fantastic stems.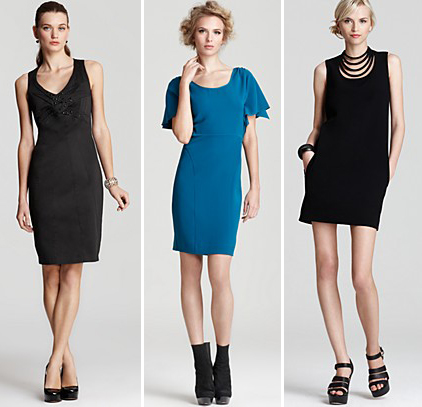 TIME FOR THE HOURGLASS FIGURES
Curvy on top and bottom, with a smaller waist? You have a shapely HOURGLASS figure. Your curves are your best feature, so by all means play them up with dresses that keep your body in proportion while accentuating your small waist. You may want to wear a belt for added emphasis. While this is a naturally sexy shape, you should take care not to overplay the curves by going too tight. Especially with knits, we recommend buying one size up and having the midsection taken in to ensure a flawless fit all over.
The flawless fit and beautifully subtle sheen of this Burberry faux leather dress makes such an impact on an hourglass shape. This printed dress by Escada ingeniously draws the eye to your fantastic waistline, and strapless dresses such as this one by Philosophy are so flattering on hourglass shapes.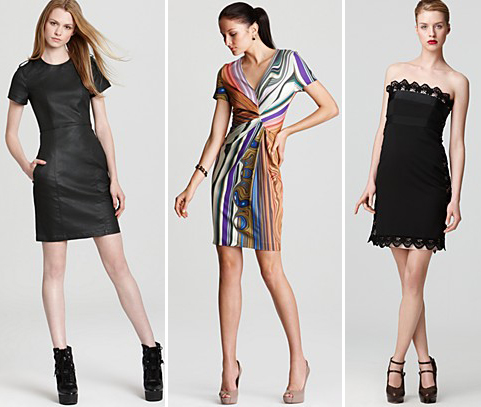 If you are small all over, we call this PETITE. You can wear most anything as long as it doesn't overwhelm your small size. A shorter length will make you appear taller. Your best style is simple and chic. We like short sheaths which will show your shape in the best light. As long as you keep the scale within reason, you can have fun and get away with wearing wild prints.
The hem length on all three of these dresses is ideal for the petite shape. Sophisticated, chic lines and styles are essential for smaller women and make a bigger impact. The pattern on this DVF Della dress is fantastic on a petite frame.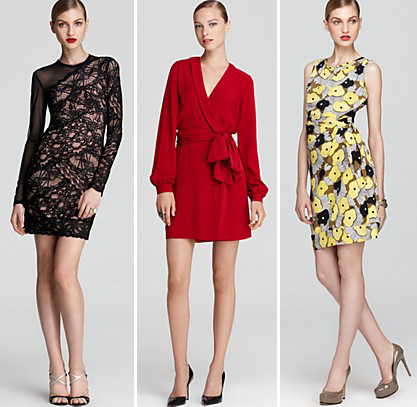 If your lower body is larger than your upper body -- join the club -- this is the most popular body type, and it is a juicy PEAR SHAPE. Wear A-line skirts to hide your hinterland, and to draw the eyes upward, create some interest in the neckline. A large-scale allover print can also be a great way to distract from any problem-areas you're concealing.
This blue Issa London tucked waist dress draws you in at the midsection and flows flawlessly away from the body, camouflaging your derrière. The printed Issa London dress has fantastic structure as it skims out from the waist. This chic and simple Shoshanna sweater dress draws the eye up to the neckline.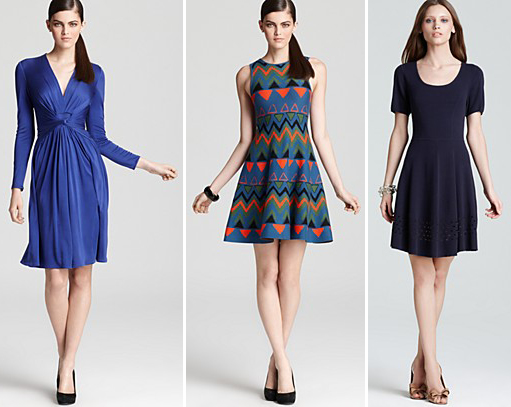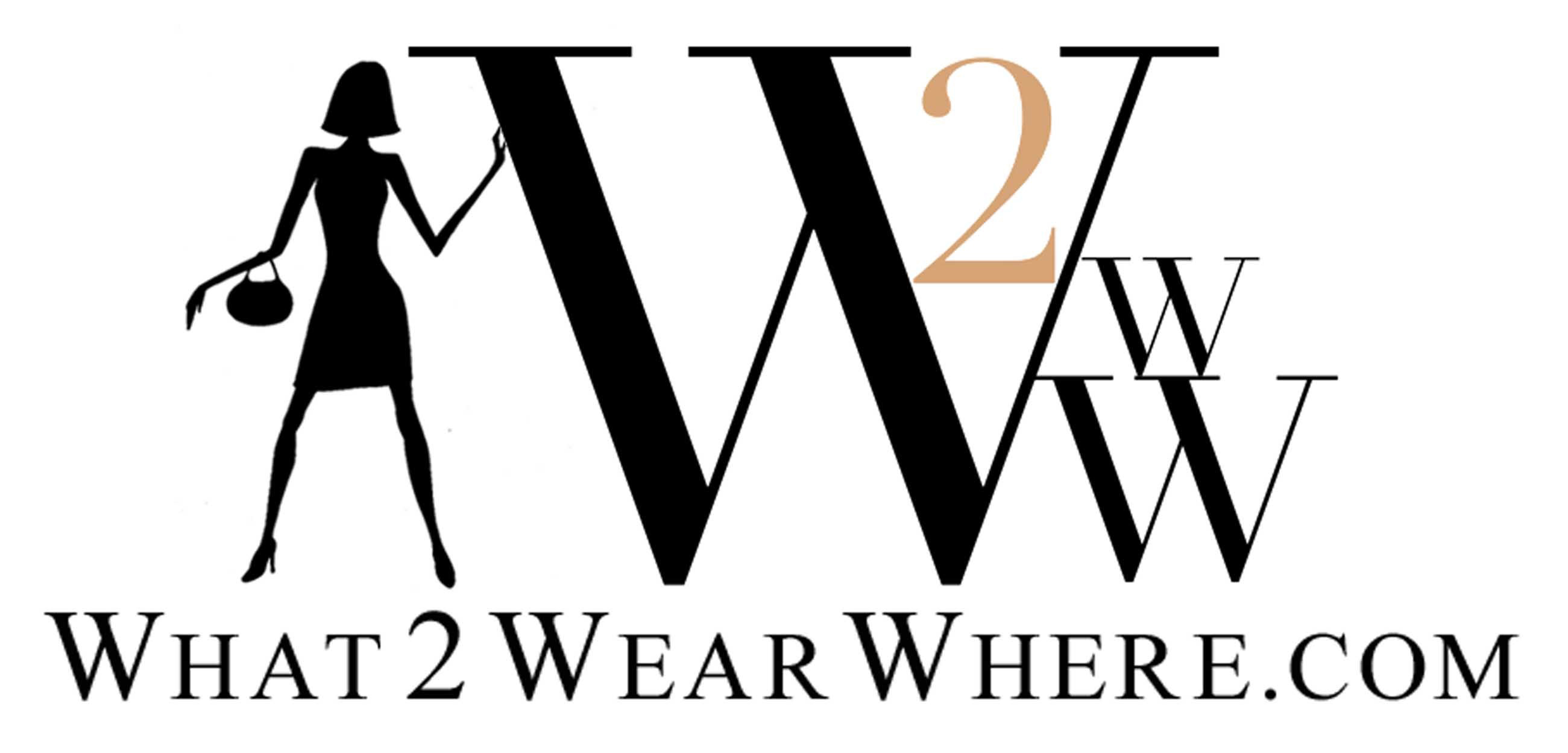 Related