Hoodies featuring various tech company logos and Lululemon pants are some of San Francisco's biggest fashion staples, yet stores boasting other fashion trends are starting to pop up throughout the city. Known as "pop-up shops," this emerging concept allows style gurus and celebs to open temporary short-term retail spaces in various locations.
San Francisco in particular has become a hot spot for high-end fashion pop-up shops. This trend makes sense here, as SF is filled with tech CEOs, investors, leading female entrepreneurs and a ton of millenials that are excited by the "here today, gone tomorrow" concept. Plus, trading out hoodies and workout pants for high-end fashion finds should be encouraged every once in a while in San Francisco.
The most recent fashion pop-up to grace San Francisco has been Maison de Mode. The online concept store is run by Amanda Hearst and Hassan Pierre and caters to the luxury buyer with ethical fashion finds from globally sourced brands.
The Maison de Mode website launched in October 2015, even though Hearst and Pierre originally had the idea to conduct a traveling concept boutique in 2012. Having a pop-up shop in San Francisco, however, has allowed Hearst and Hassan to temporarily take their online store offline in a city that's craving some ethical fashion flare.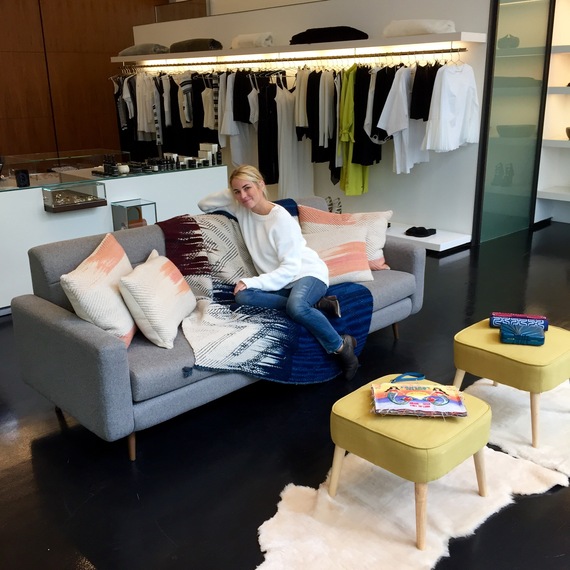 Founder Amanda Hearst at Maison de Mode in San Francisco
"The reason we decided to open our latest pop-up in San Francisco was because after a deep dive into the city we found that it housed intelligent, international & stylish women with a strong sense of luxury goods who were starved for an interesting and unique shopping experience. Also, it has a nice mix of a more established, mature consumer as well as a newly established young crop of consumers both looking for the same thing in a luxury retail experience," Hearst mentioned.
I had the chance to pop in to the Maison de Mode shop over Memorial Day weekend. I was thrilled to see such a unique collection of clothing and accessories on display in San Francisco (As a Dallas native, this was really exciting!). From crisp white blouses with flared sleeves to funky black rubber shoes with fringes on the front, the selection at Maison de Mode tops the fashion charts with items you won't find elsewhere.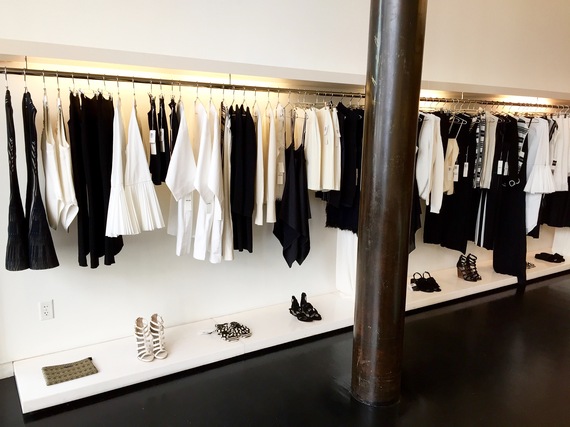 Black and white selection at Maison de Mode in San Francisco
Better yet, proceeds from everything sold in the store and online help support social and environmental transformation. This shouldn't be surprising though, as founder Amanda Hearst is also an Executive Board member of The Humane Society. Not only will shoppers look fabulous in their fashion finds from Maison de Mode, they will also also feel good knowing that their purchases are going towards an even greater cause.
"All of our pieces have a sustainable or ethical component to them. For example, one of our fine jewelry brands Azlee, which produces fine jewelry pieces hand-made in Los Angeles using recycled gold & conflict free diamonds also donates a portion of their proceeds back to ocean related organizations such as Oceana. There's also an amazing bag label called Sarah's Bag which is all hand-made in Lebanon by trained female prisoners. Each of the brands we carry all have some sort of impact that's greater than just sheer aesthetics," Pierre noted.
Maison de Mode just left SF and is heading to Highland Park Village in Dallas, Texas next, which is sure to be a hit with the fashionable Dallas crowd. And of course, shoppers can always check out the Maison de Mode website if they are unable to pop in to a physical location.
Gwyneth Paltrow recently launched her Goop MRKT pop-up shop in San Francisco. Paltrow's lifestyle website, Goop.com, combines fashion, beauty, wellness and kitchen items, all of which attracted a large audience to the Goop pop-up store. Goop MRKT remained opened in San Francisco from May 5th to May 22nd in the famous Frank Lloyd Wright building located on Maiden Lane.
San Franciscans had their pick of beauty items from brands such as Juice Beauty, French Girl Organics and Shiva Rose, all of which were situated under one roof alongside kitchen, jewelry and clothing picks from Land's End, Alo Yoga and other brand names.
CEOs, investors and entrepreneurs were among the many people that visited Paltrow's Goop MRKT pop-up. Instagram co-founder, Kevin Systrom, along with Pinterest co-founder Ben Silberman and Eventbrite CEO, Julia Hartz were just a few of the "tech celebrities" that happened to pop in to Goop during it's launch in SF. Check out the entire Goop selection by visiting the online store.
Unique fashion trends and beauty products aren't the items to instantly pop up in San Francisco. Minted, an online market place for crowdsourced stationary, art and home décor, recently opened a temporary shop at 222 Grant Avenue.
Minted Founder and CEO, Mariam Naficy, mentioned, "Minted has evolved so much over the past years - launching art in 2012 and home goods in 2014, all sourced from our community of independent artists - but many of our own customers aren't fully aware of everything we've become. The store allows us to create an immersive brand experience, connecting consumers with independent artists and their process, as well as provide the full suite of styling and custom design services that consumers tell us they need."
The Minted Local pop-up shop highlights the work of California artists, featuring more than 80,000 unique items like hand-picked fabrics, customizable children's items, upholstered ottomans and other one-of-a-kind decorative goods that can be made on demand.
While Minted offers a wide selection of unique finds, the pop-up shop is also meant to boast community engagement. Naficy mentioned that by the end of June, Minted will have members from their community of independent artists hosting workshops and art events in store. There will also be a special Father's Day gift event on June 11th and 12th.
The Minted Stylist Bar will open on June 6th, allowing customers to work with an experienced Minted designer to create custom wedding designs for invitations to tablescapes and decor. Find out more by listening to this Flyy Post:
Minted will remain open in San Francisco through October 2016 (be sure to check it out if you can!).
Wondering what's next? One of LA's hippest stores, Shop Super Street, will be popping up in San Francisco on Saturday, June 4th at 1535 Upper Grant in North Beach. A mix of high-end designers alongside skateboard brands will be featured.
Calling all HuffPost superfans!
Sign up for membership to become a founding member and help shape HuffPost's next chapter