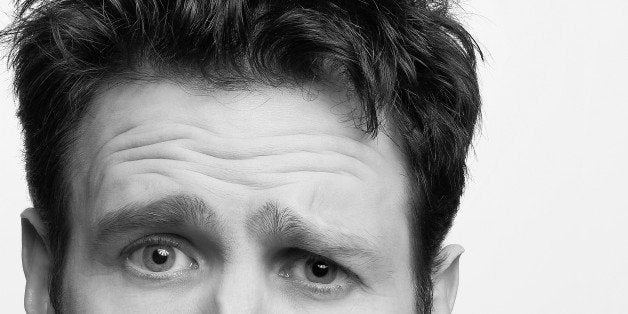 When my therapist, Adam asked me who I could talk to about coming out, I pointed at him. "Of course," he said "But, what I meant, was a friend or a family member." I looked up as if the answer might have been written on the ceiling. Not finding it there, I looked down at my shoes, shifted uncomfortably in my chair and then said "No one." At forty-three years of age, nobody really knew who I was. I was alone.
I was a father, a husband, a son, a brother and an IT Director. I had friends, but none of them close. When you're in the closet, you worry that every word, glance or gesture might give your secret away. How could I have developed an authentic relationship?
Adam introduced me to a man who was a former Jehovah's Witness and father of three. He had come out a couple of years before and understood what it was like to feel as if there was no one to talk to, because he had been ex-communicated by his church. We began corresponding, sharing our stories, often firing e-mails back and forth five and six times a day. His stories, his words, were a lifeline that kept me tethered to Earth. It was the loving details about his daily life with his new partner that resonated deep in my marrow.
The closet seems like a vestige from a darker time. Many young LGBT people never experienced the repression, but there is an older generation of men who closed the door decades ago and now find themselves transported through time, tentatively stepping out into a terrifying, exciting and puzzling world. They often feel alone.
If you are coming out late, you are not alone.
Fashionably Late: Gay, Bi, and Trans Men Who Came Out Later in Life is a collection of stories that sheds light on a large and largely overlooked segment of the LGBT+ community. The anthology offers affirmation to older men coming out of the closet. I am honored to have an essay included.
I had the opportunity to speak with Vinnie Kinsella, the publisher and editor from Eldredge Books, who created this anthology.
Q: What prompted you to create this book?
KINSELLA: The biggest prompt for me was the surprising growth of the meetup group I started for men who came out later in life: PDX Late Bloomers Club (PDX is the airport code for Portland, OR). I expected maybe twelve men in my city would ever join. When we exceeded a hundred members in just a few months, I was floored. I had no idea there were that many men in my city who identified as coming out later in life. I live in a city that's very open and affirming. We have the second highest LGBT population in the country (percentage wise). If I can find that many men in my open and affirming city that crave this kind of support, I can only imagine what it might be like for men in cities that aren't so open.
Q: How do you think this book will help LGBT men?
KINSELLA: My hope is that the book will be a strong tool for combatting shame. What I hear from a lot of men coming out is a lot of shame for what they didn't do. Shame for not being honest with friends and family about their sexuality of gender identity. Shame for letting fear keep them from living an authentic life. I think this book combats shame by sending the message of, "Don't beat yourself up for coming out a bit later than the norm. Celebrate the fact that you came out at all!"
Q: Is there a void in the market for this type of book or these stories?
KINSELLA: Yes. When I looked for books that could help me early on in my coming out, I found that most of the resources for coming out are youth-focused. I think the belief is that coming out as an adult is rare, but that's simply not true. The culture is so different today from what it was thirty or forty years ago. For Baby Boomers and older Gen Xers, the support system for youth coming out wasn't like it is today, so many men from that era stayed in the closet. But now that the culture as a whole has changed, many of these men (and women, I should add) are looking around and realizing, "Hey. It's safe for me to come out now." When I had that realization myself, I looked everywhere for a guide to coming out that could address my needs. I never found that guide, but I did find help in simply hearing how others like me navigated the waters of coming out. That's the void this book fills. It's not a how-to guide. It's more like an "It's Gets Better" campaign for men.
Q: Do you expect this book to help the families of LGBT men?
KINSELLA: Indirectly, yes. It will offer insight into what goes on in the mind of a man coming out, which can helpful for spouses, kids, grandkids, and others who have lots of questions about what might have prompted their relative to come out. When you are in the midst of coming out, the hardest thing to do is explain what's going on in your mind to someone else trying to understand. I could see family members reading these stories and getting a deeper appreciation of what their loved one is going through.
Along those lines, I got an encouraging message from one of the early backers, a straight woman. When she explained why she was drawn to the book, this is what she wrote: "I've come out of a number of closets, and though they weren't gender or sexual identification closets, I know how hard it can be to reveal that you no longer are what you once were or believed yourself to be." This tells me that just about anyone desiring an authentic life can be helped by this book.
Q: Is there a story, in the book, that sticks with you?
KINSELLA: All of them! For me, the stories that stick with me most are the ones I don't personally relate to. Specifically, the stories about coming out as bi or trans. My own coming out taught me the value of empathy, of learning how to step back and listen to another person's struggle and appreciate a moment of being in someone else's shoes. As I start to better understand the realities of both bi erasure and transphobia, it's teaching me how to become a better ally to others I share the LGBT+ acronym with.
***
The book will be available in March of 2016, but you can pre-order your copy through Kickstarter. For many men, these stories will be the lifeline that offers them hope and lets them know that they are not alone.
Popular in the Community