The placement and timing of the pop-up 'Mobile Supply Unit' by N.I.C.E. Collective is such a right clothes for the right place at the right time thing, that it seems like its always been on this block in downtown LA tucked between gourmet eateries and the ill-fated Hotel Cecil, a stone's throw from the Fabric District and yes, sadly, a smell away from any dog's business. This is the terrain man traverses not just in downtown LA but downtown Global. And N.I.C.E. is gearing for the journey.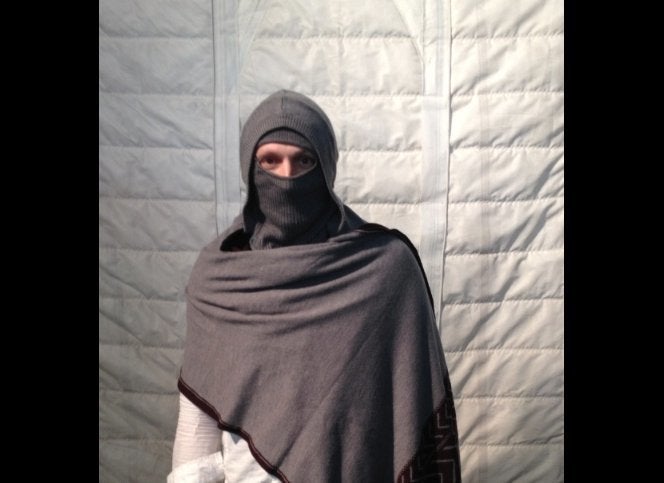 N.I.C.E. Collective Mobile Shop - Los Angeles
I'm not a fashion critic but certainly a more than casual consumer. I know what I like and I think I know what works and pushes boundaries. N.I.C.E. Collective is making great, well-constructed, minimalistic handsome gear that is modern and ready for the next frontier. Which is why a still up-and-coming neighborhood like downtown LA is perfect for its presence, if only for a moment.
The embedded slide show will give you an idea of both the clothes and the temporary space they've inhabited and designed. What you see are clean lines, modern fitted cuts, somewhat deconstructed, minimalist designs that get more complex when you get up close. Its like "Wait, was that a swath of metallic leather on that otherwise grey duck canvas messenger bag?" Or, you may say "That wool thing that I thought was a blanket actually turns out to be a dope hoodie-wrap-druid type thing that Obi Wan Kenobi might have had? Hmmm...I could totally rock it with a T-shirt and jeans."
At first, it can come across as dystopic or post-apocalyptic but then brightens. "I actually think of what we're doing now as more utopian than dystopian" says co-founder Ian Hanula. He and Joe Haller started N.I.C.E. (which stands for "navigate, inform, create, explore") in 1997. That subtle brightness is reflected a bit everywhere -- whether it's the bright orange and khaki reversible nylon jacket or small details like the new radar icon on their logo and 'dog tags'. "Its saying there's an attempt to communicate, to be in touch, not detached [like so much modern design gear]", says If the world of men's fashion were like, say the NBA, then you can think of N.I.C.E. as being in the division of other teams like John Varvatos, G-Star Raw and Diesel, along with a little bit of Rogue's Gallery and your favorite military surplus store thrown in.
The military side actually gets amplified by the look of the shop as well. As if fresh off the set of darkish sci-fi films like District 9 (or perhaps I am Number Four for which NICE provided designs), the interior of the shop has a number of inviting elements, especially for a temporary space. Originally mounted for only 4 days, its life has now been extended for a month but is laid out well enough to last years. Its like a most inviting billowy M*A*S*H unit playground.
Tumbleweeds alongside parachute fabric on various forms of metal fabrications -- including a full-blown dome in the center, are a great mix for amplifying what is at least one mythology of a downtown LA aesthetic -- gritty, somewhat industrial, but modern and looking to the future. Mixed with vintage military trunks, radio and electronic equipment in the spareness of the originating space -- which had previously been blighted with a completely awful art display -- N.I.C.E. has also given downtown passersby a far more pleasant stroll. So much so, that it will cause many to pause hopefully.
These two things -- the clothes and the showcase for them -- combine for why this store makes so much sense right now. The mix of the modern and the yes, dystopic and combative along with its literal and metaphoric silver linings says, its 'ready for the world'. Hopefully, downtown LA is ready for it before their next tour of duty. Unlike the Commes des Garcons venture a couple of years ago just blocks away tucked into an alley, this is not just a pop-up shop. Its a window into what's possible for fashion and retail interiors in downtown LA.
N.I.C.E. Collective Mobile Shop will be open through November 30, 2013. 620 S. Main Street, Los Angeles 90014. Hours: TUE - SAT, 12 PM - 9 PM; SUN, 12 PM - 6 PM. www.nicecollective.com