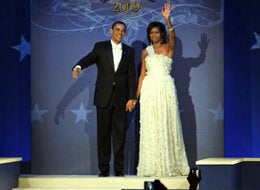 The Black Artists Association (B.A.A.) is mad as hell because First Lady Michelle Obama did not wear any style or designer dresses created by an African American/black designer. Instead, out of the seven outfits Mrs. Obama wore during the Inauguration, she chose dressed by designed by a Cuban-American and Asian-American. Amnau Eele, co-founder of the B.A.A. poo-pooed her choice as being "Kumbaya," and then exclaimed that the First Lady could have least chosen one dress by a black designer because after all, "This was our moment."
The Inauguration of President Obama was truly our moment, but it was also a moment for the rest of the world! Having been to the Slave Castles in Cape Coast Ghana where the Portuguese treated our ancestors like animals, and having traveled to the slave dungeons of Zanzibar where Arabs once brutally enslaved Africans, our history from that time to slavery, Jim Crow, Civil Rights and watching Obama's Swearing In was unbelievable and awe-inspiring. But people of all different ethnicities and nationalities feel a deep spiritual or symbolic connection to this President, his wife and two little girls, too.
I don't think the First Lady made a conscious decision to not choose a black designer or a conscious decision to choose a designer of specifically Asian or Cuban descent. She chose a designer that she liked, period. In the news, it was widely reported that many designers learned their gowns and dresses were chosen when someone saw the pieces on television; the choice apparently came as a complete surprise. And, yes, because of this their businesses will likely boom. Just as when Oprah picks a book, it shoots to the top of the New York Times best sellers' list, First Lady Obama's picks does and will continue do the same in the fashion world. So, it is understandable that you have a concern.
However, instead of complaining about why a black designer was not picked, take the opportunity to send your samples, copyrighted designs and portfolios to the First Lady or her very sophisticated and fashionably dressed Social Secretary Desiree Rogers. Have some of your celebrity clients donning your fashions make a big ask on your behalf. Write a powerful letter that is positive instead of criticizing the First Lady and talking about how she looks. Do you really think you will endear yourself with President Obama dissing his wife?
After reviewing a number of African-American blogs and sites regarding the First Lady's fashion, much of blathering about the First Lady has been negative about her style of dress. Just cut it out! Right now, you are no better than Ann Coulter's viscious mockery of the First Lady. It is understandable you want her to look beyond fabulous according to what you think a "black" First Lady should look like, but attempting to get her attention this way by "slamming her" just won't work!
Another piece of advice: please don't call out the names of famous black designers that First Lady Michelle should consider. I am sure that they don't want or need your shout outs and would rather in a more discreet manner show their beautiful designs that would surely enhance the First Lady's beautiful shape without your help. This type of social marketing is ineffective.
What we all have to remember is while we have the first Black Family in the White House and it's really exciting, it does not mean there is an automatic transfer of opportunities for African Americans. Opportunities may become more available for the qualified or even the less-qualified, but having an African-American president in the White House is by no means a guarantee. The Obama presence is an opportunity for us to be more creative in getting noticed when and where deserved.
The Obama family is our one of greatest inspirations of what can be achieved, but we must remember that we really have no choice but to share them with the rest of White, Brown, Yellow and Red, and Beige America.