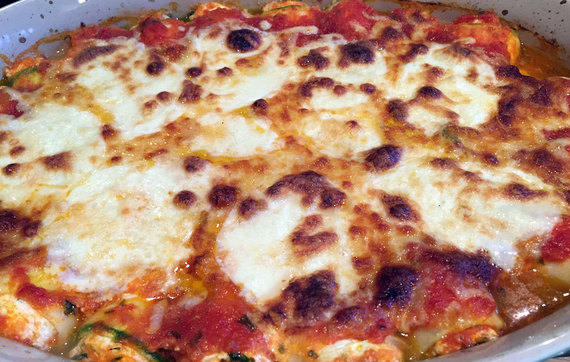 I love my mother-in-law's Manicotti from Heaven. But the truth is, making the crêpes is the hardest part. And all these videos on Facebook using zucchini like pasta got me thinking...what if I used zucchini to roll up the ricotta cheese mixture to make a superquick and gluten-free manicotti with a bonus veg? Especially since it was the end of summer when zucchini is a little more than plentiful.
It worked! I see a future filled with quick and easy zucchini manicotti. You can try it too.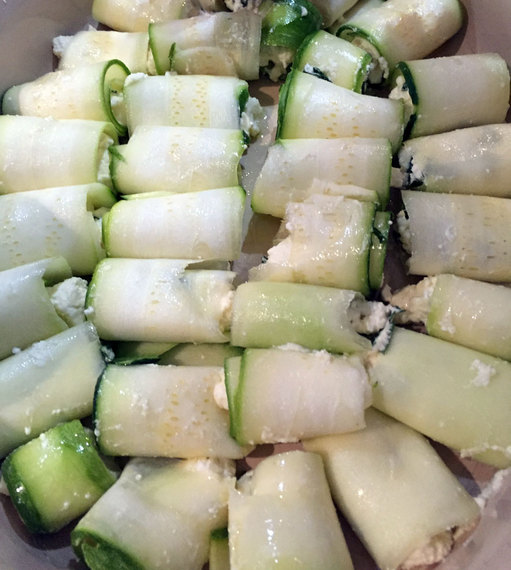 1 pound ricotta
⅓ cup grated Romano
3-4 sprigs parsley, chopped
1 egg
1 large (or 2 small) zucchini
1 jar tomato sauce
1 cup hard mozzarella
1 cup fresh mozzarella
1. Heat oven to 350 degrees. Combine ricotta, Romano, parsley, and egg.
2. Slice zucchini with cheese slicer into thin long strips. Fill each slice with filling and roll up.
3. Add two-thirds of the tomato sauce to bottom of casserole dish. Layer manicotti in pan. Add remaining sauce on top. Top with mozzarella, season with salt and pepper, and bake until bubbly, 30 minutes. YUMMIFUL!