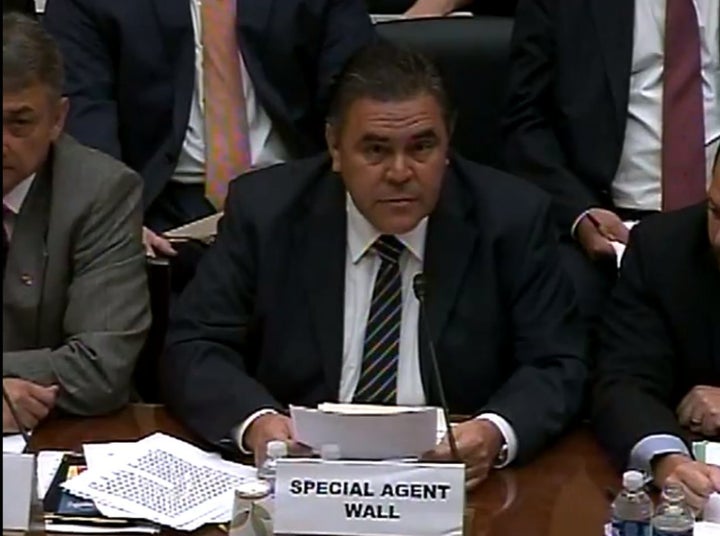 A botched gun-trafficking investigation that allowed suspected criminals to purchase roughly 2,000 firearms -- many which later crossed the border into Mexico -- came under renewed criticism on Tuesday as federal officials responsible for implementing and overseeing the operation testified before Congress.
The hearing came just hours after the release of a joint House and Senate report providing new details on the investigation, code-named "Operation Fast and Furious." According to the report, at least 122 guns tied to the operation have been found by Mexican authorities at crime scenes or were recovered during police action against drug cartels.
The operation was "a perfect storm of idiocy," Carlos Canino, a senior ATF agent in Mexico, said in the report. Other current and former ATF agents testified at the hearing that the operation violated basic agency protocols.
The "Fast and Furious" operation first ignited controversy in March after whistleblowers within the Bureau of Alcohol, Tobacco and Firearms revealed to the media and members of Congress that a gun tied to the program had been found last December among a cache of weapons at the murder scene of a Border Patrol agent.
Lawmakers on both sides of the aisle vented their fury at the ATF for the operation.
"We used people's lives as pawns," said Rep. Paul Gosar (R-Ariz.). "Shame on you."
Rep. Eleanor Holmes Norton, the non-voting Democratic delegate from the District of Columbia, was similarly critical. "You made a mistake, a fatal mistake for which you're being held accountable," she said.
ATF officials attempted to explain why surveillance was ended on suspected weapons traffickers after they had acquired guns that were almost certainly destined for Mexico. Information about the smuggled weapons was also withheld from Mexican law enforcement.
William Newell, former special agent in charge of the ATF's Phoenix field division, took responsibility for overseeing much of the "Fast and Furious" operation. He said the investigation was part of a larger operation designed to identify and prosecute high level Mexican drug cartel members responsible for large-scale gun trafficking across the border.
Under questioning on Capitol Hill, Newell acknowledged that ATF agents knew early in the operation that weapons were illegally crossing the border, but that the operation was allowed to continue. The failure to weigh the risk posed by the weapons falling into the hands of drug cartels was a major oversight, he said.
"I should have had more risk assessments throughout the case," he said. "I recognize that."
Newell's supervisor, William McMahon, deputy assistant director of the ATF, also apologized for a lack of proper oversight on the investigation.
"In the heat of battle, mistakes were made," McMahon told members of the House Oversight and Government Reform Committee.
However, McMahon denied that he or his superiors were aware that weapons were being allowed to "walk," or fall into criminal hands without ATF intervention.
"No one was aware that guns were walking, at my level or above me," he said.
Senior Republican lawmakers, led by Rep. Darrell Issa, chairman of the House Oversight Committee, have voiced suspicions that senior Department of Justice officials authorized the operation.
"The American people have a right to know -- once and for all -- who did authorize it and who knew about it," Issa said in a statement Tuesday.
In testimony earlier this month, the acting head of the ATF, Kenneth Melson, said he was unaware that the agents running the "Fast and Furious" operation would allow suspected criminals to purchase large numbers of weapons without attempting to interdict them.
Becca Watkins, a spokeswoman for Issa, said the committee's investigation into the operation would continue and faulted the Department of Justice for a lack of cooperation so far.
"Justice has stonewalled us at every opportunity," Watkins said. "We're still waiting for an enormous amount of information."
Calling all HuffPost superfans!
Sign up for membership to become a founding member and help shape HuffPost's next chapter