 One of the biggest stories of the American restaurant industry for the past decade has been the emergence of "fast casual" eateries as a force to be reckoned with. Chipotle, Panera, Five Guys and all their ilk offered the promise of relatively high-quality food at moderate prices -- and attracted away hordes of customers from fast-food chains (McDonald's, Taco Bell) and casual dining chains (Applebee's, Olive Garden) alike.
85 percent of consumers surveyed said they eat at fast-casual restaurants at least once a month, and 82 percent reported visiting a traditional casual-dining brand once a month. The strength of traffic at traditional casual-dining restaurants resulted in part from customers trading down from upscale casual, the report found, as only 40 percent of respondents who recently patronized a casual-dining restaurant also visited an upscale eatery in the same time frame.
85 percent! And this is a category that barely existed in the 20th century. That's the kind of growth you'd normally only expect to see in the waist circumference of someone who eats at Chipotle every day, and not just every month.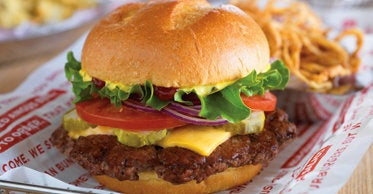 Fast Casual Burger Chains To Watch