We sure have been hearing a lot lately about grocery stores! Big, small, and in-between - If they are what we call mainstream, they are good for public health. If they are what we call fringe, well, not so good for your lifespan or waistline if frequented on a regular basis. In our last blog we used the term agglomeration and one commenter asked: is that really a word, Gallagher? We didn't make that one up but we do have some explaining to do about mainstream and fringe and why it matters.
We consider a mainstream grocery store a place where you can support a healthy diet on a regular basis. A fringe food location is the opposite; it is not inherently bad, but when it's the primary food source, local diets and public health suffer. People die earlier than they would otherwise after accounting for income, race, and education. We have already statistically demonstrated that connection.
Mainstream grocers need not be part of a major full-service chain; total square footage is not important. Mainstream grocers can be independent and/or small food stores. The key defining factor is that they sell an assortment of healthy, fresh or even frozen foods such as produce and meats. An example of a very small store that is nonetheless in our mainstream database is Chatham Foods, on Chicago's South side. Have you been there?
Fringe food venues include fast food restaurants and convenience stores. However, in today's changing marketplace they can also include gas stations, liquor stores, department stores, discount bakeries, pharmacies and a multitude of other retailers that sell ready-made, fast, boxed, canned, and other types of food products but for whom fresh and healthy food is not the primary line of business. These foods are usually high in salt, fat, and sugar and have very limited if any nutritional value. There are exceptions, but usually this is the case. We have been traveling all around the country and see first hand that it is a huge issue in many urban, rural, and suburban locations. Sometimes these fringe food venues are actually certified to accept USDA Food Stamps, also called LINK or EBT (Electronic Benefit Transfer), even though these retailers might actually be liquor and convenience stores that sell very little if any nutritional food despite the USDA motto that the Food Stamp program is "first line of defense against mal-nutrition."
See this photo from our Harlem, New York field work: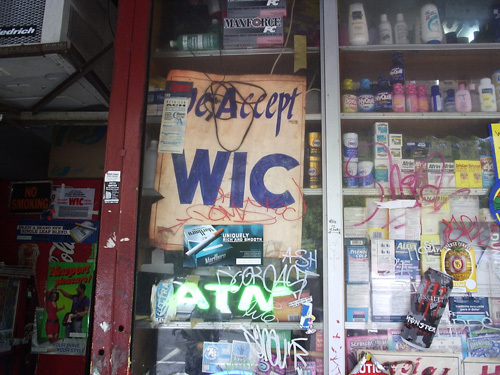 Let me take off my researcher hat for a moment and speak from personal experience. My mother is 85 years old and doesn't frequent her regular full-service grocery store by herself as much as she once did. She still drives and gets around, but she now finds the store a little overwhelming and farther than the nearby pharmacy which is comparatively small and easier to navigate. So she shops there a lot, buying bread, coffee, treats for her cat Molly, sometimes a frozen pizza, crackers, snacks, paper products and so on. She loves fruit, vegetables, and other types of healthy foods but she can't buy them there, so when in a pinch she gets juice, but sometimes the sugar content is too high and the real juice value is too low. My neighborhood pharmacy actually carries a very limited but welcomed assortment of frozen vegetables. My mother's pharmacy does not.
My mother is a borderline diabetic and needs certain types of low salt and low or no sugar products that she cannot find at the pharmacy. Fortunately, I can take her to her favorite mainstream grocery store when needed. When we go together it's a fun outing. I can also do some shopping and cooking for her from time to time, too, but not every person with limited ability to get around has that kind of support. And just in case you are wondering: No, my mother does not live in the food desert. Her favorite grocery store is about 16 blocks away (the "old neighborhood") but her closest mainstream grocery store (which is also very nice) is about 4 blocks away and there is a shuttle at her building that will take her there for free and sometimes she does go there. I guess when you have a chauffeur (me in this case) you can be picky. But let's not loose the point: Some seniors tend to be sensitive to the convenience and ease of shopping, not to mention price, and this goes for other populations, too.
No matter your age or location, consider where you live.
Can you buy fresh, skinless chicken as easily as ready-made fried chicken?
Can you buy whole, raw potatoes as easily as French fries, high-salt chips, candy, and soda?
Can you buy fresh tomatoes or only ketchup?
In some communities, whole fruits such as pineapples are considered exotic because they are so hard to find.
In our work we cite other industry examples of mainstream and fringe retailers, such as banks (mainstream) and currency exchanges (also called check cashers) and pawnshops (both fringe). Communities that are in-balance in terms of food and other goods (meaning mainstream and fringe options and access are roughly equal) tend to have healthier people and healthier economies after you account for other factors such as income, race, and education.
Mainstream food access is critical to the human condition and to public health: if we don't eat, we don't live, and if we don't eat well, we don't live as long as we would otherwise.
In our work we find that the regular study and monitoring of food access by mainstream and fringe is extremely important. Consumers tend to rely on the food stores to which they have the most access, even if for health or other reasons, they prefer or require other types of foods, such as my mother and maybe your mother, too. We call this the Convenience Food Factor - an emerging body of our work which links the different types of food access on food purchasing decisions. We find it can impact many different types of households, including middle and higher income households with cars, although it likely has the greatest impact on poorer households without cars.
We have learned many lessons from doing this work in many different kinds of markets and, as a result, we are expanding our definition of access and have already published some reports on these findings. To summarize: First, there is our foundational definition of food access, which measures the distance of the center of every block to the closest mainstream and fringe food location. In Chicago, that constitutes over 18,000 non-zero population blocks. But we are now also looking at economic access (the cost of goods at a mainstream food store) and the Convenience Food Factor of the store (which often has to do with size and hours of operation of the mainstream store and one's ability to make purchases quickly). Increased convenience means that a mainstream grocer can better compete with highly convenient fringe food options such as fast food. For example, working parents constrained by time might still consider a quick food purchase of fresh skinless chicken, vegetables, brown rice and 100% juice from the grocery store over fried chicken, French fries and soda (mostly #2 corn) from the drive thru.
Take my sister and her husband. They have full-time-plus jobs, active church duty, and six kids, so constant food shopping is a challenging effort!
Choice in food shopping is good for families, communities, the market, price points, and public health.
And this brings us back to agglomeration which, yes, is really a word.
In retail, agglomeration means the attraction of stores to the same cluster or corridor, especially similar and complementary stores. It is common for retailers to choose to locate together in the same small town, mall, block or intersection, even when their products directly compete, overlap, or are similar or complementary. The closer the stores are in location, and the more they provide similar but distinct consumer options, the greater the agglomeration effect.
Grocery stores agglomerate as do other retailers. This is why there are examples of a 50,000 square foot or more (or even much more) mainstream grocery store kitty-corner from a 20,000 square foot or less (and even much less) mainstream grocery store. There might even be an in-between sized store on the third corner or down the block.
From the center of my own block, I can walk to 3 fairly large full-service grocery stores, one small-format chain grocery store, and one very small-format independent meat and produce specialty shop. I confess that my husband does most of the cooking in our household (I'm good but he's much better). We stock up on our stables but we like fresh greens, meat, and fish regularly to the extent that he frequents the grocery store about 4 to 5 times a week on average. Usually these "fresh" purchases of what we are having for dinner that night are made on his way home from work. (Oh, and he commutes by bike - 8.5 miles each way -- go figure.)
Back to size: Are we saying a smaller grocery store is best for public health? Absolutely not. We are saying that one size does not fit all in this changing and complex marketplace and that a multitude of fresh and healthy food choices will contribute to public health. And, yes: Grocers still need to make a profit.
So, what do you think? Are the food options by you mostly mainstream or fringe?
Final notes: Congratulations Chicago on a successful Grocer Expo! Congratulations to my old friends at LISC/Chicago for your successes with your New Communities Program and your MetroEdge market analysis which, along with my firm's public health impact analysis on Chicago's 6 priority sites, was included in the Grocer Expo Booklet. Congratulations Will Allen, former professional basketball player turned urban farmer and head of Milwaukee-based Growing Power, for your "genius grant" awarded by the John D. and Catherine T. MacArthur Foundation. Congratulations to Orrin Williams et al of Center for Urban Transformation for Englewood's Food, Fitness and Health Plan.
Coming up: FamilyFarmed.org Expo to take place November 21 to 23 at the Historic Chicago Cultural Center. This is the weekend before Thanksgiving, the largest food buying weekend of the year. I will be there and hope you make it, too.
But first: I'm all packed up and headed to Lake of the Ozarks, Missouri, to speak to community leaders from around the state about food deserts, and then on to DC for some related meetings. As such, our latest Chicago food desert report release will be delayed by a few weeks.
Please write and post while I'm away. I still have email, internet, and the power of the (electronic) pen.

PS - October 1st marks the official end of National Food Desert Awareness Month, but Good Food activities continue year-round. For example, a Loop retail outlet will sell locally grown and produced edible products, including fresh produce, dry goods and seasonal items. October 1st will be the grand opening and it will run through mid-December. Next spring, it will begin operating year-round.
Could this enhance the Convenience Food Factor of downtown residents and especially workers who come to downtown daily from all over the city? Check it out at its 66 East Randolph Street location and post a comment here telling us what you think. The operating hours will be from 11am to 7pm Tuesday through Friday and 11am to 4pm on Saturday.
There is also a reception and silent auction to benefit the Organic School Project on October 2nd from 6 to 8:00p.m. Entry is $50. More information at 312-924-0195.
With the coming of October, we won't be leaving Good Food behind, but we will begin writing on other topics as well, such as asset building (huh?) and our nation's current banking crisis.
But back to food for a moment: what did I just read in the news about a full-service mainstream grocery store signing a letter of intent the other day for a site at 39th and State in historic Bronzeville?
I'm really signing off now.
REAL LIFE. REAL NEWS. REAL VOICES.
Help us tell more of the stories that matter from voices that too often remain unheard.