Carl's Jr./Hardee's introduction this week of their $5.59 Steakhouse Thickburger (below) makes official the demise of $5 as the burger price ceiling above which quick-service chains fear customers will not go. So $6 is the new $5, and even that line already has been crossed by at least one chain.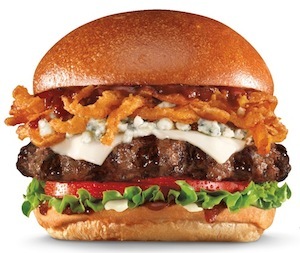 In 2001, Carl's Jr. introduced the "Six Dollar Burger," a sandwich it sold for $3.95 but said would cost at least $6 at a casual-dining restaurant, which was probably true. Now, Carl's Jr. is asking $6.79 for the half-pound version of the new Steakhouse Thickburger and the average casual-dining burger is priced above $9, according to NPD Group data. Times and burger prices have changed.
Chains that are issuing warnings about price hikes that higher wages might require have been steadily increasing burger prices over the years. And customers keep buying. Even when they spike above $6 as happened earlier this year with Burger King's A.1. Hearty Mozzarella Cheeseburger, priced in some markets upwards of $6.49 (although prices for all chains may vary by area).
Raising prices and enticing consumers to trade up to more expensive premium items have two of the most important tactics this year. It accounted for 9% of the whopping 17% increase in Q3 same-store sales for Shake Shack. Wendy's reported a small gain in comp sales due to an increase in average check that offset a slight decline in customer traffic. A 2% increase in pricing helped McDonald's post a 0.9% gain in Q3 comp sales.
Given continued softness in QSR customer traffic, the top burger chains can be expected to continue to push premium prices upward. The chart below, compiling prices for major premium-tier items at burger chains this year, shows that many were introduced at $4.99, just under the old $5 ceiling. But Carl's Jr./Hardee's broke the $5 barrier again and again this year. Wendy's went right up to the new limit with a $5.99 Baconator price in mid-2015.
Will the $6 threshold be crossed again? For 2016, it's probably not if but how often.