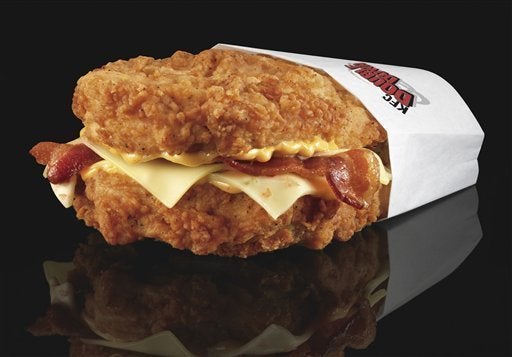 Have you seen the latest Kentucky Fried Chicken Sandwich just released? It is called the "Double Down." Imagine two slices of Monterey Jack and pepper jack cheese, two pieces of bacon and the mysterious Colonel's sauce. Instead of a bun, there are two slabs of chicken (original recipe or grilled). Click here to see for yourself.
Not everyone is thrilled about such an out of the box (or should I say out of the bun) idea. In fact, it's been awhile since a sandwich has cause this much controversy. In response to this creation, some dietitians have proposed that a "black box" be added to the sandwich's food label. Also, they believe that it should not be marketed to kids due to the possible negative health effects.
The black box proposed is much like those we see on cigarettes and bottles of wine. "WARNING - Eating meat can contribute to obesity in children, and can increase their risk for heart disease, diabetes and cancer." Would this make you put down the sandwich or think twice?
Regardless, here are the statistics.

An original recipe Double Down:
540 calories,
32 grams of fat
1380 mgs of sodium.
Grilled version
460 calories
23 grams of fat
1430 mgs of sodium.
So, weigh in on this controversy. Do you think that restaurants should be able to serve whatever kind of food they want, regardless of possible long term hazards to your health? Or, do you think that restaurants should have some responsibility in creating options that are nutritionally balanced?
The big question--should certain foods come with a "black box warning?" You decide.
Popular in the Community