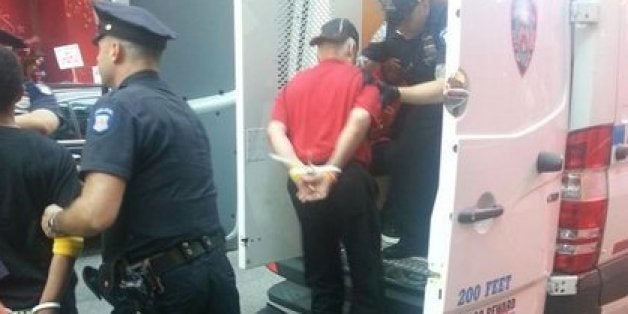 Dozens of people participating in fast-food protests were arrested in New York, Chicago, Miami and other cities Thursday, according to police and organizers.
Fast-food workers and activists protested in more than 100 cities across the country demanding higher wages and better working conditions. The protests are the latest in a series of actions over the past few years aimed at calling attention to the plight of fast-food workers, who typically earn near the minimum wage and are subject to erratic schedules.
Industry groups argue that raising wages would squeeze the franchisees who own most of the restaurants. They also say that fast-food jobs are meant to be entry level, and therefore employees should get entry-level pay. But the economic downturn and slow recovery have meant that low-paying jobs in fast food, retail and other sectors are increasing much faster than middle-income work. That dynamic has forced many breadwinners to rely on multiple fast-food jobs to get by.
The Huffington Post confirmed with police departments across the country that at least 159 people were arrested, issued citations or detained. Organizers claimed 436 people were arrested as of Thursday afternoon, though it's hard to say whether some of those were citations and not actual arrests. In most cases, the protesters were arrested or cited after blocking streets in most cases. While fast-food strikes have gained media attention over the last few years, Thursday was the first time activists used widespread civil disobedience.
In New York, 19 people were arrested outside of a McDonald's in Times Square at about 7:45 a.m. They were charged with disorderly conduct for obstructing traffic, a NYPD spokesman told The Huffington Post.
In Detroit, 30 protesters were detained after they blocked Mack Ave. on the city's east side, a police spokeswoman said. Six were detained on warrants and 24 were arrested and released.
Workers and activists were also arrested in Chicago. A spokesman for the Chicago Police Department said 19 people were temporarily detained and issued citations; they're expected to be released later on Thursday.
Protesters were also arrested in San Diego Thursday morning. A local ABC affiliate reported that 11 people were arrested. A police spokesman confirmed that arrests were made, but could not confirm the number.
In Indianapolis, 10 protesters were cited for obstructing traffic, a spokesman for the Indianapolis Police Department said.
"They were cited in the parking lot with a ticket and then walked away, no one was handcuffed," said Lt. Christopher Bailey.
In Hartford, Connecticut, 13 protesters were cited for disorderly conduct, according to police.
In Las Vegas, 10 people were cited after they blocked the north- and south-bound lanes of Las Vegas Boulevard this morning, a police spokesman told HuffPost.
In Miami, seven protesters were arrested after they refused to comply with an order from police to disperse from the middle of the road where they were sitting, a Miami-Dade County Police Department spokesman told HuffPost.
"They were taken into custody without incident," the spokesman said.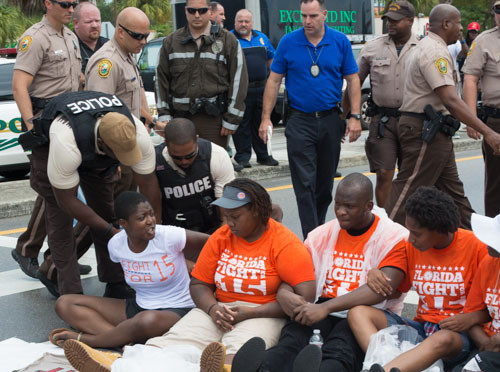 Eight people were arrested for disorderly conduct and unlawful assembly after blocking a "main thoroughfare" in Wilkinsburg, Pennsylvania, a Pittsburgh suburb, according to police.
In Kansas City, Missouri, 47 people were arrested after blocking the on and off-ramp to "a major thoroughfare," according to a police spokesman. He described the protesters are "very cooperative."
"We gave them several warnings and they refused to stand up and get out of the way," he said. "We handcuffed them all and brought them downtown and booked them for blocking the roadway."
Twenty-seven people were arrested in West Milwaukee, according to a press release from the police department there. Photos show Rep. Gwen Moore (D-Wis.) getting arrested.
Popular in the Community