Chicago-area McDonald's workers walked off the job during a one-day strike Thursday morning as part of a nationwide movement protesting low wages and labor practices.
Roughly 200 protesters including employees from McDonald's and Walmart and members of the Chicago Teachers Union and the Service Employees International Union gathered outside the Rock N' Roll McDonald's at 600 N. Clark St. in downtown Chicago to rally and state their demands.
"It's an amazing day because we have about 60 cities joining us," Deivid Rojas, communications director for Fight For 15, said Thursday. "The workers were really inspired because they were among the first workers back in April to go on strike. The support from other cities gives them gives them confirmation."
(See photos of the strike below.)
"It's not livable," Tyree Johnson, who said he's been a McDonald's employee for 21 years, told HuffPost. "I've been dedicated to McDonald's for the past 21 years. I still make $8 an hour."
Other workers echoed Johnson's plight, saying the low wages McDonald's pays leaves them struggling to support themselves even as full-time employees.
"I'm tired of choosing between paying rent and eating," said worker Tamara Best-Watkins to the crowd. "I'm tired of choosing between taking my daughter out and paying rent."
Protesters call for a living wage and fair labor practices outside a downtown Chicago McDonald's.
Rep. Jan Schakowsky (D-Ill.) stood in solidarity with the protesters, firing off harsh words at McDonald's CEO Donald Thompson as she blasted the Oak Brook, Ill.-based company's low-wage practices outside what's considered one of the golden arch's most profitable locations.
"[Thompson] makes in two or three hours at work what his employees make in a year," Schakowsky said to the crowd of protesters.
"If these workers were making a living wage, they would be able to create millions of good, new jobs," Schakowsky said. "Giving American workers a raise is the right thing to do and is the smart thing to do."
Following Schakowsky's remarks, McDonald's employees and members of the Fight For 15 Workers Organizing Committee of Chicago spoke to the press before heading inside the restaurant to deliver a letter to the owner.
After an owner refused to meet with the protesters, Nancy Salgado of the Fight For 15 group left the demands on the counter.
Outside the restaurant, Charmaine Givens-Thomas said she was joining the fight in hopes her employer, Walmart, would adopt higher wages and end retaliation against employees who wish to unionize. Givens-Thomas, who works at the Evergreen Park Wal-Mart at 95th and Western, claims that after an unfair labor practices strike in June, some 60 employees nationwide were retaliated against.
"Some were terminated, some were let go," said Givens-Thomas, who kept her job but was written up by superiors. "It just gives them a reason to eventually fire you," she said of the write-up.
"There's poor safety conditions, we're understaffed, hours are cut...full-time employees make 32 hours a week. We can't afford that."
About an hour after the protest, workers separated into teams to deliver demand letters to stores around the city.
Rojas told HuffPost all the letters have the same basic demands -- $15 an hour and the right to unionize without retaliation -- with additional demands individually tailored for the 20 national brands including Macy's, McDonald's, Whole Foods and other food and retail companies.
The protest continued Thursday afternoon at 3:30 p.m. at Federal Plaza in the Loop where Rojas said about 1,000 participants were expected.
"One thing is clear -- we're going to keep on fighting."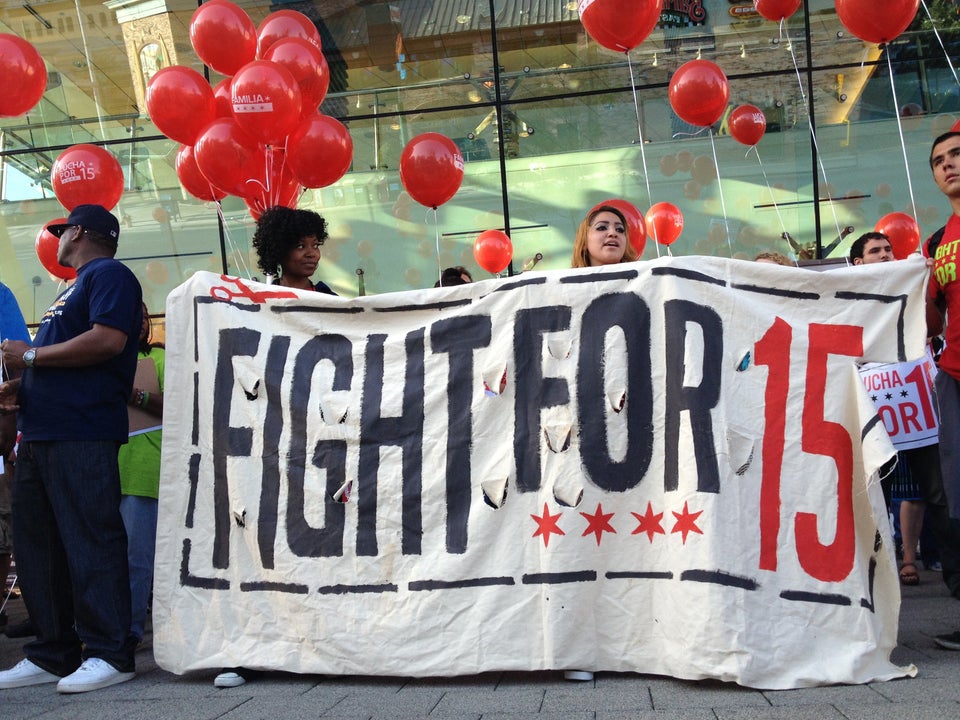 Chicago Minimum Wage Workers At #829 Strike
Popular in the Community