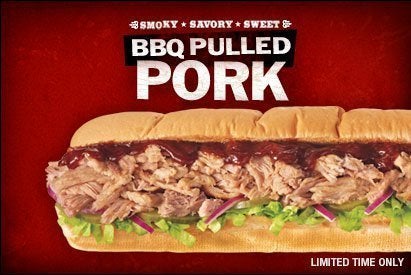 It may seem unfair to Subway for me to review their limited-time BBQ pulled pork sub, having had plenty of authentic BBQ from around the country -- from the dry rubs of Texas, to the saucy, smoked flavors of Memphis, to the vinegary tastes of the Carolinas. Then again, Subway doesn't claim to emulate any of those regional styles; they have gone a more generic route when arriving at their barbecue flavor, much like a bag of Barbecue-flavored chips. They are not a king of barbecue -- nor do they claim to be -- and seem to be conscious that if they are the king of anything, it's spongy bread and pre-sliced meats. Keeping that in mind, I kept my expectations low -- way low -- when I was assigned to review their new BBQ pulled pork sandwich. Here's how it rates:
The Claims: Subway's BBQ Pulled Pork Sub is "tender, succulent slow-cooked pork with sweet and smoky barbecue sauce, all on freshly baked bread." Official calorie count: 570 for a 6-inch sandwich. I sampled it as pictured: topped with lettuce, red onions, pickles, and their new BBQ sauce, all on roasted garlic bread.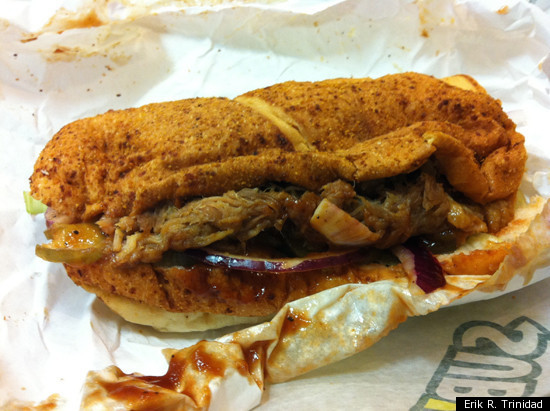 The Verdict: B-. If you can get over the fact that the pork is already pre-pulled and sits in little cardboard boxes behind the counter, only to be microwaved before being placed on your roll upon ordering, then you're halfway there to embracing this sandwich. That's no surprise anyway, since a lot of Subway's hot sandwiches are prepared that way. By itself, the pulled pork is surprisingly decent if you don't question it much and eat it for what it is; the texture is moist and tender as it should be.
However, the shredded pork is merely a conduit for the real source of flavor in this sandwich: the new BBQ sauce, which is available on any sandwich if you ask for it. It is this generic barbecue sauce that actually makes this sandwich taste like a McDonald's McRib, which is either good or bad based on your opinion of it. In fact, it's probably the same generic barbecue sauce used in many fast food items across the spectrum of fast food chains; as I've stated in a previous fast food review, this generic brown sauce comes with Chicken McNuggets and can make any burger taste "barbecue." Hell, you could put that sauce on an oyster and it'll taste like a McRib. It's generically smoky, savory, and sweet -- three adjectives that Subway coincidentally uses in their marketing campaign, and there's no debate about that. The debate only arises when you question any or all the ingredients in the BBQ Pulled Pork Sub, but hey, this is Subway, not an actual BBQ joint, and if you're there, you already know what you're getting into.
The bottom line is, there is tons of better barbecue out there in the world; get that if you have the means. If not, Subway has a generic alternative, if that's all you can get when you're in a rush -- or if you're just in the mood for a McRib substitute since McDonald's doesn't sell them anymore.
Calling all HuffPost superfans!
Sign up for membership to become a founding member and help shape HuffPost's next chapter