Stephen Warner works part-time at a McDonald's in New York City, earning the legal minimum wage of $7.25 per hour. He hasn't seen a pay bump since he started six months ago. Depending on how many shifts he gets, he says his take-home pay sometimes comes out to less than $100 for the week.
Hoping for a living wage, the 27-year-old said he plans to protest his own employer on Thursday, and he believes that several of his coworkers will join him.
"While I'm making $7.25, my money can't take me anywhere. The price of living is going up it seems every day," Warner, a Bronx resident, said in an interview Wednesday. "I appreciate the opportunity to work. But I want them to consider how much I make and ask [themselves] if they could live off of it."
Warner has joined a rare fast-food labor campaign called Fast Food Forward. The union- and faith-backed effort drew national attention last November when it spearheaded strikes at several of New York City's fast-food restaurants, criticizing the likes of Wendy's, Taco Bell and Burger King for paying wages that workers struggle to live on. Warner's protest Thursday will be part of what organizers are billing as the campaign's second and larger wave.
Jonathan Westin, organizing director at New York Communities for Change, a community group closely involved in the campaign, said he expects between 400 and 500 fast-food employees in New York City to take part in Thursday's one-day strike, or about double the number of those who participated last year. That's a small fraction of the city's tens of thousands of such employees, but Westin said the participation may be large enough to disrupt business at some of the affected restaurants.
Westin said many of the workers who plan to protest on Thursday were inspired by the actions of their colleagues last year. And many of those employees, he added, had been inspired by the strikers who walked out of Walmart stores on Black Friday with similar complaints of low wages and a lack of benefits like health care coverage.
Calling the workplace demands a civil rights issue, Westin said Thursday's protests and walkouts were scheduled to coincide with the 45th anniversary of the assassination of Dr. Martin Luther King, Jr., on April 4.
"This is to show the escalation of the campaign and the movement of workers, to demand fair pay and better treatment, so they can continue to raise their families and put food on the table," Westin said. "Part of what this is about is building a broad worker movement within fast food, within New York City and around the country."
The organizers behind Fast Food Forward are explicitly calling for an industry wage of $15 an hour in New York City -- double what many workers currently make -- as well as the unionization of fast food restaurants. The Service Employees International Union (SEIU), which has more than 2 million members, has been involved in the campaign.
Fast food, however, is a virtually union-free industry, with tremendous hurdles facing workers who seek to unionize and win a contract. The organizers behind Fast Food Forward haven't yet detailed how they plan to unionize the restaurants, but Westin said that one of the demands made by workers Thursday will be "the right to organize free from retaliation from employers."
The average worker in the food and beverage industry, which includes fast food, earns about $18,000 a year, or $8.72 per hour, according to the Bureau of Labor Statistics. Many of those jobs are part-time, even if workers desire full-time hours, and come without basic benefits.
Since the group's launch in November, workers and activists with Fast Food Forward have joined other political campaigns involving the working poor, most notably on the minimum wage and paid sick leave. The group has supported proposals to raise both the federal minimim wage and the state minimum wage in New York to $9, as well as a hard-won fight to mandate sick leave for most workers in New York City. The campaign also supported a group of student guest workers from overseas who went on strike at McDonald's restaurants in Pennsylvania, claiming they were shorted on pay and kept in substandard housing.
"The economy is becoming an economy of low-wage, service-sector jobs that pay minimum wage," Westin said. "For many folks who've lost good jobs in the recession, these have become their jobs. People are coming to a tipping point."
Warner, the McDonald's worker, said he wasn't even aware of the fast-food strikes and protests when they happened back in November. He heard about them after the fact. At first, he was leery of joining a public unionization effort, scared he might lose his job or endanger a friend's.
"It's hard," he said of the decision to protest his employer. "But it's even harder to just sit there and take it."
Before You Go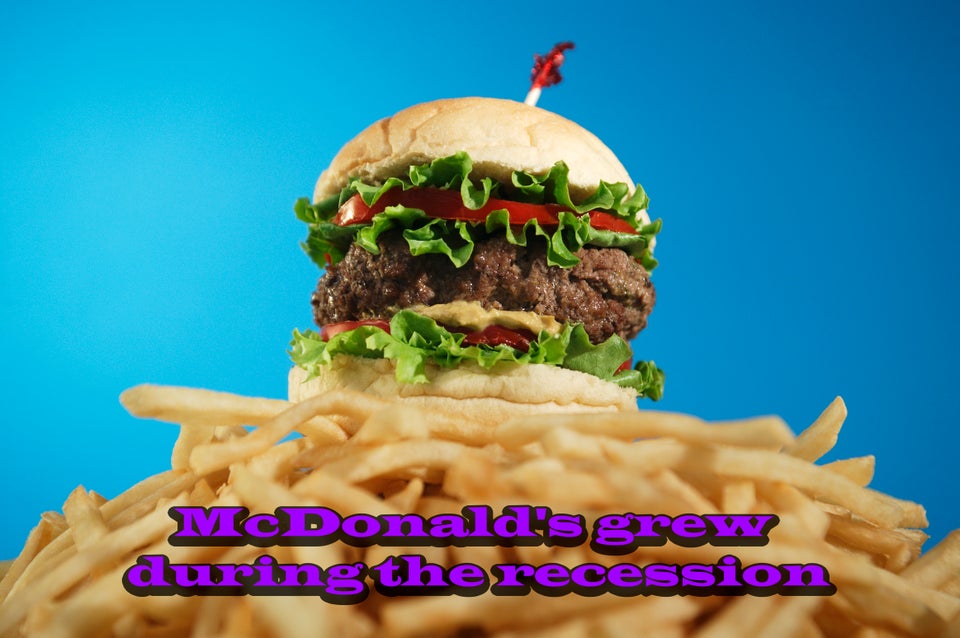 10 Things The Fast Food Industry Doesn't Want You To Know
Popular in the Community