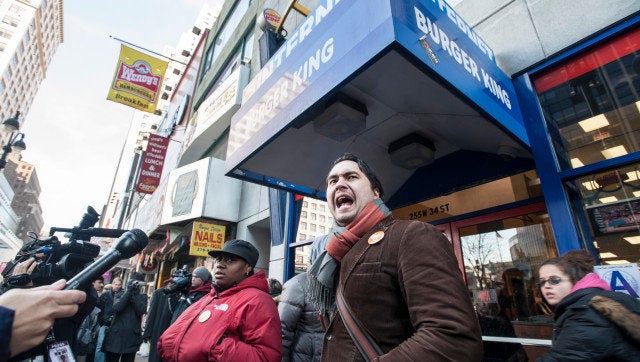 At 11:30 am on Thursday, the start of the lunch hour rush, 100-some raucous protesters swarmed a Burger King near New York City's Penn Station, chanting and holding up signs decrying low wages at the restaurant and other New York fast food purveyors.
Standing behind a metal barricade outside the store, the crowd included clergy, union organizers and workers from Burger King and other fast food restaurants who had gone on strike earlier in the day.
Customers were avoiding the chaos. Inside, the usually bustling restaurant was empty save for its cashiers, a security guard and two customers.
"If there's no workers inside, there's no money for [Burger King]," said Saavedra Jantuah, a cashier who was scheduled to be working behind the counter. "I make $7.25 an hour and that's barely enough to live on."
At McDonald's, Domino's, Wendy's and other fast food restaurants across the city, more workers went on strike Thursday, protesting what they say are wages that keep them in poverty. Strikers hope the walkouts will represent a turning point in the low-wage fast-food industry, where workers typically drift from job to job and the franchise-operated structure creates a hurdle for union organizing. The strikes come on the heels of nationwide strikes at Walmart, the world's largest retailer, which is widely criticized for its low-paying jobs.
Organizers cite the changing demographics of fast-food industry as one reason strikes are necessary: "It's not just your teenagers with after school jobs. It's mothers, fathers and families," said Jonathan Westin, organizing director at New York Communities for Change, who helped coordinate Thursday's protests. "Especially now after the recession, a lot of people who lost work are now taking these jobs. Our economy is becoming a service sector economy but most of these jobs are minimum wage. This is a huge problem."
The workers in New York City are demanding the ability to form unions and to be paid at least $15 an hour. Currently, the median wage for food service and food preparation workers is $8.90 an hour in New York City, according to the New York State Department of Labor, the lowest of any occupation.
Thursday afternoon, the total number of workers striking was not yet known, as people were continuing to walk out throughout the day, organizers said. At a McDonald's on Madison Avenue at 6:30 am, 16 workers picketed. According to Raymond Lopez, one of the 16, that was almost half of the store's total workforce of 40 people.
Lopez and other striking workers said they don't even get paid enough to afford meals at their restaurants on off-duty hours. "I qualify for food stamps but my husband doesn't want me to use them," said Pamela Waldron, who after eight years at KFC makes $7.75 an hour, which typically amounts to around $10,000 a year. "There are other people who need them more who don't even have jobs," she said. Waldron's family comes up short on the rent nearly every month, she said.
Burger King, Wendy's, McDonald's and Yum! Brands, which owns KFC, Pizza Hut and Taco Bell, had yet to respond to The Huffington Post's requests for comment by press time Thursday afternoon.
In a statement, Tim McIntyre, VP of Communications at Domino's said: "We place a lot of value on maintaining an open door culture with our team members that allows them to communicate with us directly without going through a third party... We will be talking to [our team members] openly and honestly about the implications of these activities."
In the past, fast-food workers have tended to move onto other jobs instead of fighting for better conditions, according to Ken Margolies, a senior associate at the Worker Institute at Cornell University. The fact that fast-food chains are owned by various franchisees also makes unionization and collective bargaining difficult, he said.
Westin and other organizers were not willing to go into detail on Thursday about how exactly they plan to unionize workers. Strikers aren't looking to change the behavior of individual franchises so much as influence standards across the entire industry, he said.
But even with a motivated group of workers willing to risk their jobs by striking, the problem of individual franchise owners setting their own wages on a store-by-store basis will likely remain an obstacle to setting a standard $15 an hour wage across New York City.
One Burger King employee who did not go on strike, a security guard who asked that his name be withheld, seemed to think that his individual restaurant was being picked on. "I understand their cause but why do you have to target one location?" he said. "We're usually packed and now no one wants to eat here."
Joe Van Brussel contributed reporting.
Before You Go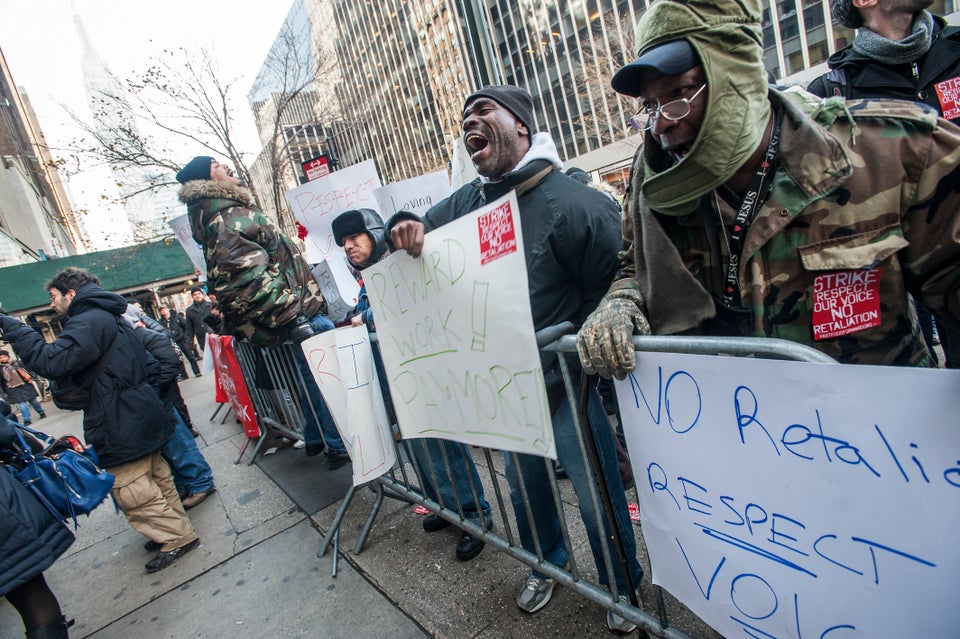 Fast Food Protests In New York City
Popular in the Community