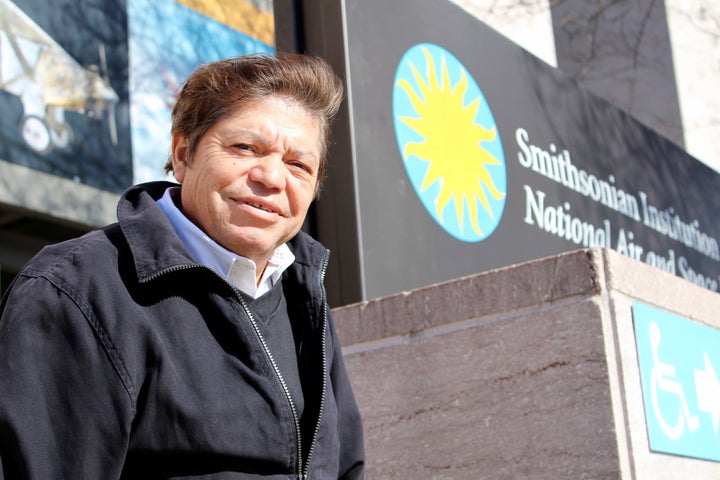 WASHINGTON ― The first time Luis Chiliquinga went on strike, he joined fellow fast-food workers and marched into his McDonald's inside the Smithsonian Air and Space Museum. He wasn't satisfied with his $8.25-per-hour wage, and he was tired of burning his hands on hot grease. As the strikers chanted, Chiliquinga walked right up to his manager and held up a protest sign.
"I wasn't scared," Chiliquinga says of that first walkout, in 2013. If anyone seemed nervous, the 67-year-old says with a smile, it was management: "They were scared."
Chiliquinga has taken part in more than a dozen strikes and protests since then, all of them pillorying federal contractors for paying low wages and opposing unionization among their workers. The rabble-rousing has led to concrete gains. Chiliquinga now earns $12.77 per hour and gets paid time off. He doesn't believe he'd have either if not for the pressure fast-food workers like himself brought to bear on employers and politicians.
Yet Chiliquinga and his striking colleagues accomplished much more than that. They helped shape federal policy in a way that affects hundreds of thousands of other workers. Several of President Barack Obama's executive orders may not have been issued at all if not for the courage of low-wage contract workers in Washington. Chiliquinga should know: He was invited to stand at Obama's side in the White House when one of them was signed.
Under President Donald Trump, those gains may not be permanent. While on the campaign trail, Trump promised to unwind Obama's executive orders, and he has already started to make good on that pledge. Chiliquinga wonders if some of the progress he and his co-workers made could be vacated with the stroke of a pen ― even though Trump vowed to bring back good jobs and raise wages for struggling workers like him.
"We fought very hard," says Chiliquinga, a father of three. "We expect a living wage, not a minimum wage. It's dignity. That's why we pursued it."
Chiliquinga, who immigrated from Ecuador in 1996, lives in a group house with family in suburban Maryland, about 40 miles from the Air and Space Museum. The commute alone costs him more than an hour's pay each day. In 2013, he joined a new, union-backed worker group called Good Jobs Nation, made up of D.C.-area fast food workers, janitors and cooks, all of them employed on federal properties. They wanted to call attention to the fact that the federal government underwrites a lot of poverty jobs.
If the labor of people like Chiliquinga is funded by taxpayers, they argued, then their employers should be held to a higher standard. They called upon the Obama administration to use the federal government's contracting power to improve pay and working conditions on federal properties around the country.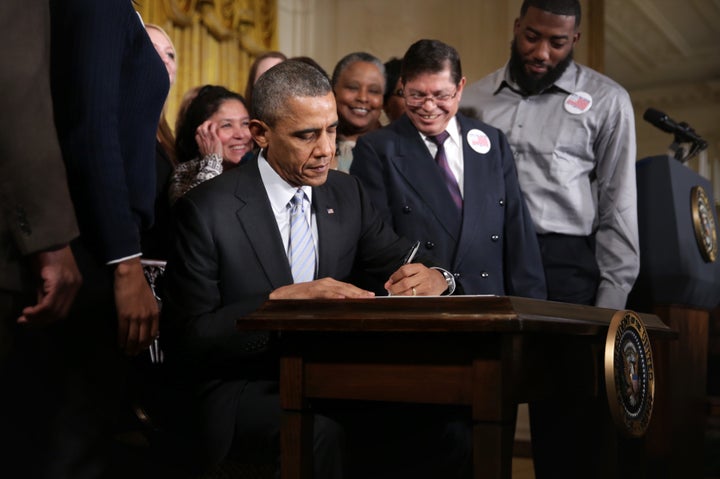 The workers found allies in prominent liberal members of Congress, like Sen. Bernie Sanders (I-Vt.) and Rep. Keith Ellison (D-Minn.). They held rallies, filed complaints against their employers, and appealed directly to the White House.
Soon, the president got the message.
In 2014, Obama announced that he would set a minimum wage of $10.10 for all workers employed under federal contracts, including people in fast-food joints at government buildings. Democrats wanted to set a nationwide minimum wage at the same level, but Republicans would not give that proposal a vote. Through his executive order, Obama made sure at least some workers would be paid a higher wage.
A few months later, the Obama administration issued another executive order, this one creating a new rule punishing contractors with a history of labor law violations. The rule was crafted with input from Chiliquinga's group. If a firm had a record of ripping off workers or putting them in danger, then the rule would make it harder for them to secure contracts with the government. The idea was to encourage contractors to treat their workers decently if they want to benefit from taxpayer money.
Then Obama signed a third executive order related to federal contracts, this one guaranteeing paid sick days for workers. Democrats sought a nationwide paid leave law, but Republicans blocked that proposal just like the minimum wage. The White House estimated the executive order would bring roughly 300,000 workers up to seven sick days per year.
Taken together, the executive actions represent a stunning success for the workers' campaign. Powerful labor groups like the Service Employees International Union lobbied the White House for the reforms, but it was people like Chiliquinga walking off the job that created the public pressure for them. Just as the broader Fight for $15 spurred minimum-wage hikes coast to coast, it was the sight of federal contract workers taking to the streets that gave Obama the mandate to take unilateral action.
"It was a consequence of our struggle. If we don't do strikes, that might never happen," Chiliquinga explains. "The government needs pressure. They are always under the pressure of the companies. If workers don't make pressure, then they don't move."
We fought very hard We expect a living wage, not a minimum wage. It's dignity. That's why we pursued it.

Luis Chiliquinga
Already, some of that success has started to unravel since Obama left office. Earlier this month, House Republicans used an arcane procedural maneuver in an effort to undo the new rule barring companies that had committed wage theft from getting new contracts. Chiliquinga and his colleagues showed up at the Capitol to protest the vote, chasing after Rep. Virginia Foxx (R-N.C.) in an effort to confront her over gutting the new worker protections. 
If the Senate follows suit, the Labor Department will be forbidden from moving forward with Obama's executive order, known as the Fair Pay and Safe Workplaces rule. (It is already tied up in court, blocked by a temporary injunction.) By using the Congressional Review Act to kill it, Republicans would assure that the same rule cannot be revived in the future.
Trump could reverse the minimum-wage and paid-leave measures, too, by writing his own executive orders vacating them. But doing so may not be worth the political costs. The minimum wage for contractors has become less relevant as more states and the District of Columbia raise their own minimum wages. Meanwhile, Americans overwhelmingly like the idea of hiking the wage floor and requiring employers to provide paid leave. If Trump wanted to abolish Obama's rules and lower the minimum wage for cont, he would be taking positions out of step with most voters.
Still, Trump has made clear he intends to strip regulations, pare back oversight and make life much easier for employers. Chiliquinga says he tries not to think about what Trump may do to the executive orders he and his co-workers helped make a reality. If they are wiped out, it won't diminish the sense of accomplishment he feels. And if they stand, it won't change his belief that Trump will work for the executives in the boardroom rather than cooks in the kitchen.
"His vision of the economy is in his interests, not workers'," Chiliquinga says. "That's why we need to increase the pressure. We have to use our whole heart, and our whole mind, because it's the only way to change our conditions."
Sign up for the HuffPost Must Reads newsletter. Each Sunday, we will bring you the best original reporting, long form writing and breaking news from The Huffington Post and around the web, plus behind-the-scenes looks at how it's all made. Click here to sign up!
Calling all HuffPost superfans!
Sign up for membership to become a founding member and help shape HuffPost's next chapter
BEFORE YOU GO