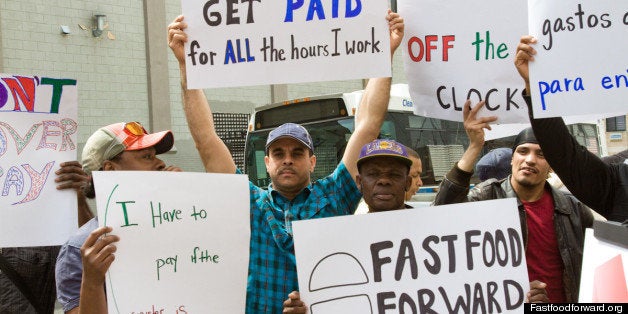 Vicente de Jesus Garcia says he had a bad feeling when he arrived at a Harlem housing project three years ago to deliver a pizza. He didn't like the looks of the place, so he told the customers to meet him outside. As he waited, a group of men pulled him into the lobby, threw him to the ground, kicked him until he was black and blue, and stole $400.
On Thursday, Garcia, a Mexican immigrant and a father of seven, appeared at a rally outside a fast-food outlet in New York City to denounce the people he views as the real thieves -– not the men who took his cash in the lobby but the multinational corporation that employs him.
According to Garcia, the owner of the Papa John's franchise where Garcia worked held him accountable for the stolen money.
"I had to use my rent money to pay him back," he said through an interpreter. "It's bad enough that it's dangerous and I get robbed doing this job. To make me pay back the money if I want to keep my job, is an insult on top of it."
Garcia's story is just one of the more dramatic episodes highlighted in a new report from the labor campaign Fast Food Forward on the prevalence of wage theft in New York's fast-food industry. In a survey commissioned by the campaign, which advocates for higher pay for fast-food workers, 84 percent of those surveyed said that their employers engaged in practices that amount to what the group has identified as theft. Respondents described performing duties before and after clocking in, working during scheduled meal breaks, working overtime without getting paid extra for it, and, in the case of delivery workers, receiving no reimbursement for money spent on gas, bicycle helmets and other job-related necessities.
On Thursday, the New York state attorney general's office acknowledged that its investigators are looking into these practices. In an email, spokesman Damien LaVera called the report's findings "deeply troubling" and said they "shed light on potentially broad labor violations by the fast food industry."
Representatives for Papa John's and the National Restaurant Association did not immediately reply to requests for comment.
Melissa Mark-Viverito, a Democratic New York City councilwoman who represents parts of Harlem and the Bronx, was among several local leaders at the rally who framed the report as evidence of a "hidden crime wave."
"This is a crime wave that is not being engaged in by petty thieves, but by a multimillion dollar industry," she said.
The demonstration, which took place outside of a KFC on the Brooklyn-Queens border, came on the heels of a series of strikes and protests by fast-food and retail workers around the country. In November, about 200 workers affiliated with the Fast Food Forward campaign walked out of their restaurants in New York City, demanding better pay and the right to form a union.
In April, more than 400 workers participated in a second New York strike, inspiring a wave of similar actions in Chicago, St. Louis, Detroit and Milwaukee.
By law, fast-food workers must be paid at least the federal minimum wage, which is now $7.25 an hour. In recent years, these jobs have become much more common; since the official end of the economic downturn, jobs in the fast-food sector and other low-paying industries have grown nearly three times as fast as jobs with better pay.
One of the workers who spoke at the rally was Joseph Barrera, a 22-year-old employee of the KFC that loomed in the background. Barrera was the subject of a recent Huffington Post story exploring the prevalence of poverty among people who work for a living.
Although some employees at the franchise where he works end up contributing more than 40 hours a week to the company, Barrera said, the boss divides their hours among different franchises, so that he doesn't have to pay them overtime.
"They want to play games with us," Barrera said. "We're not playing games no more."
Related
Before You Go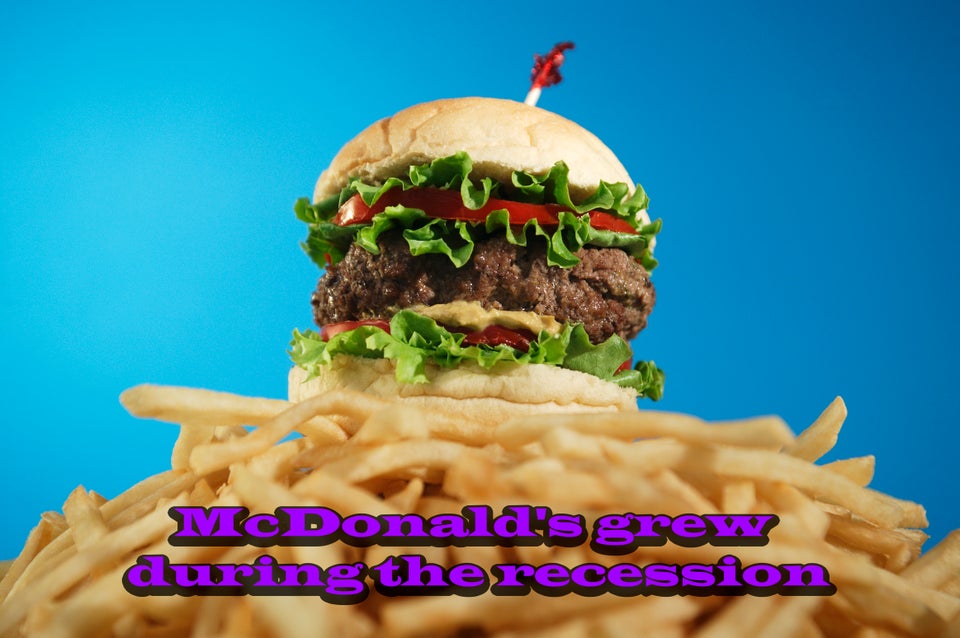 10 Things The Fast Food Industry Doesn't Want You To Know
Popular in the Community