NEW YORK -- Fast food workers across the country are walking off their jobs this week in protest of what they describe as low wages and unfair labor practices.
The employees, in New York, Chicago, Detroit and other cities, are calling for a $15 per hour wage as well as the right to unionize without fear of retaliation. The campaign launched Monday in New York City, and has been aided by Fast Food Forward, a New York City-based advocacy group of fast food workers:
A crowd of hundreds of workers stretching an entire city block crowded outside a Union Square McDonald's Monday afternoon, holding signs amid chants of "we can't survive on $7.25" and "hey hey, ho ho, poverty wage has got to go."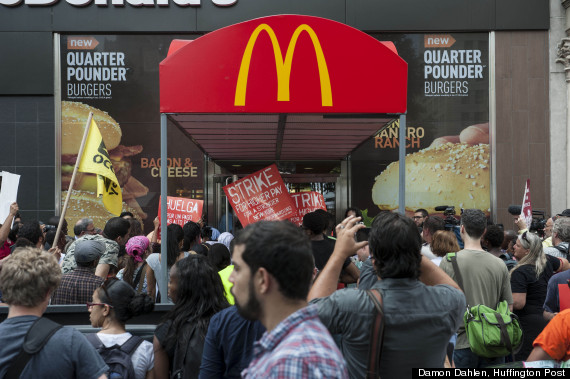 Workers and activists protest outside a Union Square McDonald's Monday.
(Scroll down for more photos of worker actions on Tuesday)
Nathalia Sepulveda, 21, one of the workers protesting Monday with her three-year-old son in tow, said she's struggled to get by working 24 hours per week for the minimum wage at a Bronx McDonald's.
"7.25 does not cut it, especially as a mom," Sepulveda told The Huffington Post, referring to her minimum wage paycheck. "I have to sacrifice certain things to get by and sometimes I still don't cut it."
Raysha Colon, a 21-year-old Burger King employee marching with the protesters said her demands go beyond wages. She's pregnant and would like to have access to some paid time off because she feels too weak to work. She's not alone, 90 percent of restaurant workers said in a survey last year that they don't have any paid sick days.
The protesters are seeking to boost workers' access to benefits by increasing union participation in the fast food industry. Workers and activists chanted "What's disgusting? Union busting," as they marched from Union Square to a chapter of the Service Employees International Union Monday afternoon.
"I have to keep working there because they won't help," Colon told HuffPost. "I want to get paid more money, I want justice, I want hours, I want help."
McDonald's didn't immediately return requests seeking comment from HuffPost. Burger King officials wrote in an e-mailed statement to HuffPost that "Burger King restaurants have provided an entry point into the workforce for millions of Americans," adding that more than 99 percent of Burger King eateries are owned by franchisees.
"Burger King restaurants offer compensation and benefits that are consistent," with industry standards, the statement reads.
Monday's strikes mark at least the third time since last November that New York City fast food workers have walked off the job in protest. Just last week, McDonald's workers staged a walk out at a New York City eatery after they were forced to work in record-high temperatures without air conditioning. One worker collapsed due to the heat.
New York City fast food workers made $9 per hour on average last year -- or $18,500 annually for a full-time worker. That's more than the national and city minimum wage of $7.25 per hour, but it's far less than the $67,153 it takes for a one-parent, one-child household to survive in New York City, according to a budget calculator from the left-leaning Economic Policy Institute.
Check out more photos and tweets from HuffPost, Fast Food Forward and New York Communities for Change, an organization advocating for low-income workers and families across New York state, below: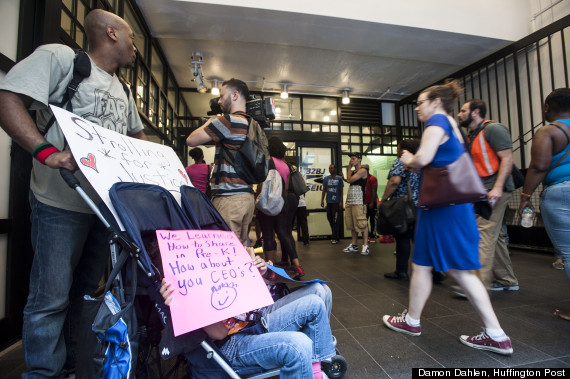 Jashaum Sadler, left along with his children Malik and Jazlin take part in a protest on behalf of fast food workers in New York on Monday. (Damon Dahlen/Huff Post)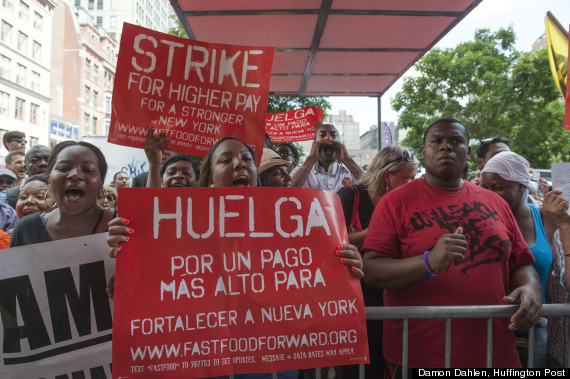 Workers and activists protest outside a Union Square McDonald's Monday. (Damon Dahlen/Huff Post)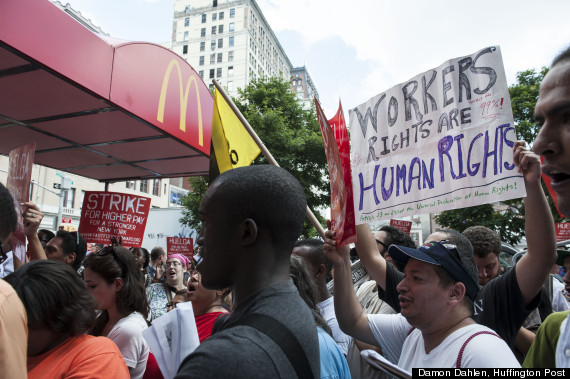 Workers and activists protest outside a Union Square McDonald's Monday. (Damon Dahlen/Huff Post)
Politicians, including Rep. Matt Cartwright (D-Penn.) and New York City Council candidate Kristen John Foy, join the protesters:
Check out photos from Tuesday's actions in St. Louis, via labor activist Cathy Sherwin's twitter:
Check back here for additional updates.
Support HuffPost
The Stakes Have Never Been Higher
Related
Before You Go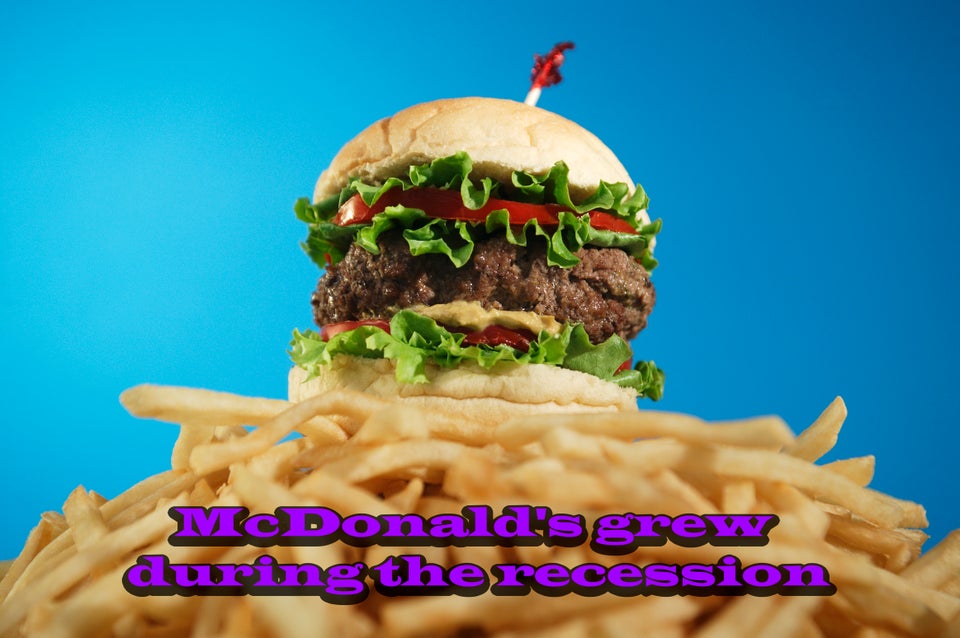 10 Things The Fast Food Industry Doesn't Want You To Know
Popular in the Community