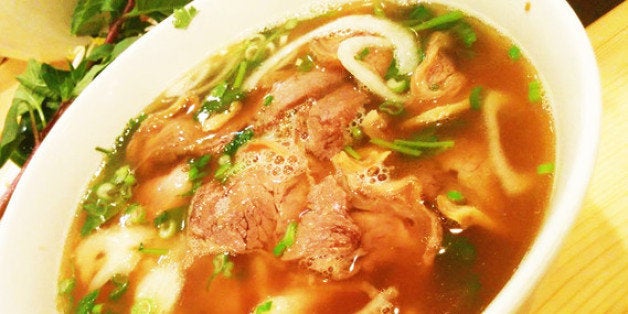 Originally a popular street food in Vietnam, pho has definitely left the streets and made its way into the hearts of many worldwide.
Picture a bowl of pho and you'll start craving tender meat, steamy broth, and the fresh aroma of natural herbs. Breaking it down, pho is a delicious equation made of three main parts: the noodles, the broth, and the meat.
The broth is probably one of the reasons that keep us yearning for more; the rich intense taste of a good steamy soup is what gives pho that magic touch.
However, a good broth is easier said than done. It takes countless types of meat, various spices, and hours to cook to create that intense flavor. So you want some homemade pho but don't have that time to give?
Well, head to the kitchen with a smile, I've got a fast and delicious recipe pho' sure to satisfy your taste buds.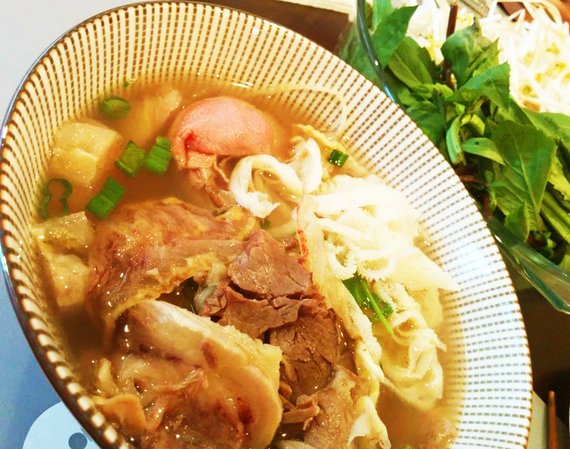 Cuisine/Recipe Type: Vietnamese Entrée/Soup
Quality pho is all about the ingredients. It's a pretty lengthy list indeed, but trust me, it'll be worth it.
1 medium sized onion
4 large cloves of garlic
2-3 pieces of ginger
6 whole cloves
1 star anise
Black Pepper
4 cans of chicken stock
2 tablespoons of sugar
2 tablespoons of Asian fish sauce
Goodies to go into the Soup:
6-8 ounces of linguine-style rice noodles
6-8 ounces of steak/chicken/pork
Major Tip: Pho loves thinly sliced meat! To get your meat ultra-thin, freeze it 20-30 minutes before slicing.
Last but not least, is ingredients for the table salad. What makes pho unique, is that every bowl's one of a kind, since everyone grabs what they like from the table salad according to their own personal tastes.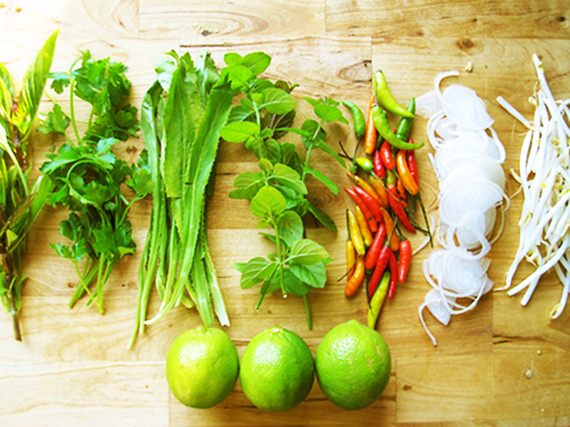 So if you're preparing for a large group, just make sure there's a bunch of choices to satisfy even the pickiest of eaters.
Common ingredients include:
10 branches of coriander
6-8 branches of Thai basil
2 Serrano/jalapeno chilies
Bean sprouts
1 Lime
Hoisin sauce
Hot sauce
So what you've been waiting for, what exactly is the secret trick in cooking fast quality broth without spending hours in the kitchen?
Well, it's all in the ingredients. According to Vietnamese Chef, Mai Pham, the trick is to toast the onions and spices before adding them into the broth.
Toasting will give off that same rich flavorful aroma that usually takes hours to produce, magic indeed.
First place the oven rack 4-6 inches from the broiler to preheat.
On a sheet of foil paper, throw on the onions, garlic, ginger cloves, anise, and 5 grinds of pepper.
Toast everything for 5 minutes, turning the pieces once.
Afterwards, put the toasted goods into a 6-quart pot. Mix and boil all the broth ingredients, water, and sugar. Cover the pot, letting that delish soup simmer for 20 minutes.
As the soup starts filling your kitchen with that fresh fragrance, start preparing the noodles. Boil the noodles for 10-15 minutes, stirring a few times, until they are tender and firm.
As the soup is simmering, the noodles are soaking, and your craving of pho is uncontrollably increasing, distract yourself by preparing the table salad. By the time you've finished arranging, everything else will be done.
Saving the best part for last, drain and rinse the noodles with cold water, pour the broth into onto the noodles, and hooray, time to eat!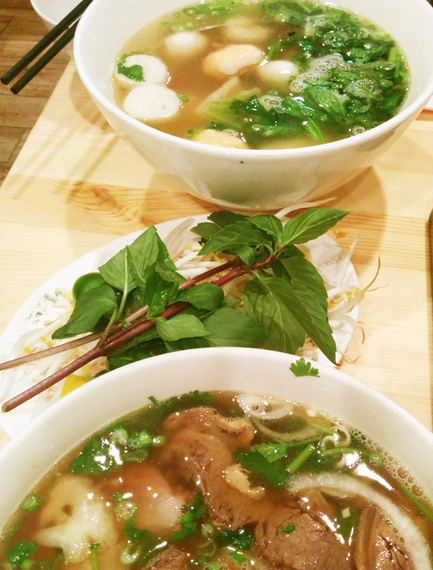 Authentic pho takes medium rare seriously, so make sure to place the meat into the soup raw and let the soup do the work of cooking.
Tender noodles, juicy medium rare meat, and fresh herbs all soaked into a piping hot flavor infused soup, what are you waiting for? Go get yourselves some pho.