Pastors, rabbis, imams and other religious activists across the country are urging devotees to give up fast food this month -- but not for health reasons.
Instead they're using Lent, the 40-day period of abstention many Christians observe in preparation for Easter, as an opportunity to encourage participation in the Fast from Fast Food campaign as a show of support for fast food workers who earn minimum wage or slightly more.
The fast aims to draw attention to "Fight for 15" movement, which is advocating for a union and a minimum wage of $15 an hour for fast food workers. Religious leaders involved with the fast are asking people of all faiths to take a pledge not to eat burgers and fries between Feb. 18 and April 4. Interfaith Worker Justice, the advocacy group that's organizing the fast, is also offering an online program of daily reflections and prayers that relate to the push for higher wages. So far, 1,500 people have signed the online pledge to participate, according to IWJ.
The Fast from Fast Food is bringing a renewed focus to the role of faith leaders in curbing income inequality, one of the biggest social justice issues of our time. This modern partnership between religious organizations and social justice advocates comes out of a decades-long collaboration between the two groups. From the abolition of slavery to the Civil Rights movement, faith leaders have played a prominent role in pushing for social change throughout American history.
Now, there's an added urgency to the efforts thanks to Pope Francis, who is drawing attention to rising inequality and the obligation of people of faith to help mitigate it.
"He's just so clear about it," said Sister Simone Campbell, the executive director of Network, a Catholic social justice lobby. Campbell is one of the religious leaders who has endorsed the Fast from Fast Food campaign. "A family should be able to be supported in dignity by the work of the parents, and the fact is that currently in the United States, salaries are not sufficient to allow families to live in dignity," she said.
Chantilly Mers, an associate pastor at Park Avenue Christian Church in New York City, said that even though she isn't Catholic, the Pope's call to action speaks to a yearning she's felt for some time: to help marginalized New Yorkers. Mers didn't have any intention of becoming a social justice activist when she first moved to New York for divinity school seven years ago. But after she began working in a church as part of her schooling and witnessed congregants' struggle to pay rent or buy groceries, she decided to get involved. Mers has been working with the Fight for 15 movement for the past few years.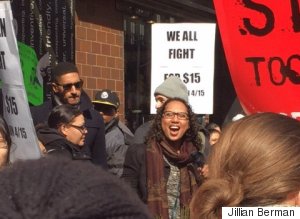 Mers speaking at a New York City rally Sunday.
"The church is supposed to be a place that uplifts the voices of those who are marginalized," Mers, 28, said Sunday just before speaking at a rally organized by the Fight for 15 campaign outside of a New York City McDonald's. "When the churches stand behind the people, they're not only a spiritual presence and power, they're in a particular position to influence power."
Mers' short talk also referenced Dr. Martin Luther King Jr. and included a chorus of the gospel standard "This Little Light of Mine."
Jorel Ware, a McDonald's worker who has attended several protests for higher wages, noted that seeing a pastor like Mers speak at last week's rally lent legitimacy to his efforts. Her presence "makes people understand that this is a big thing," said Ware, 33, who lives in the Bronx and scrapes by on $8.75 an hour. "We really can't survive."
And it's not just the workers that notice. Politicians are paying attention to the -- for lack of a better term -- halo that religious leaders lend to the low-wage worker movement.
Last year, when President Barack Obama signed an executive order raising the minimum wage for federal contractors to $10.10, Campbell was in the room -- a nod to the Network group's role in the movement for higher fast food wages. She and other members of the Catholic organization had stood outside Washington, D.C.'s Union Station and the Air & Space Museum to protest the low wages of federal contract employees working as janitors and at fast food restaurants before their raise became a reality.
"That was exciting," Campbell said of the White House event, "to be with the workers who had been campaigning for this, to see the results, it was such a joy."
The Catholic tradition of clergy advocating for labor interests stretches all the way back to the 1890s, when Pope Leo XIII issued Rerum Novarum, a papal teaching that workers' right to organize is an issue of faith, Campbell said.
After unions started to become more racially integrated in the mid-20th century, leaders of black churches became increasingly involved in labor struggles as well, said Dennis Dickerson, a history professor at Vanderbilt University. "From that time until now, mainly in those industrial areas, black clergy have identified with worker rights and saw the link between civil rights and labor rights," he said.
In one of the most famous collaborations between black clergy and worker advocates, ministers led marches, met with the Memphis mayor and held gospel singing marathons to support sanitation workers demanding union recognition and other benefits in 1968. The campaign caught the attention of King, who came to Memphis to join in the efforts, though he was assassinated before he could see them come to fruition.
This historical legacy helps to influence and amplify today's actions, said Rudy Lopez, the executive director of IWJ. Though he doesn't expect the fast to hurt restaurant giants financially, he said it functions as a tool for people to show their solidarity with the workers who are scraping by.
"Any fight or struggle has had some grounding in a faith tradition," Lopez said. "At the very core, this is about values, and because of that, I feel it's our obligation as people of faith to be able to stand up and say when something is wrong."
Related
Popular in the Community