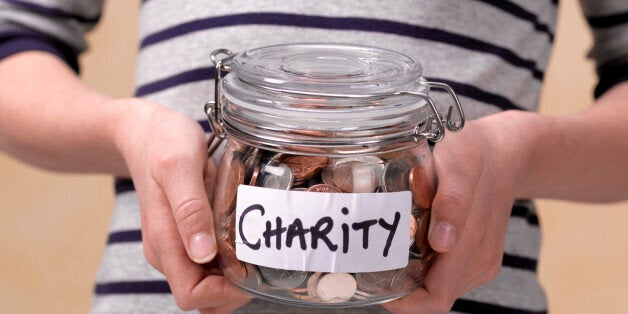 The annual Giving USA Foundation report was released recently, and the numbers tell an interesting story about corporate giving.
Let me rephrase that. An alarming story.
Here's what you need to know:
Americans gave $335.17 billion to charity in 2013. Which sounds good until you read the fine print and understand that we're barely keeping up as a percentage of the GDP.
Charitable contributions in the U.S. grew 4.4 percent in 2013 but still haven't rebounded to peak levels achieved before the economic recession.
Individuals donated 240.6 billion to charities, up 4 percent from 2012.
At 72 percent of all giving, individual giving represents the largest portion and fastest growing area of giving.
The increase in individual giving is leading the charge to create a fourth straight year of growth in total giving.
Of four sources of giving that were assessed - individuals, foundations, bequests and corporations - every kind of giving rose in 2013 except for corporate giving.
Corporate giving fell by nearly 2 percent, to17.9 billion.
The drop in corporate giving is troubling for all parties involved. Nonprofits lean heavily on corporations for giving, and when numbers are down they must scramble for alternative sources of funding. And companies are playing with their own bottom lines when they skimp on corporate philanthropy. Now more than ever, employees are paying close attention to the philanthropic behavior of corporations and evaluating them accordingly.
As Greg Cantori, president and CEO of Maryland Nonprofits, observed to The Baltimore Sun, "It's distressing because companies have been hanging onto cash and not giving up their capital base. It doesn't make sense to me. They're not hiring unless they absolutely have to."
The good news is that companies are increasingly finding other ways to give back, especially in the form of volunteering. And the dollar value of volunteering is significant. In Maryland, for instance, the economic value of volunteering has been estimated at $25.43 an hour, according to Independent Sector, a national collection of nonprofits, foundations and corporations. As a part of our total economy, that number adds up to hundreds of millions of dollars.
While volunteering has become a hot way of giving back, too many companies overlook in kind gifts, an excellent way for business leaders to give back by leveraging their corporate strengths and assets. It can be an easy lift for companies, with the reward of a nice tax deduction accompanying the significant impact in one's community or across the world (in the case of donating materials to assist with global disasters, for example). Not to mention increased employee engagement, recruitment, retention and the plain ol' good karma of responsible corporate citizenship.
As company leaders ramp up their volunteering programs, most do seem to understand the importance of workplace giving programs as well. According to a recent survey by America's Charities, companies increasingly recognize that corporate giving is no longer just about giving; it's about creating fully integrated opportunities to engage employees. The old way of doing things, where volunteering, giving, pro bono work and engagement were all separate buckets spread out over the company, is yesterday's news. Businesses now recognize that all of these practices fall within the same camp and need to function as a coordinated effort.
Over 80 percent of the surveyed companies agree that their company is committed to a giving program. They also agree that employee giving impacts their ability to attract and retain talent. Fundraising and networking events are increasingly popular, with more than 50 percent companies having increased the number of giving events they offer. Corporate matches are becoming more common, as businesses recognize that matching is a key tool to motivate employee giving through the workplace rather than individually. Nearly two-thirds of employers surveyed indicate they match employee payroll contributions, a 58 percent increase since 2006.
All of this is well and good. So why are corporate numbers down when it comes to giving? An integrated approach that combines volunteering and giving is certainly an effective way to engage employees and impact nonprofits, so the fact that more and more companies are charting this path is encouraging. As I wrote about recently, most companies are harboring an army of employees who possess amazing potential that is going largely untapped. Wasted impact is, in my view, a crime. CEO's should do everything possible to keep the skills and passions of their employees within the walls of their company by deploying them into the community for the greater good of all.
But in their zeal for the new, CEOs shouldn't forget the basics, either. While old-fashioned checkbook philanthropy isn't the only way that companies give back to nonprofits anymore, as it once was, company leaders must lead by example if they want employees to give back and put their own corporate dollars where their mouths are.
Get out your checkbooks, CEOs.
Calling all HuffPost superfans!
Sign up for membership to become a founding member and help shape HuffPost's next chapter