Co-authored by Collin Rees
We have not eaten in nine days.
We're writing from the cold conference halls of the United Nations COP 19 climate negotiations in Warsaw, Poland, where we are U.S. youth delegates with SustainUS. Food is abundant here, but we are not eating.
On November 8, the Philippines were slammed by Typhoon Haiyan, one of the most powerful storms in recorded history. Haiyan's horrific devastation left entire communities unrecognizable and nearly 4,000 people dead, displacing more than 4 million more.
Last Monday, at the start of the U.N. climate negotiations, Philippines lead negotiator Nadarev Yeb Saño gave an impassioned plea to the assembled nations for real, ambitious climate action. In a deeply emotional speech, he announced: "In solidarity with my countrymen who are struggling to find food back home, I will now commence a voluntary fasting for the climate. This means I will voluntarily refrain from eating food during this COP, until a meaningful outcome is in sight."
Saño continued, "What my country is going through as a result of this extreme climate event is madness, the climate crisis is madness. We can stop this madness right here in Warsaw [...] Let Poland be forever known as the place we truly cared to stop this madness."
We joined Yeb's fast shortly thereafter, along with nearly 100 other members of youth and civil society groups here at the U.N.
The fast has gained traction globally, as has a general outpouring of solidarity with the Philippines. Thousands are already fasting, with more than 50 vigils around the world scheduled to begin on Thursday. Interfaith groups have joined the call as well, including the World Council of Churches, which circulated a call to fast to more than 500 million members. More than 650,000 people have pledged to stand with the Philippines by calling for ambitious climate action now.
This fast isn't about us. We're fasting because people are suffering and dying from the impacts of climate change, in the Philippines and all over the world. We're fasting because we can't wait any longer to act. Extreme weather events, many intensified by rampant carbon pollution and warmer air and water, are becoming the new norm.
We're fasting in solidarity with those in the Philippines who have nothing to eat, no place to go, and nowhere to turn. We're fasting because every year negotiators from around the world come to the U.N. climate talks, far removed from the suffering of those disproportionately affected by the effects of climate change, and walk away without taking the necessary steps to preserve a livable future and save lives.

We're fasting because our future is not up for negotiation. We can, as Yeb said, "stop this madness" right now, if we choose to. We can't immediately reverse the effects of climate change, but we can stop making it worse. Everyone at these negotiations understands, intellectually, what needs to happen. The science and the very basic math could not be more clear -- or more frightening. Leaving these talks each year without taking meaningful steps forward is unacceptable.
How many more Haiyans, Sandys, and Katrinas are we willing to face? How many droughts, wildfires, and crop failures? How much must be lost before we have seen enough? Will we muster the courage to act before our window of opportunity closes forever?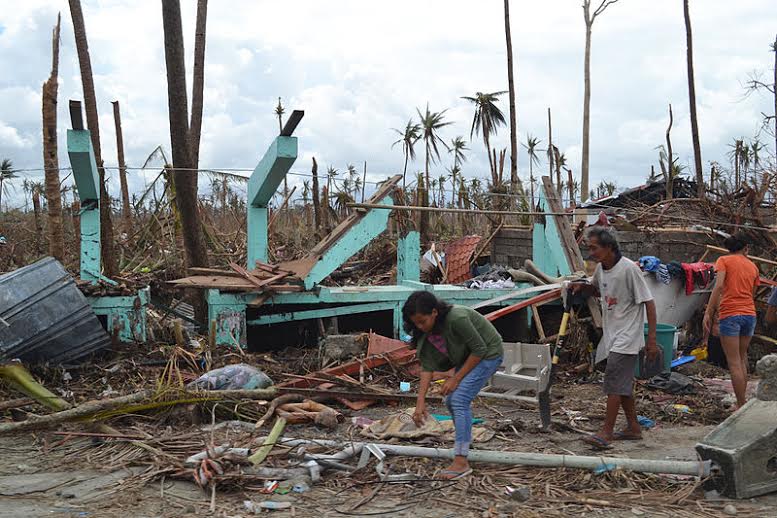 On Monday before Yeb's address, the gathered nations expressed deep sympathy and support for the people of the Philippines. But in the days since, those words have not been coupled with meaningful action.
We have no doubt the sympathies expressed were real. But while it is one thing to express solidarity, it is another to live those purported values, match rhetoric with action, and lead others in making real progress.
It is no secret that by its refusal to lead, the U.S. is the one of the main culprits holding this process hostage and perpetuating the damages of climate change. It is also no secret this is in large part due to the overwhelming influence of the fossil fuel industry and the control it has over our democracy, particularly Congress.

The science of climate change is not compatible with waiting for Congress to slowly change its mind. To preserve a livable future on this planet and keep global warming below two degrees Centigrade, the U.S. must show leadership and take immediate action. Our reputation as a global leader is at stake.
Fortunately, we don't need to wait for science-denying politicians like David Vitter, James Inhofe, Joe Manchin, and 90 percent of Republican leadership in Congress to act on climate. In fact, we can bypass our dysfunctional Congress completely.
The U.S. can act immediately in two ways, without Congressional approval. First, the State Department can deny the Keystone XL pipeline permit and stand against the exploitation of the Alberta tar sands. This exploitation would have devastating climate impacts and run what has been called a ticking time bomb through America's breadbasket and our largest aquifer.
But that's just one piece of the puzzle. The Environmental Protection Agency should also enact aggressive regulations for existing power plants under Section 111(d) of the Clean Air Act. Due out next June, these regulations have the potential to cut emissions drastically and lead the U.S. toward an ambitious energy policy compatible with the demands of the 21st century.
Both actions will have significant climate impacts and do not require Congressional approval, and both decisions are expected in the next eight months. These are easy and meaningful ways to lead on climate action.
The U.S. must first act domestically to bring credible leadership to the international negotiations. Here in Warsaw, we're waiting on global ambition as we move toward an international climate deal in 2015 -- and the U.S. is far from the only country obstructing progress. But at home, where we have been long on rhetoric but short on results, we have run out of excuses.
President Obama's Climate Action Plan, released last summer, was a step in the right direction, and there are small initiatives already underway addressing resilience and preparing for climate impacts. But the most important decisions are yet to come, and our climate legacy remains undetermined.
Again and again, we have seen that the price of climate inaction is measured not just in economic and environmental terms, but in human lives. We've witnessed and often felt this cost, from Typhoon Haiyan and Hurricane Sandy to last year's droughts and wildfires that cost us one percent of our GDP -- $160 billion.
President Obama has clear reasons to act decisively on climate, and there is little political risk to doing so. He can bolster our economy, improve the health and safety of all Americans, and reclaim the mantle of American leadership in the international arena. Not doing so imperils the fate of our generation, future generations, and climate-impacted people around the globe.
This is the most critical issue humanity has ever faced, and the world needs us to lead. Americans are demanding leadership as well, even in the most conservative states. The facts are clear: we can't afford to wait any longer. It's time to act on climate.
*This post was written by Adam Greenberg and Collin Rees. Both are US youth delegates to the UNFCCC climate negotiations with SustainUS. Both have been fasting for nine days.*
Popular in the Community