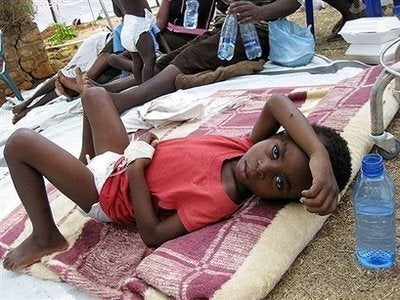 I truly believe that given the current situation in Zimbabwe, silence, or a lack of action is equivalent to complicity.
On Tuesday night, the latest round of talks between the MDC and ZANU-PF broke down.
On Wednesday morning, I chose to have my last meal for 21 days. And until February 11th, I will only drink water.
Towards the end of last year, we started hearing rumours of abductions and 'disappearances' of human rights activists and MDC supporters. The media reported increasing political repression. For me, it was also about the men and women who had bravely battled for their basic freedoms -- and their families -- who, despite great danger to themselves, were fighting for their rights and human dignity.
I travelled to Zimbabwe in December, with a colleague from CIVICUS and a young volunteer cameraman, with a hidden video camera, to document the reality of the humanitarian situation there, and to speak to those who had gone into hiding. You can see some of our footage here.
Zimbabwe, once the breadbasket of Southern Africa, is now regarded by the world as a basketcase. On Christmas Eve, while across the border in South Africa many enjoyed a festive feast, we interviewed Zibusiso, a 10-year-old boy who had had nothing to eat and only water for 11 days. He told me, "Our country needs to be free -- free as a bird -- here we are not free. We do not get food to eat."
I am fasting in solidarity with the people of Zimbabwe, who are being forced to fast involuntarily.
In Zimbabwe, we saw a people and a country ravaged by want, destitution, fear and terror. We do not wish to battle this cruel and apathetic regime with guns or weapons, but we will oppose them with our bodies and our consciences through fasting. We want the Zimbabwean people to know that we united our resolve to oppose the brutality they suffer with every bit of our beings.
Now is the time for action, not words.
On Monday, SADC will meet in an Extraordinary Session to discuss the deteriorating situation in Zimbabwe. I will be outside the meeting, with fellow Africans who are outraged at SADC's approach to the crisis, demanding more decisive action.
African leaders must understand that their approach of quiet diplomacy is actually propping up Mugabe's regime.
The political agreement between ZANU PF and the two MDC factions must be respected. SADC countries must publicly speak out against breaches of the agreement and condemn the ongoing political violence in the strongest terms.
The humanitarian crisis in Zimbabwe must be recognised as a complex emergency. What I saw in December was passive genocide through mass starvation. Food must be disbursed equitably and in a transparent manner. Aid agencies must be given all the access they need to restore the failing health system and address the cholera and AIDS epidemic.
The recent campaign of abductions, torture and other sinister forms of intimidation against civil society and political activists must be immediately halted. A SADC oversight body must be put in place to receive and address complaints of abuses by security agencies. Trials of civil society and political activists must be monitored by international, objective observers from the African Union and SADC. The freedoms of expression, association and assembly must be restored.
SADC countries must provide humanitarian assistance to all Zimbabweans, including those leaving the country because of the political and economic crisis. They must adopt mechanisms to allow Zimbabweans to live in their countries legally until a lasting resolution to the political and humanitarian crisis is reached.
I was asked by journalists in the days leading up to Wednesday what I would eat for my last meal. In reality, it was difficult to find much of an appetite during that week - having returned from the reality of starvation just across the border.
The fast - and the reasons why I am doing it - are all part of the Save Zimbabwe Now! campaign. The initiative aims to support the efforts and activities of a myriad of organisations and individuals that have acted in solidarity with Zimbabweans over the years.
Today is Day 3. While I am beginning to feel a little more anxious - and a little peckish - and my physical energy is beginning to diminish, I am still cautiously optimistic that a change will come. I will continue to share my thoughts here with you, as the days pass.
The fast will not end after 21 days. Nomboniso Gasa, the chairperson of the South African Commission on Gender Equality will take up the fast from February 11th. She too will go for 21 days with only water, and on March 4th, another individual will take the baton in our relay fast.
But this campaign is not just about a few relatively well-known personalities fasting for lengthy periods of time. It is about calling every individual to civic action. We are asking people to go to www.savezimbabwenow.com, and to show their solidarity. Other actions will follow - and every individual will be counted.
Related
Popular in the Community