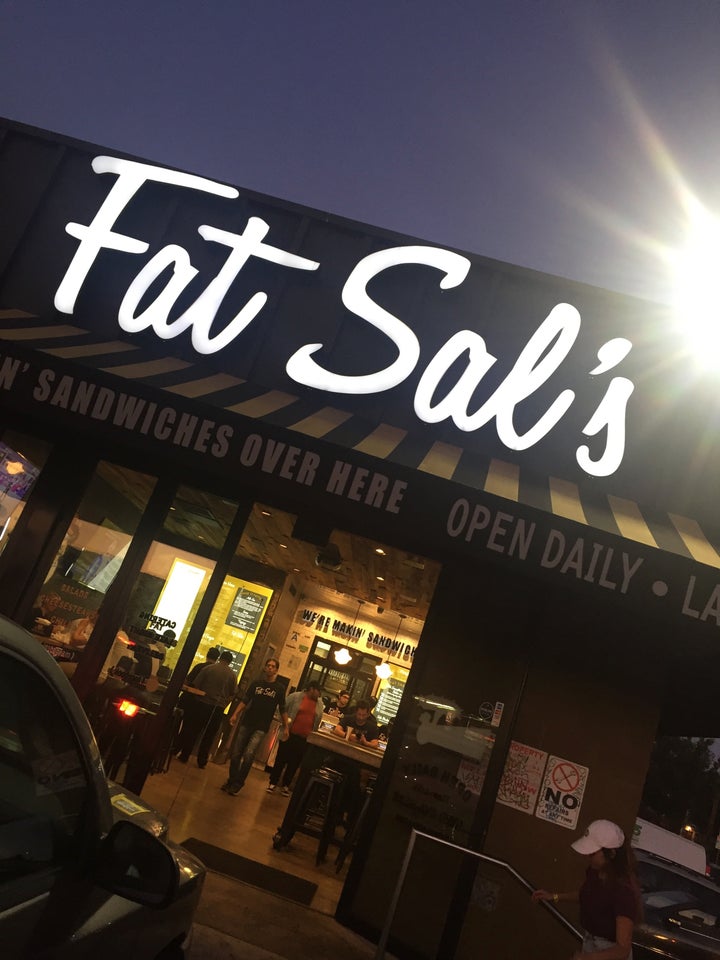 I have to admit it's a little off putting and somewhat scary when a restaurant uses the term "fat" in its name. And we're talking "fat" not "phat". It makes me wonder do they know something I don't? Is this their way of taking no responsibility as you gain immediate poundage or assume no liability when cardiac arrest strikes? Either way, I have to hand it to the creators of Fat Sal's (Josh Stone and Sal Capek) because their oversize sandwiches are mighty tasty.
The sandwiches, burgers and fries at Fat Sal's are all definitely diet-busters to say the least. Fat Sal's signature sandwiches are made on fresh baked extra wide hero bread and popular sandwiches include the Fat Texas with BBQ pastrami brisket, chicken fingers, mozzarella sticks, crisp bacon, grilled onions, melted cheddar and mozzarella, fries, mayo, and honey BBQ; the Fat Anthony made with ham, salami, pepperoni, chicken fingers, mozzarella sticks, shredded lettuce, tomato, fries, red wine vinaigrette and marinara; and the Fat Mona with fried eggs, ham, crisp bacon, grilled onions, melted American and mozzarella, fries, ketchup, salt and pepper.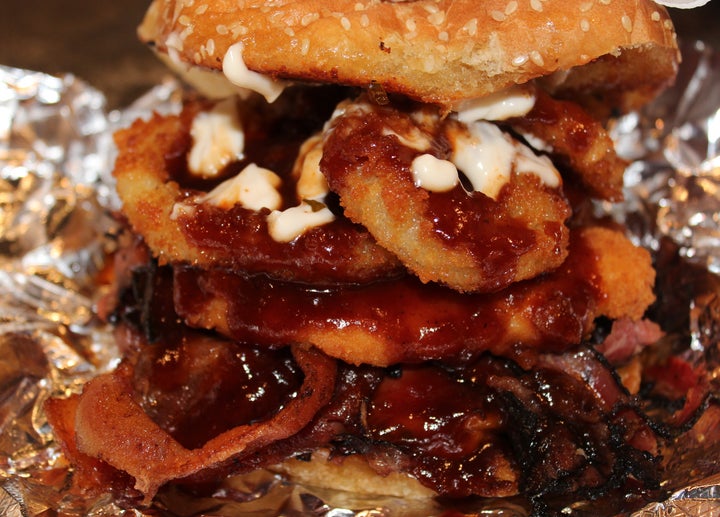 Reading the menu will either make you want to run a mile out of sheer guilt or head over to the closest shop and feast. What started as a simple sub shop in Westwood between friends Stone and Capek, along with co-founder Jerry Ferrara, best known as Turtle of "Entourage" (this before a lawsuit for breach of contract was filed in August 2016 against Ferrara), has given way to packed sandwich shops in Hollywood, Encino (the newest location and only SoCal shop so far to offer beer and wine), San Diego and Austin.
"We are very excited about opening Fat Sal's Encino," said co-owner Josh Stone. "This has been years in the making and we can't wait to bring the Fat Sal's experience to the San Fernando Valley."
"We are beyond pleased with the opportunity to bring our creative food and exciting environment to the residents and professionals of the Valley," adds co-owner Sal Capek.
At Fat Sal's the grub is oversized for hearty appetites. Leave any potential guilt at the door and indulge as you feast on badass eats that satisfy and overwhelm. Following is a conversation with Fat Sal's founders Josh Stone and Sal Capek.
What was the original idea behind Fat Sal's?
Josh Stone: Our original idea was to bring mouthwatering, over the top sandwiches to the world and serve them in a hip, fun, and exciting environment.
You're known for hearty, oversize comfort food. How much fun is it to come up with new sandwiches?
Sal Capek: It's a blast when you love food like we do. We always have fun experimenting, but it's a challenge to find something that really works. When we do, if feels like a lightning bolt striking in your brain and palette, and then, boom, something magical happens.
Do you have a favorite menu item?
Sal: It depends on the week. Josh and I have something different every week. It will be one thing for seven days straight, then we'll change it up. This week it's the Chicken Teriyaki Burger. It has a cheeseburger, chicken fingers, Szechuan slaw, teriyaki glaze, and our special Fat Sauce. Delicious!
What do you consider a must-have menu item?
Josh: A must have menu item is our flagship Fat Sandwich, named after Sal himself! The Fat Sal! It has roast beef, mozzarella sticks, onion rings, fries, and brown gravy all in one sandwich; on a garlic hero! It's a great combination of tastes and textures that work together well.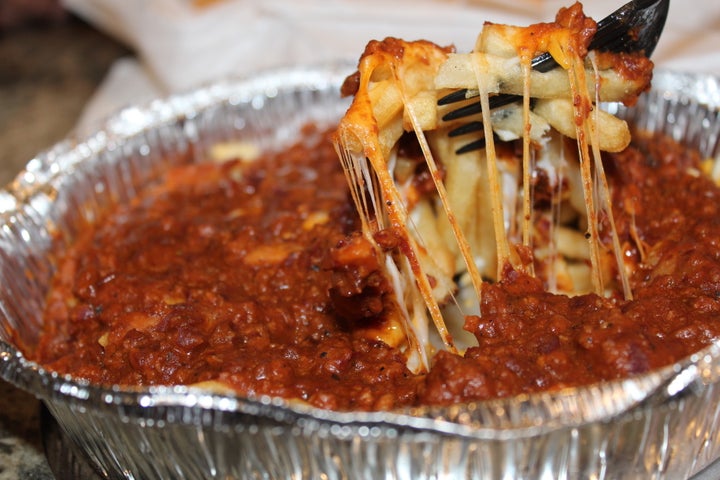 What was the hardest creation to come up with so far?
Josh: The hardest sandwich to come up with so far has to be our Fat Banh Mi-Ki. We wanted to create a sandwich that had our special touch, but still paid homage to the classic, traditional Bánh Mì. We are really happy with the results and many customers tell us that it's their favorite sandwich. It's another one where the tastes and textures play off each other extremely well.
What has been your proudest creation?
Sal: Our proudest creation has to be the Fat Texas. It started out as a limited-time-only sandwich, but it was such a customer favorite that we had to make it a permanent part of our menu. To this day, the Fat Texas is our number one seller.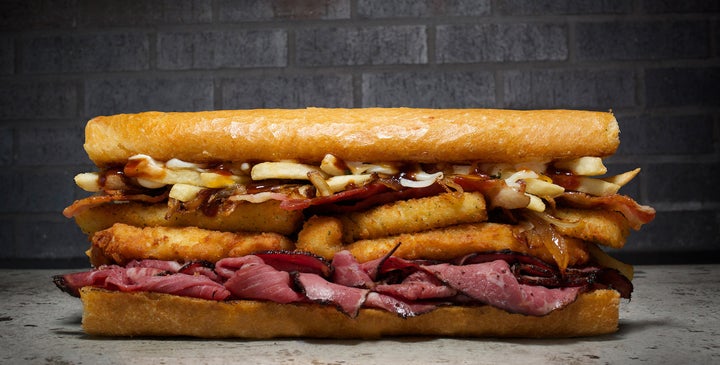 Talk about expanding locations. How satisfying is that?
Sal: Expanding locations is a lot of fun and, at the same time, scary. An incredible amount of planning and work goes into building a store, but it's extremely satisfying to see people get excited when they see a Fat Sal's coming, and, of course, enjoying it once its built and open.
What do you hope someone takes away from their experience at Fat Sal's?
Josh: We hope people have a unique, satisfying, gastronomical experience and think to themselves, wow…I can't get a sandwich like that anywhere else.