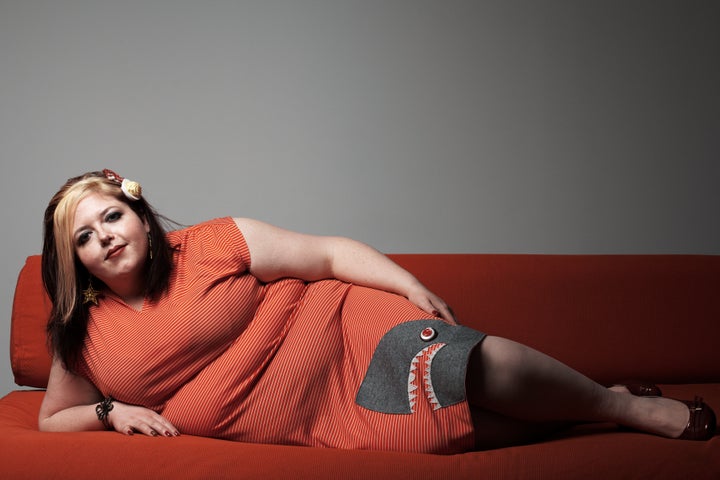 Sex Heroes is an ongoing HuffPost Q&A series by Voices Editorial Director Noah Michelson that explores the lives and experiences of individuals who are challenging, and thereby changing, mainstream culture's understanding of sex and sexuality.
Bevin Branlandingham wants to change the way we think about bodies, beauty and... banging.
The 38-year-old self-described "queer fat femme," who owns a blog of the same name where she "chronicle the relentless pursuit of her joy," writes about body liberation, travel, plus size fashion, sexuality, relationships, spirituality, authenticity and sex. Fat sex to be exact.
In fact, Branlandingham is the creator of Fat Sex Week, an eight-day ("Fat Sex Week was obviously fatter than a regular week," she said) blog series dedicated to sex, love and relationships for fat people and those who appreciate them.
I recently chatted with the writer, emcee, drag, burlesque and comedy performer about proudly identifying as fat, the difference between fat sex and not-fat sex, what we can expect from Fat Sex Week XXL, the upcoming follow up to Fat Sex Week, and more.
The Huffington Post: How did you come to define yourself as "queer, fat and femme"?
Bevin Branlandingham: I kind of came out as all of those things at the same time. I fell in with the right crowd and I realized I had these new words to describe who I was and that was my point of liberation. That's why still to this day my blog is called Queer Fat Femme and I really use that moniker as an empowerment tool to talk about a life lived fabulously at the nexus of these oppressed identities.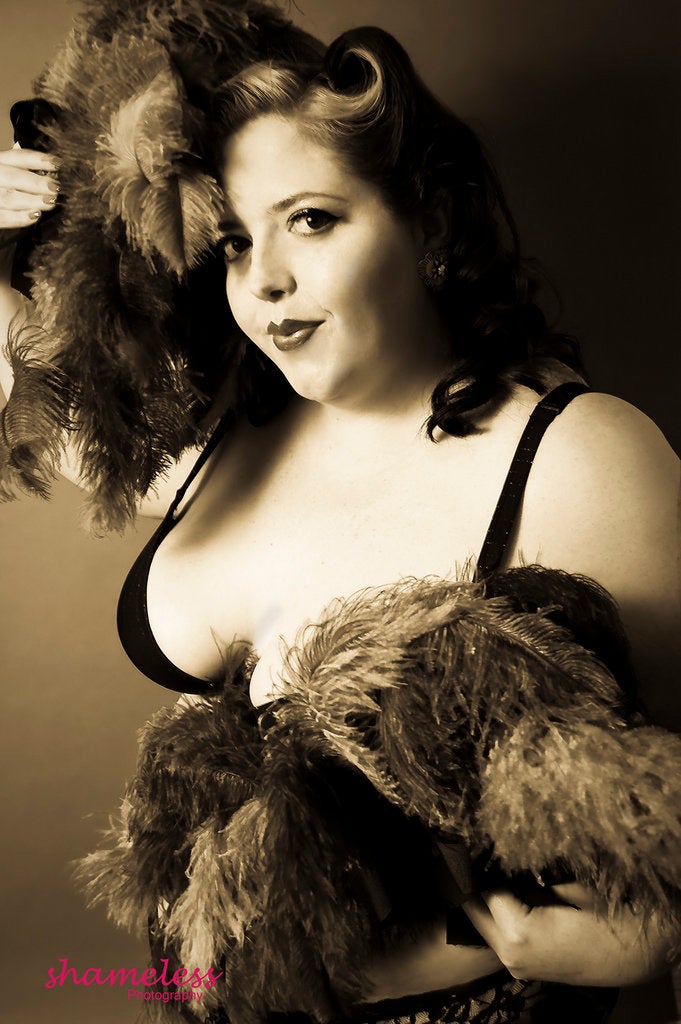 You use the term "fat" as opposed to other terms that people might consider more "politically correct." Why do you prefer that specific term?
A lot of people who are fat don't use the term. I'll actually use all of the labels because it's fun to have different ways of describing your body but I think "fat" is the most important to me because I think it's the most stigmatized, and so reclaiming that is super empowering. Really, just being in my body and owning my body [is empowering]. I had a pretty significant weight loss — I call it a non-consensual weight loss because I didn't intend to lose weight. I was addressing chronic inflammation and chronic disease in my body and I ended up losing a lot of weight. But I was still fat — that was the thing — I got a lot of art out of that because I was talking through the shift in my body and how people were interacting with that. It feels like the important thing is that I'm still owning my body and how I describe it and how I own it and I wasn't "not fat" — you lose weight when you're fat and you're still fat… that happens all the time.
Tell me about Fat Sex Week.
I've done a few different sex weeks — I've done a fat sex week and a femme sex week. Because I had multiple ideas around fat sex I think I just thought, Oh, I'll just do a week. As a blogger doing a week of things is fun: it gives me a writing prompt and then I can just farm content from my friends' too. The first fat sex week was just like that — I had a bunch of stuff to talk about and share with my readers. The next fat sex week is called Fat Sex Week XXL as an homage to the movie "Magic Mike XXL," which was much better than the original.
I have a friend who loves "Magic Mike" and he says the same thing but I have a really hard time believing either of those films are very good. Am I'm wrong? Do I need to see them?
[Those films involve] amazing performances of masculinity. It involves gender performance all the way. It's easier for [mainstream viewers] because it's cisgender men but there is just so much gender performance happening. I feel like that's where the actors are coming from — even if they don't know it. It's like a drag show.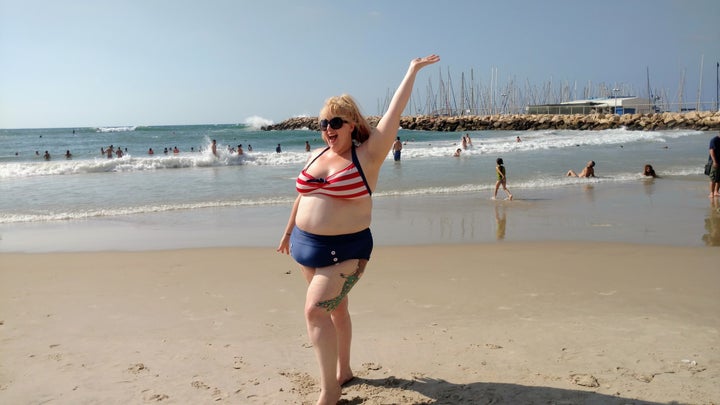 OK. OK. I'll consider watching them but back to Fat Sex Week…
It's a series of blog posts. I do some interviews. I'm always trying to curate diverse expressions of fat sexuality, so I find interesting people and things and then find interesting ways to tell those stories. My friend Substania Jones does an amazing series, called "The Adipositivity Project," that involves taking pictures of fat people's bodies and she's been doing it for 10 years. Thinking about body liberation 10 years ago — it was a really different landscape. I started out doing this work in 2002 and I just didn't think it would come this far so fast. It's really impressive. What's great about Substansia's series is that it really just shows fat people who are loved and who have partners or who have sexual partners and it's permission-giving for fat sexuality. I really wanted to highlight that so I interviewed a couple who were featured in this year's Valentine's series. Another thing I'm doing is there's a new sex toy that's an "[Female to Male] masturbator" — basically it's made for F to M bodies and I'm having a fat F to M person review it for my blog for fat sex week.
""I don't want somebody to want me because I'm fat and I don't want someone to want me in spite of being fat. I want someone who sees in the whole picture and thinks I'm hot.""
Maybe this is a dumb question but is Fat Sex Week only for people who identify as fat?
My blog is for everybody. That's one of the best things about being a blogger: I know I'm probably the weirdest person a lot of people know, whether they've ever met me in person or not. I give people a view of the world that they don't otherwise have access to. I think that humanizes people and I hope that makes a difference and has some kind of social impact. For Fat Sex Week, I always aim it at other fat people who want to have better sex but it's also helpful to show people who are not fat that fat people are sexual and deserve sex and all bodies are deserving of sex just as they are. The idea is to do a little bit of activism but also to present some really interesting facets of fat sexuality.
What are some of the things that you concentrate on? What's different about "fat sex" when compared to "not-fat sex"?
There's the rub, right? There's some acknowledgement that things are different to have sex in a fat body. I don't think that's necessarily a negative thing and sometimes people think that having accommodations or doing things differently than what straight cis thin people do is like somehow bad because it's different. Frankly, I think that queer sex is more interesting than straight sex because there's more variety — there's nothing that's off-limits. You just do what feels good. It's not about procreation, which is just so limiting because of the "penis and vagina end game."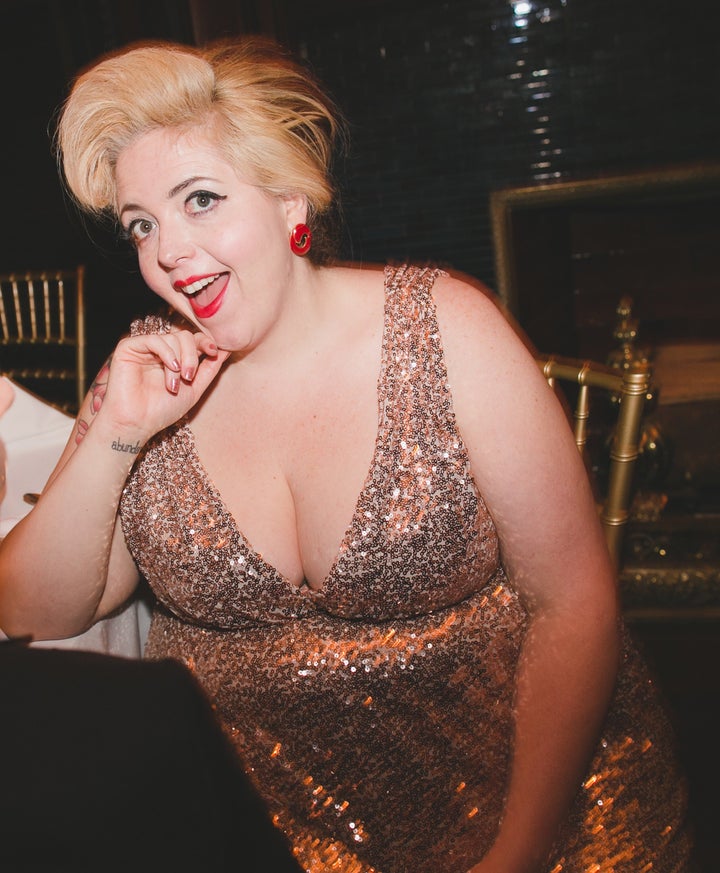 Do you consider fat sex to be queer sex?
I know too many normal straight fat people to say that [laughs] but fat sex is definitely very much part of queer sex and I think that even heterosexual people can be queer and can have queer sex. What we're really talking about here is this very complex venn diagram [overlapping queer sex and fat sex] because if you're sexually liberated or "weird," that's definitely queer — even if it's happening in a cisgender heterosexual way. Even then, fat sex is different because different positions work better. For example, if you're two people in a fat relationship and you both have vulvas and you both want penetration, you're going to need a different size toy to do a double penetration situation between the two of you than you'd need for two thin people trying to accomplish the same thing. You just need more length. So there are just differences that are necessary but the approach to having good quality fat sex is the same as the approach to having any good quality sex: being open to adapting and creating in the way that creates the most pleasure for everyone involved.
Is it OK for a not-fat person to use the term "fat" to describe other people or identities?
Great question. I think you need to be mindful of your audience. Understanding that "fat" is a term that is often used for empowerment purposes — you want to listen to your cues. Someone who knows me for even 20 minutes is going to know that I identify as "fat." That's just so much a part of who I am. You don't want to call someone "fat" who hasn't destigmatized that word for themselves. If you're working on behalf of body liberation and you're saying things and you're confronting things and you're talking about "fat" from an empowered place, that's OK. But if you're just saying "fat people yadda yadda" and you're not using it in that empowered way, then I would say you don't get a pass on that. It's like straight people using the word "queer": it's more mainstream than ever before but you also need to be careful about how you're using it, in what context and who you're talking to when using it.
I was reading something you wrote that really intrigued me about "fat appreciators" or people who are admirers of fat people and the complex configuration of emotions that can exist when you're on the receiving end of that appreciation. I'd love to talk a little bit more about that and can you also tell me what's your preferred term for someone who is attracted to or appreciates fat people sexually and/or romantically?
I don't have a preferred term yet — I haven't settled on one — but I do really like the concept of "fat appreciation." There's so much fat fetishizing that happens. Any of my fat friends who are interested in having sex with cisgender men who are on Tinder will tell me how much bullshit they have to put up with because of the way in which many men treat their bodies or talk about their bodies — there's a lot of not seeing [my friends] as human because it's all mixed up with fatphobia and fat loathing and then because they find fat women attractive, it comes out in this super gross objectifying way. Some people like to be objectified and that's totally cool but for me, it's complex. I don't want somebody to want me because I'm fat and I don't want someone to want me in spite of being fat. I want someone who sees in the whole picture and thinks I'm hot. I want to acknowledge the struggle that happens for people who appreciate fat bodies and who are attracted to fat bodies in a fatphobic society while also recognizing I'm a person who is oppressed in our fat phobic society and therefore have more oppression than them. It's not the Oppression Olympics but let's eradicate fatphobia first and foremost because fat people are worthy of the full experience of humanity and sexuality. And then we can deal with the people who feel like they have some stigma because they're attracted to fat people. It all just stems from fatphobia.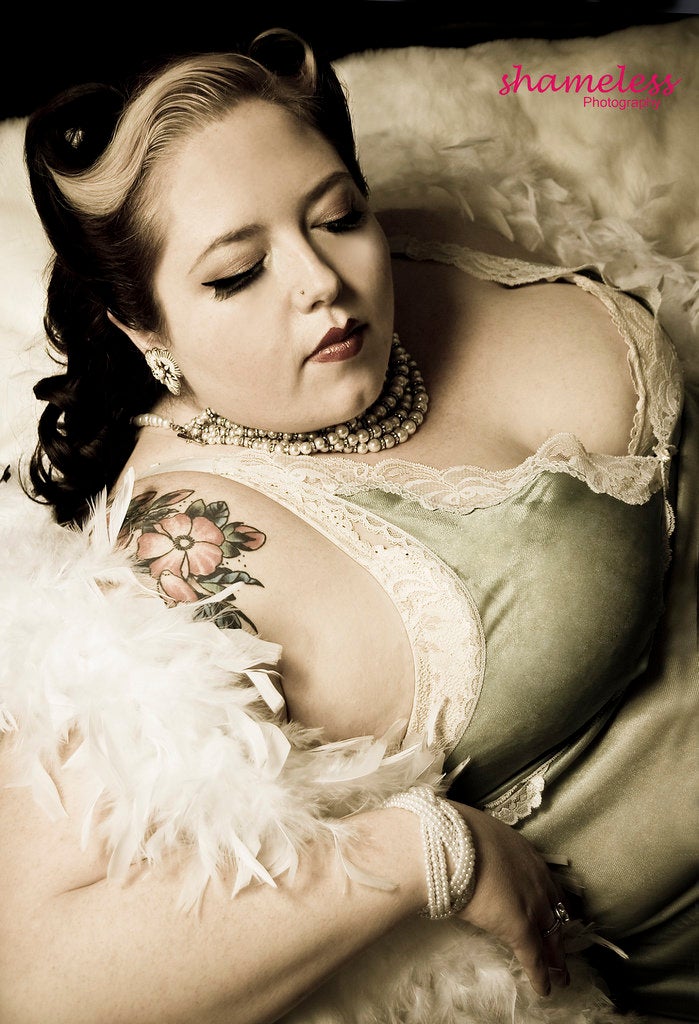 What is the biggest misconception about fat sex?
That fat people are not fuckable. I think that fat people are wildly fuckable.
What do you want people to take away from your work?
I want people to know that they are worthy of love exactly as they are. There's nothing that they have to change about themselves to be worthy of love. I focus on issues that important to me but ultimately what I want to do is heal. I think that we're stuck in this feedback loop that's created by our media, our society and our system in America — and in our world — which is the idea that we're not enough, so we need to buy stuff to feel like we're enough but we're never enough and it's a constant feedback loop where we pay money to corporations who pay money to the media to sell stuff to us so that we pay them money. I want people to feel liberated from that and know they're worthy. With Fat Sex Week, if I can empower one person to feel more confident and to feel more entitled to their own sexuality and to feel open to trying new things or exploring something new and interesting with their bodies or just feeling more confident to be in the world as a fat person or as a person with any other difference — that's exactly what I want to happen. I just want people to feel good in their bodies — because we deserve it.
For more from Bevin Branlandingham, including Fat Sex Week XXL, which begins Thursday, March 30, and will run every other day for two weeks, visit her site, Queer Fat Femme.
This interview was edited for length and clarity.
Support HuffPost
Every Voice Matters
Before You Go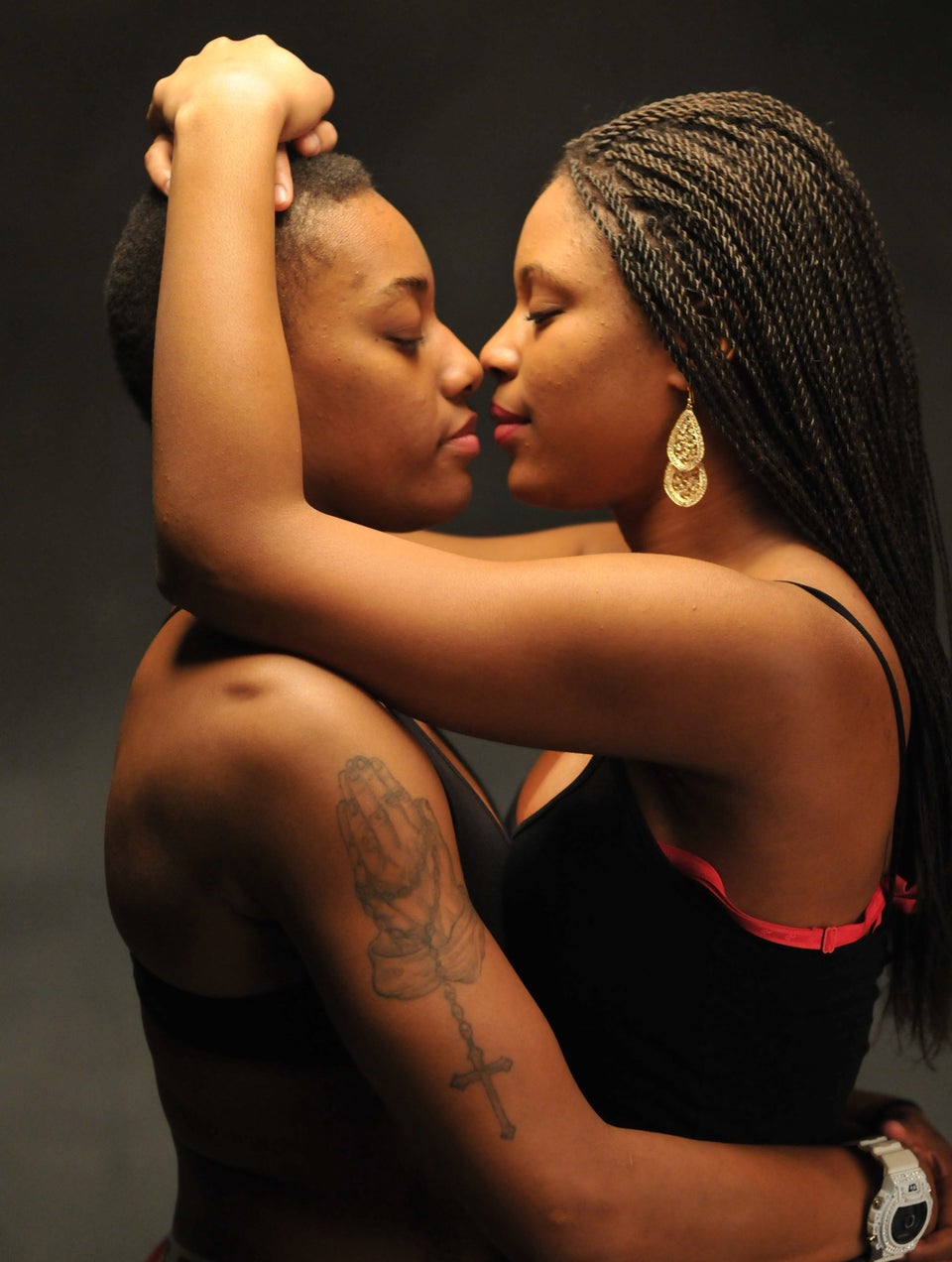 The Truth About Lesbian Sex
Popular in the Community