Chef Ramzi of Lebanon's Future TV may be a household name in many Arab countries, but Fatafeat, an upstart channel with mouthfuls to offer food lovers, is raking in fans, thanks to founder Youssef El Deeb.
The half-Egyptian, half-Lebanese Canadian national and broadcast veteran operating from Dubai and Cairo struck a responsive chord with viewers sick of politics by pleasing their palates.
"We've been receiving tons of emails from viewers in the region who say 'thank you for showing something normal for a change,'" said El Deeb in a phone interview, noting that Arabs, like their Western counterparts, had developed battle fatigue and were eager to find lighter alternatives.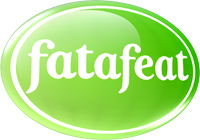 The channel translates into "tidbits" or "crumbs" in Arabic and aims to attract viewers through simplicity, bi-lingual programming and some of the most charming graphics and visuals. Its programs hit the airways in December 2006 but Lebanese cable carriers only started offering Fatafeat as part of their bouquet in late 2007.
A Lebanese TV executive who spends his free time tuned in to it said: " I watch Fatafeat to unwind from my daily grind. It's a form of therapy."
The promotional video clips include a cooing baby girl with an engaging smile in a diaper or a red dress and headband that automatically draws viewers to the screen, various bobbing vegetables in a transparent pot half filled with water (with appropriate sound effects), or a coarse cartoon male chauvinist ant who yells "Where's the food, woman?" before being whacked on the head by a plate holding the logo as he raises a white surrender flag.
The MGM lion inspired the idea for the ant, El Deeb explained, adding that he found a designer in India who created the animated insect.
The final scene in the clip is of the company name Takhayal (Arabic for "imagine"), owner of the Fatafeat brand that El Deeb spent years building. Takhayal has produced two family-oriented feature-length films.
"It's one of the few Arab companies that has a name that's a call to action," said its CEO. Other firms usually reflect names of owners or are descriptions of what they do or services they provide.
According to the 53-year-old El Deeb, the channel is the Arabic associate of America's Food Network that includes Home and Garden TV, which he plans to introduce as another entertainment brand.
Theme channels were previously frowned upon in the Arab world, a symptom of limited choices in the state-controlled, pre-satellite era. But the whiplash speed with which satellite TV is growing in the region has created niches for every taste, similar to those in the West, notably where food is a national pastime.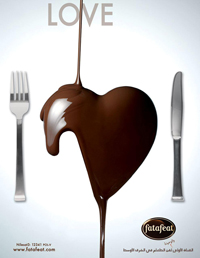 Fatafeat = chocolate = love
"Tasty treat," headlined a news item in the TV supplement of Lebanon's An-Nahar daily. "To date, it's a successful experiment that has imposed itself on cable providers and our 'mothers.'"
The grid is a mix of shows featuring the likes of United Arab Emirates cook Samar Badri, Lebanon's Dania El Khatib, Martha Stewart, Rachel Ray, Britain's Naked Chef Jamie Oliver and Jacques Torres.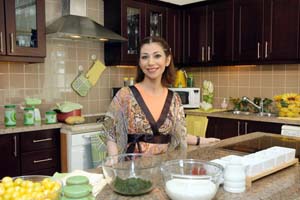 UAE cook Samar El Badri

The assortment of culinary delights is guaranteed to please every manner of professional and amateur cook.
Fatafeat's 35 staffers are divided between Dubai and Cairo, with the latter location being used to produce feature films. Its viewers are increasing, according to ratings conducted by Ipsos-Stat, a leader in the region. New figures are expected in early May.
El Deeb said that according to quantitative and qualitative research, the way to go was making the channel simple and fun.
"I wanted to show that food is never serious and is the only way for families to bond, around the dinner table," he said with typical Mediterranean relish.
El Deeb began managing Saudi-owned MBC1 TV and spent years producing food commercials -- an incentive that seems to have veered him toward an all-food channel.
Through his network of contacts, he managed to attract Arab investors to start up what promises to be a very successful network but he remains cagey about what capital was required to create the financial base.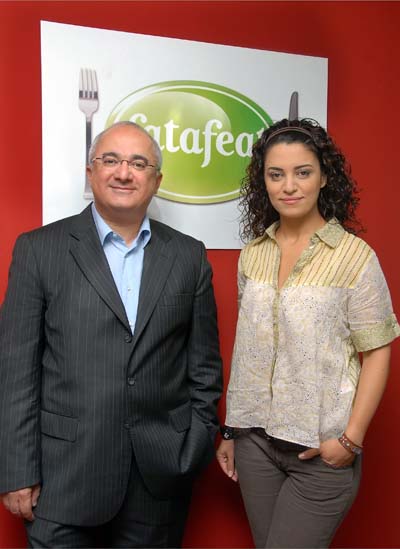 Youssef El Deeb with Lebanese host Dania El Khatib
In a far-sighted move aimed at cooks who will undoubtedly be extra busy preparing for the Muslim month of Ramadan in September, El Deeb plans to precede the fasting season with an August lineup of Ramadan-related programming.
"We also have a show coming up called 'Sukkar Mazboot' aimed at diabetics in the Gulf and geared to healthy eating habits," he said referring to the high incidence of diabetes in the Arab Gulf states.
"Sukkar Mazboot" means the right dose of sugar and is used to denote moderate sweetness in the traditional thick Turkish coffee consumed in the region.
(Visuals courtesy of Fatafeat)

Popular in the Community