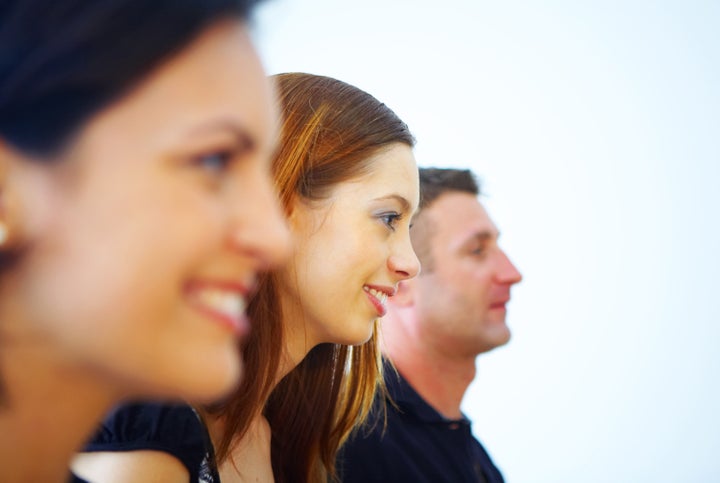 It's been 11 years since my second husband died. I was only married to him for about three years. But our love was remarkable, and so was the story of how we got together.
It had to do with a slim, dark-haired woman sitting at a table in a Westchester County, New York brasserie reading "Pride and Prejudice" and eating a cannoli. Our lives would eventually intersect in ways we could not have predicted.
What we couldn't possibly have known that day back in the 1970s was that in addition to a love of Jane Austen and Italian pastry, we would also share something else, something totally unexpected: The same husband. A man neither of us was presently married to, and who was that day very much married to someone else.
But we were at the beginning of it all.

"You're reading one of my favorite books," I said, introducing myself and sitting down. "You must be Carole."

A mutual friend had set us up: "There's a new family in town, and the wife really misses New York City. Invite her to lunch. She's a writer -- really sophisticated. You'll have a lot in common."

Really? I was a homemaker, the wife of a professor and the mother of two young boys. I freelanced some, and lived a comfortable, rather solitary life in a stone house on a rolling piece of land with a vegetable garden and a pond. I cooked and arranged flowers, carpooled and prepared dinner parties. I had longed to live in the city but never had the chance.

As we nibbled leafy things, Carole and I sized each other up. She wrote short stories for Redbook. She was interested in quantum physics and psychology. Was I? No way.
But we talked about Pilobolus, Rauschenberg, Mahler. The chance to stretch my cultural self with her would be stimulating, beyond my usual suburban discussions of Boy Scouts and septic tanks.

Carole's husband was a lawyer who was adjusting to the 45-minute commute to Manhattan, and they were still adapting to their move. "We wanted our son and daughter to run around in the fresh air. It's so much like the country up here."

Our conversation flowed into the early afternoon, long past the hour I had figured.

"I'd like to meet some interesting people," she said after we split the check. "Any suggestions?"

I proposed that despite her disinterest in organized religion, the temple up the road was a good place to start.

"These are well-educated folks and many commute into the city. Our rabbi is the liturgist of the reform movement, and the congregation is filled with interesting young families."

I wrote down some names. "Check these out."
A couple of weeks later Carole and I met again, in the same restaurant.
"So, what's new," I asked.

"Well, I went to the temple. But I wasn't impressed."

I figured she'd find friends some other way, as religion obviously wasn't her thing. Maybe she'd join a local writer's group or a quantum physics/psychology discussion.

After lunch Carole invited me to see her newly purchased two-story farmhouse: small rooms and saggy stairwells on six acres off a gentrified dirt road.

A wooded hill was framed in the paned parlor windows, as if you were deep in the country, not five minutes from the Harlem line to Manhattan. The property included a weathered red barn right off the road, a rock garden stretching across the grounds, a cozy kitchen with a painted ceramic stove and a smudgy glass observatory. I loved it.

Carole brought me upstairs to see the wood-trimmed bedroom with its stone fireplace and adjoining office up a couple more stairs, the place where she wrote her stories.

"This old house makes it easier to leave the city."

My visit was pleasant, and I called and left a message suggesting that along with our husbands, we get together sometime soon. But I never heard from her again, and we lost touch. I never knew why, and I soon didn't care.

I tended my gardens, my sons grew up and away and I separated from my husband and moved to Washington, DC to work for and live with an internet entrepreneur.

One day I heard that my former rabbi had divorced his wife and had married a congregant -- and that congregant was Carole.

I guess she had joined the temple after all. I found out later that her marriage had been in trouble and that she had gone to see the rabbi for pastoral counseling. She had fallen in love with him and then he had fallen for her and after much soul-searching he eventually left his wife of many years and disappointed his grown sons and married Carole and moved to her house.
I could just imagine them sitting in the parlor and looking up from their books and out at that wooded hill -- both of them slim and brilliant, talking of quantum physics and the meaning of life.

More years passed. I got divorced and I broke up with the man from Washington and moved back to Westchester County. With my children now grown I traveled the world, writing about it and finding ways to keep my big house and overgrown garden.

I had single friends now in the city. I had long ago quit going to temple and rarely hung out with couples from my earlier life. I was thrilled to begin dating a nice guy, a former sports commissioner who had just brought me to his weekend house on Cape Cod. We talked about traveling together. Life was good.

And then on a rainy Monday I had lunch with a friend.

"Did you hear about the rabbi's wife, Carole?" my friend asked.

"No," I said, waiting to explain about my two brief encounters with her those many years before.

"Well, she died."
I felt jolted. But more than that, I felt a strange, long-lost connection with a woman I hardly knew. I wrote the rabbi a condolence note, figuring he would be distraught and that my little story of how I suggested that Carole meet people at the temple and her ironic response about it might make him smile.

And that was that. I was back to my life and my budding relationship without further thought.

Then one day the phone rang.

"I just wanted to tell you that of hundreds of condolence notes, yours was the one I can't forget. It made me laugh out loud. So she wasn't impressed with me, huh?"

That made me laugh too, nervously, and we talked quite a while and laughed quite a bit more. We reminisced about my sons and the 25 years since I had first joined the temple and how I was embarrassed that I was no longer a member. Surprisingly, he didn't seem to care, and before long he asked me to go out for a meal with him.

We went for dinner at the restaurant where Carole and I had eaten lunch. He seemed the same as I remembered. Big grin. Big intellect. Big heart.

At the end of the meal he said, "Will you see me again?" It was unexpected, and I thought about my other relationship, just developing. But I looked at Chaim's smile and was surprised to hear myself say, "Of course."
Why so fast? Turns out Carole had a long-time lover, and Chaim didn't find the hidden love notes until right after her death. No one else knew. But he was ready to move ahead.

Eventually he brought me to the house Carole had shown me after our second lunch, the house where Chaim now lived. It looked much as it did then.

As the weeks passed I cooked on the ceramic stove, and as the months passed I sat in the parlor with the fireplace and the view of the hill. I slept in the bed that I had sat on after lunch with Carole, before Chaim ever had.

Six months after I wrote the condolence note, Chaim and I were married in front of our children, on the bema where he so often inspired so many through the years.

"I love you. You love me. That's all that counts," he toasted after. And he was right, and we were happy, and I went to temple Friday nights from then on.

Three years and two months later Chaim was dead. Like Carole, he died too soon from cancer, on a ventilator, in an ICU, alone in the middle of the night.

The house with the barn and the ceramic stove was sold and razed, replaced by a McMansion. When I drive by that new structure, I sense the end of a remarkable connection: I had introduced Carole to Chaim that day in the restaurant when I wrote down his name. And her death, leading to my writing his name once again on the sympathy note, reintroduced him to me, in the same restaurant.

In almost perfect synchronicity, Carole and I, non-observant Jews who hardly knew each other, were destined to become rebbitizens of the same temple: The second and third wives of the same man.

So although I met her only twice, Carole and I shared much more than a love of Jane Austen and cannolis. We shared Chaim.