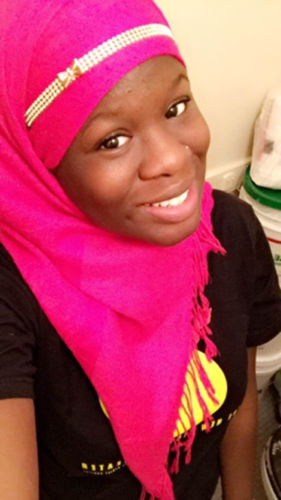 Like so many others, Fatemata came to Publicolor without having been taught in school many of the skills that allow young people to succeed. She was shy, often preferring not to engage with her teachers and peers, and had no plans to continue education after school. Nearly 5 years later, with Publicolor's help she has found herself with increased confidence, people skills, and abilities such as money management, sewing, weaving, and painting.
At first Fatemata didn't understand how Publicolor would be able to help her. It was a rocky start; Fatemata got lost in a snowstorm on her way to College Academy where she was trying out, making her understandably unhappy and skeptical. When she arrived at the Publicolor site, however, she was greeted with warmth and a sense of trust that was foreign to her. After being allowed to paint the walls of the room she was perplexed - why would they allow a completely inexperienced child to paint a schoolroom?
That morning Fatemata had stumbled onto the reason why Publicolor has been so successful with their students. She was greeted with a hug from a Publicolor volunteer that led to an enduring friendship. She was trusted to complete a task, helping her to understand that with a bit of help she was capable of individual achievement. When that task was just a part of a bigger project she learned the value of teamwork. She was shown that in an environment of warmth and compassion she didn't have to be shy and reclusive, but had within her the confidence could speak to, and more importantly learn from, anyone.
Confidence in oneself and one's abilities is one of the most important lessons that Publicolor has to teach. Fatemata admits that before Publicolor she was antisocial and felt uncomfortable speaking in class. With some encouragement and guidance from one of the Publicolor team, she gradually began to speak more and have confidence in what she was saying. In this supportive environment she has learned confidence. She speaks often in class, even giving speeches. She has learned to think for herself and express herself - a critical step in setting up goals for herself and working diligently to achieve them.
When a student joins Publicolor their experiences are not limited to the classroom, as Fatemata learned in some of her later workshops. At Publicolor's next steps program she learned to think ahead and set personal goals, towards which she is still working today. Her interest in theatre was encouraged and she now works as a stage manager at her school as well as being an usher at the New Victory Theatre. Today, inspired by two trips to colleges led by Publicolor and with the help of Publicolor's SAT test preparation program, she is working to apply to several colleges with theatre programs.
Fatemata is thankful for her time with Publicolor and values it highly. When asked if she would recommend the program to a younger student she replies "I would say just do it. No questions asked. With experience, this is the best way to do it. You can be a guide for younger students."
Publicolor will celebrate its 20th Anniversary at their annual Stir, Splatter + Roll 2016 Gala on May 16, 2016 at the Metropolitan Pavilion, 125 West 18th Street, New York City honoring Michael R. Bloomberg and E. John Rosenwald, Jr. for their longtime support of Publicolor and its programs. For tickets go to: www.publicolor.org.
Calling all HuffPost superfans!
Sign up for membership to become a founding member and help shape HuffPost's next chapter