A man who was deported to Mexico last week but allowed to return to the U.S. on Monday says he spent days in a migrant shelter in Mexico, waiting to come back to the U.S. to reunite with his 12-year-old daughter.
Immigration and Customs Enforcement officers arrested Jose Gonzalez Carranza on April 8, while the 30-year-old welder was driving to work from his home in Apache Junction, Arizona, about 40 minutes outside Phoenix, he told The Arizona Republic.
Suddenly, half a dozen ICE officers surrounded him and pointed their guns at him, yelling "Put your hands up, open the door," he recounted.
Gonzalez Carranza was detained at ICE offices in Phoenix for three days before officials deported him to Mexico, dropping him at the Nogales border crossing on Thursday. After he spent four days in a shelter for migrants near the border, his lawyer notified him on Monday that ICE had changed its decision and that he could return to the U.S.
The case made headlines when it emerged that Gonzalez Carranza's wife was a fallen U.S. soldier, killed in Afghanistan in 2010 at age 22 — and that the couple's daughter was left without parents when her father was deported. The girl, Evelyn Gonzalez Vieyra, is a U.S. citizen who lives with her grandparents, and they share custody with Gonzalez Carranza, his lawyer Ezequiel Hernández told HuffPost.
Hernández told HuffPost he suspects ICE reversed its decision because of the news coverage his client's case received.
In a video interview with the Republic, Gonzalez Carranza noted that "President Trump says he wants to help … people who fight for the country. That's why, when that happened, you're feeling like why … he's kicking people out when his wife sacrificed?"
Trump only wants to deport people "for no reason," he added. "He only thinks like, you're illegal ... you're going out. He never thinks whatever happens to the families … people can contribute to this country to be better."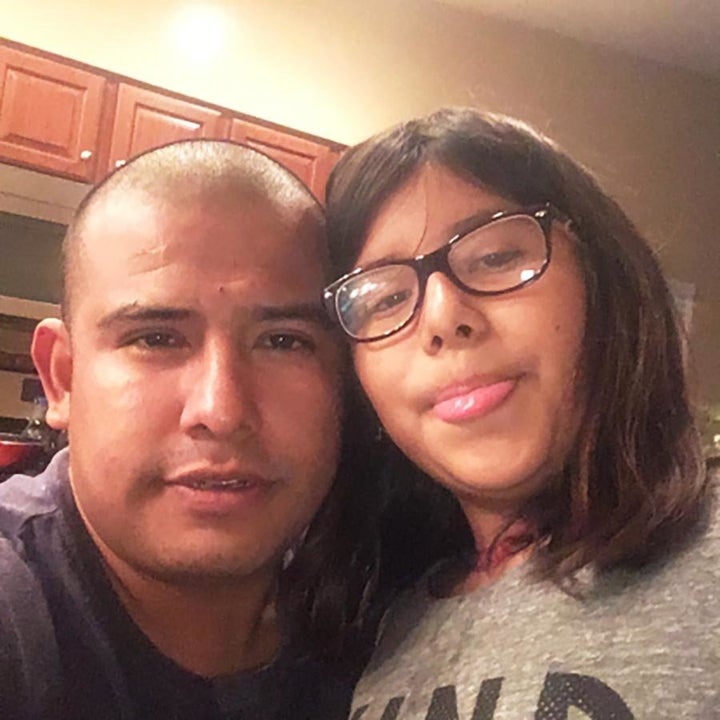 Gonzalez Carranza came to the U.S. illegally from Mexico in 2004 and married U.S. citizen Barbara Vieyra three years later, according to the Republic. After she died in Afghanistan in 2010, he was granted "parole in place," allowing him to stay and work in the U.S.
ICE arrested Gonzalez Carranza last week because an immigration judge had signed a deportation order for him and he didn't show up to a court hearing in December ― but Hernández says his client never received the notice to go to court because it was sent to the wrong address.
The day ICE took Gonzalez Carranza into custody, his lawyer filed a stay that should have allowed him to remain in the country while his case proceeded. But he was deported anyway.
ICE confirmed in a statement to HuffPost that Gonzalez Carranza was arrested on April 8 and filed a motion that day to reopen his case ― and three days later ICE removed him from the country "while a stay was in place." ICE then allowed him to re-enter on Monday "pending adjudication of his immigration proceedings."
Hernández told HuffPost he doesn't know why ICE refiled its complaint against Gonzalez Carranza. His client has no criminal record. 
"I didn't tell her nothing," Gonzalez Carranza told the Republic of his daughter. "I don't want to make her feel [worse], her feelings be more frustrated, like, 'I don't have a mom, and now I may never see my dad again.'"
This article has been updated with a statement from ICE. 
REAL LIFE. REAL NEWS. REAL VOICES.
Help us tell more of the stories that matter from voices that too often remain unheard.