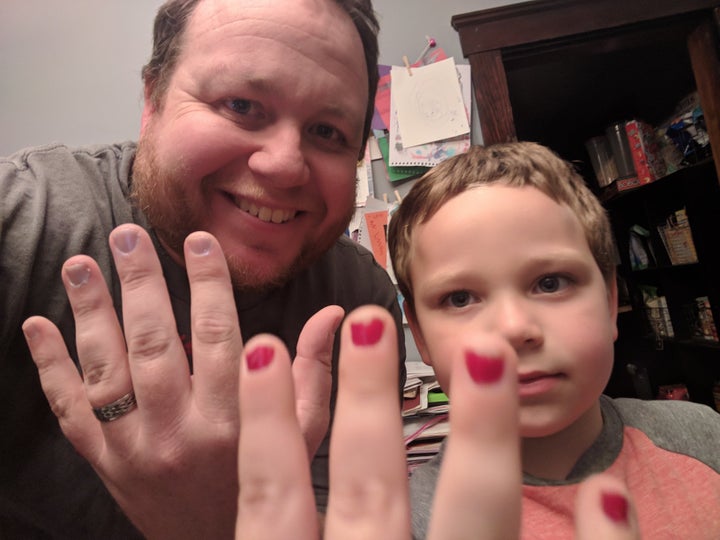 A Massachusetts father delivered a powerful and inclusive message on Twitter after he says his 5-year-old son was bullied for wearing nail polish to school.
Aaron Gouveia is the founder of The Daddy Files, a parenting blog that boasts more than 14,000 Twitter followers. A former journalist, Gouveia aired his frustrations in a series of tweets late Monday after he says his middle son, Sam, was "ridiculed" by fellow kindergarteners when he painted his fingernails with red nail polish before going to school that day.
Though Sam "loves trucks and plays sports," he also happens to love a lot of "girl things" like purses and nail polish, Gouveia wrote.
Unfortunately for Sam, some of his classmates felt different about his colorful manicure and "called him names and told him to take it off," Gouveia wrote.
"He was devastated at how other kids turned on him, even his friends," Gouveia added. "He asked them to stop but that just made it worse."
He didn't mince words when it came to the parents of the children that bullied his son, either.
Gouveia gave his son the option to take off the nail polish, but also reminded him that a few of his favorite movie characters have worn it unapologetically, including Captain Jack Sparrow (as portrayed by Johnny Depp in the "Pirates of the Caribbean" franchise) and Chris Hemsworth's Thor.
Finally, after Gouveia saw his 10-year-old son paint his nails to support his younger brother, he followed suit with a pale lavender polish.
"Intolerant parents and their offspring scored a minor victory today but they won't win the war," he said. "I know that because the Sams of the world aren't going to suffer this bullshit anymore. Of that I have no doubt."
Gouveia's Twitter thread quickly went viral, and as of Tuesday afternoon, had been shared more than 15,000 times.
Among those have commended Sam's dad were designer Gemma Styles, the sister of former One Direction member Harry Styles...
Calling the response "wonderful and overwhelmingly positive," Gouveia told HuffPost on Tuesday that the experience had given Sam a renewed sense of self-confidence.
"He was so relieved to see all the other men and boys out there who wear nail polish," the dad said. "Because of that, he wore his bright red nails to kindergarten this morning. The internet can be a cesspool at times, but it can also be life-affirming and wonderful. This is one of those times."
As a father of three, Gouveia said he's witnessed gender norms "strangle" his sons' "creativity, emotions and expressiveness," and therefore feels committed to "work towards changing it."
"I'm thrilled that we're doing so much to empower young girls because that's absolutely necessary and wonderful, but I feel like boys are still too constricted," he said. "They can't wear a dress or paint their nails or do ballet without all the accompanying negativity and so they stop expressing themselves. That's the real danger of toxic masculinity."