Father Joseph Philippe has the kind of vision and indomitable spirit that might earn someone a Nobel Peace Prize or an Academy Award. But his name probably isn't one many have heard before.
That may change, though, with the release of "Father Joseph," a new documentary about the remarkable priest who has spent a lifetime fighting to improve the lives of the poor in Haiti.
With few resources and virtually no help from the Haitian government, Father Joseph has spent the bulk of his life working to bring basic necessities to the peasant village of Fondwa, Haiti. That's included coordinating the building of roads, clean water initiatives, schools, a university, a health clinic, a radio station, a reforestation project and an orphanage, to name a few.
He's perhaps best known for starting Fonkoze, a microfinance institution that provides loans primarily to women to help them build livelihoods. The organization now operates throughout Haiti and has served more than 200,000 clients.
"We don't wait for the government. We don't wait for NGOs," Father Joseph says in the film. "We see something that needs to be done, we gather together, we organize ourselves, and we do it."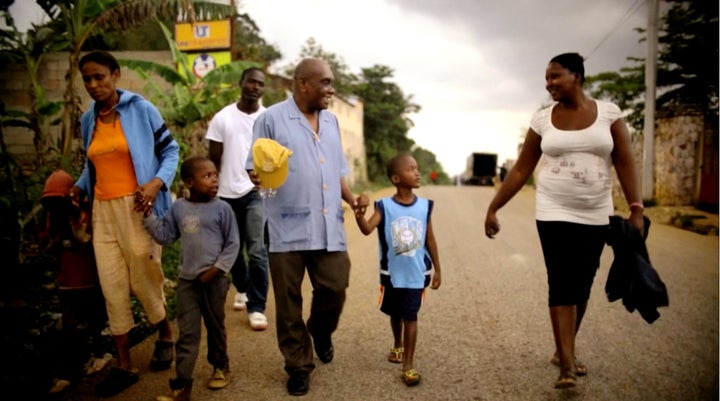 The documentary, distributed by Virgil Films & Entertainment, became available on iTunes and Amazon on Tuesday. Director Jeff Kaufman and producer Marcia Ross began following Father Joseph's story more than four years ago, saying they were drawn to his "visionary" mind and infectious sense of humor.
"When I first came down to Haiti virtually everything he had built had been destroyed in the earthquake," Kaufman told The Huffington Post. Over the last four years, he said, many of the buildings, including the primary school, have been rebuilt.
"It's remarkable his firm belief that this is what his calling is," Ross told HuffPost. "If he's down, he doesn't show it."
And it's true ― Father Joseph's smile hardly wavers throughout the film, despite the odds he and his community have faced.
Haiti is the poorest country in the Americas and one of the poorest on the globe. More than half of Haitians live in poverty, and roughly a quarter live in extreme poverty. Things like roads and clean water are hard to come by ― and for many even an education is a luxury. 
Father Joseph, who was born to farmer parents in Fondwa, was the first in his family to graduate from college. He went on to become an accountant and a priest and dedicated his adult life to building up Fondwa's infrastructure.
Faith is a guiding force in his work ― "Whenever I meet somebody I meet God," he says in the film.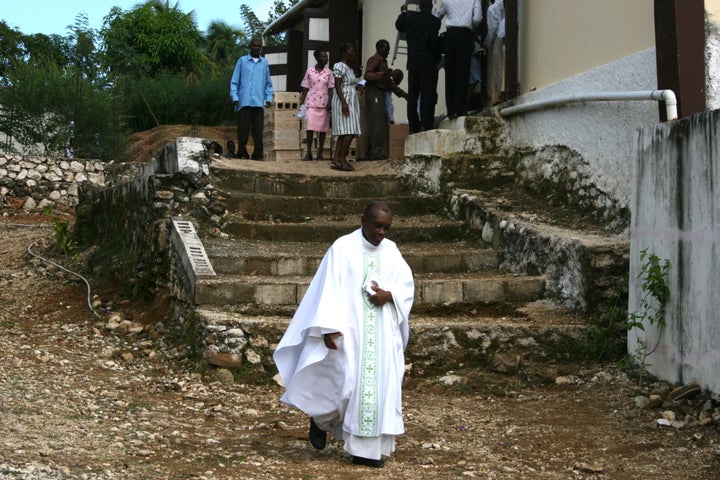 But there are many times that faith has been tested, like in 2010 earthquake which destroyed nearly 25 years of his life's work.
"He is a lonely man in a lot of ways because he carries all this stuff on his own shoulders," says his colleague, Anne Hastings, in the film. "[But] I don't think he feels loneliness in the same way that you or I do because he feels that he's very much in the hands of a God that loves him. I don't think a lot of people have that kind of faith." 
Kaufman said he hopes the film will inspire people to get involved in Father Joseph's work and donate to Raising Haiti, a grassroots initiative working to lift the people of Fondwa out of poverty.
Proceeds from the film will go toward supporting Father Joseph's work, Ross added.
"He's the perfect example of faith in action," Kaufman said. "He believes there are many paths to spiritual fulfillment, so he's the most inclusive Catholic priest you can imagine. All of that with a hilarious sense of humor."
Watch the film's trailer above.
Calling all HuffPost superfans!
Sign up for membership to become a founding member and help shape HuffPost's next chapter
BEFORE YOU GO
PHOTO GALLERY
Pope Francis On Poverty, Peace And The Planet