A Colorado man has been arrested for the death of his 13-year-old son, close to five years after the teen went missing during a court-ordered visit with his father.
Mark Redwine was arrested in Bellingham, Washington, on Saturday and is being held there on a $1 million cash-only bond pending extradition. He faces charges of second-degree murder and child abuse resulting in the death of Dylan Redwine, the La Plata County sheriff's office in Colorado announced.
A grand jury indicted Redwine, a truck driver, on the charges after it reviewed evidence presented by a district attorney on Saturday. He was arrested as he drove a truck route through  Washington, according toDenver's CBS4 News.
He has denied any involvement in his son's death and joined Dylan's mother on the "Dr. Phil" show in February of 2013, where they publicly quarreled over the teen's disappearance. The boy's remains had not yet been discovered then.
Dylan's mother, Elaine Hall, called her ex-husband's arrest "bittersweet" in an interview with CBS4 News.
"It's like, it's about time but at the same time we know how difficult of a case like this is to prosecute and to come up with all the evidence and make sure that it sticks," she said.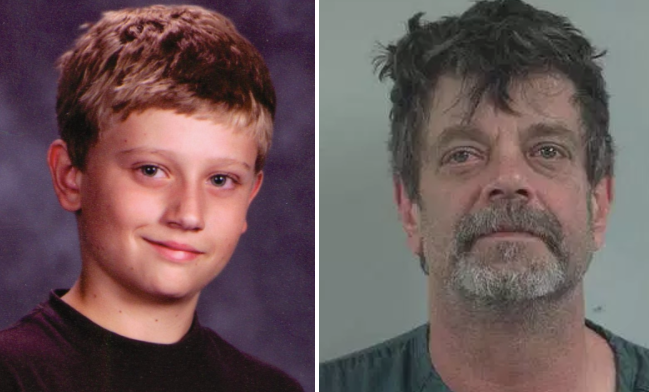 The teen, who lived with his mother on the other side of the Rocky Mountains in Colorado Springs amid a custody battle, had said he did not want to visit father, according to the murder indictment. He discussed staying at a nearby friend's home instead, and then made plans to visit friends the day after his arrival, according to the indictment.
Mark Redwine told authorities that he left his son at home to run errands around 7:30 a.m. the morning after the teen's arrival. When he returned about four hours later, he said his son was gone.
It wasn't until June of 2013 that portions of the boy's remains were found in woods about eight miles from Mark Redwine's home. The teen's skull, which forensics anthropologists said had injuries consistent to blunt force trauma, was found about 1.5 miles from the first recovery site, authorities said.
An investigation at Redwine's home allegedly found the teen's blood in multiple locations in his father's living room. A human remains detection dog, which searched the home in August of 2013, also detected the presence of a cadaver scent in various parts of the home, including the living room, washing machine and the clothing that Mark Redwine said he had worn on the night of his son's arrival. A similar search in February of 2014 detected the same scent in Mark Redwine's truck, according to charging documents.
Mark Redwine, who had joined in the search for his son, had been named a person of interested in the case two years ago.
REAL LIFE. REAL NEWS. REAL VOICES.
Help us tell more of the stories that matter from voices that too often remain unheard.
BEFORE YOU GO