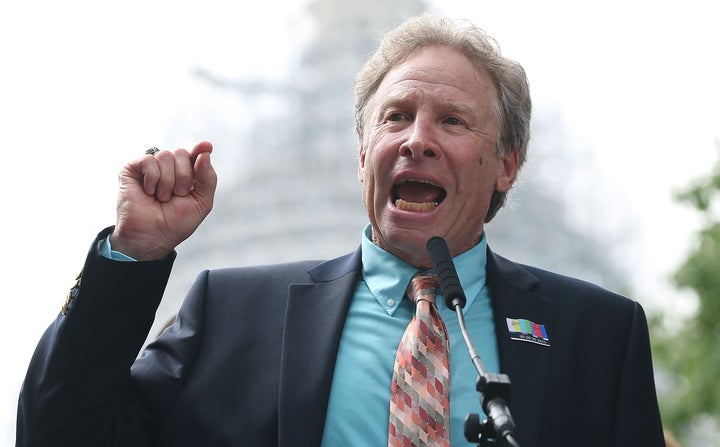 WASHINGTON ― Andy Parker, whose daughter Alison was shot and killed on live television two weeks ago, tore into Rep. Bob Goodlatte (R-Va.) on Thursday for doing nothing to help stem gun violence despite being in a unique position to take action.
Alison Parker was a 24-year-old reporter for WDBJ-TV in Roanoke, Va. On Aug. 26, she was taping a live segment when she was attacked by a gunman who killed her and her cameraman, Adam Ward. Goodlatte represents Roanoke and is the chairman of the House Judiciary Committee, which means he has the authority to advance legislation expanding background checks on gun sales ― an issue with overwhelming public support but little attention in Congress.
"He's the congressman that was there when Virginia Tech [shootings] happened, and now this, and he refuses to even bring up background checks. And he's the guy that can do it," Parker told HuffPost at a gun control rally outside the U.S. Capitol. 
He said a Goodlatte staffer called him Wednesday about meeting with the congressman on Thursday morning ― at the same time as the rally. Parker said he thought the timing was intentional and he took it as "a token gesture" because he suspects Goodlatte does not want to see him.
"I would like to think it was just a dumb mistake, but I have to think that it was probably politically motivated," he said. He warned that if Goodlatte doesn't do something to try to combat gun violence, there may be trouble in his next election.
"Rep. Goodlatte, I am waiting for your call," Parker said. "But sir, I'd like to tell you in advance: If you won't support background checks, we'll find someone else who will."
They won't have to wait long to speak. A Goodlatte spokeswoman told HuffPost the two are scheduled for a Friday meeting.
"Mr. Parker is right ― gun violence is an emotional and heartrending issue, one with many root causes, and one that by working together in a constructive manner we can help to further reduce," Goodlatte said in a statement. "I look forward to speaking again tomorrow with Mr. Parker and looking for additional ways to reduce gun violence, while also protecting the rights of law abiding citizens."
Gun violence in the U.S. has become so commonplace that mass shootings are starting to blur together. This year, there were nine people killed in a black church in Charleston, S.C.; seven people shot in a club in Louisville, Ky.; five people killed at a military installation in Chattanooga, Tenn.; and 12 people shot by a gunman who opened fire in a movie theater in Lafayette, La.
In all, there have been 236 mass shootings and 9,049 gun-related deaths so far this year, according to Gun Violence Archive , a nonprofit that provides up-to-date data on gun violence.
Goodlatte still doesn't seem on board with passing new gun safety legislation. "[A]s I have previously pointed out to the Administration, many of our nation's gun laws are not enforced," reads the rest of his statement. "The Obama Administration should take immediate steps to fully enforce the gun laws already on the books."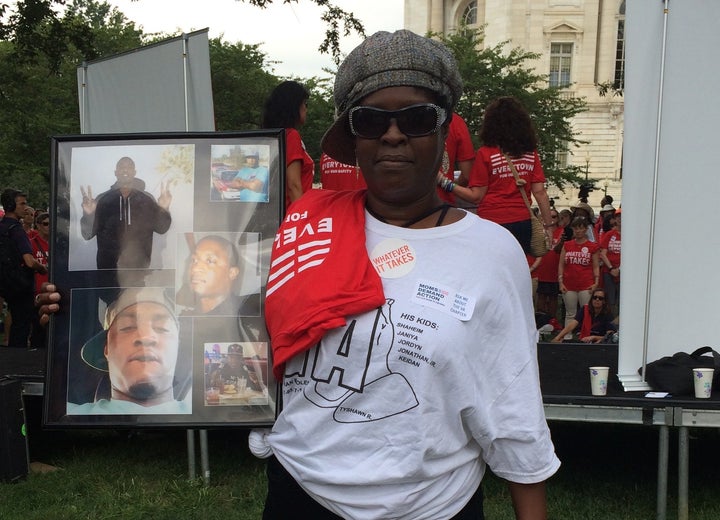 There were hundreds of people at Thursday's rally, many in red T-shirts with the words "Whatever It Takes" and "Moms Demand Action." Some held up photos of sons or siblings they lost to gun violence. Others stood together in the grass and cried as people took turns speaking at a microphone about someone they loved being killed. Virginia Democratic Sens. Tim Kaine and Mark Warner spoke, as did Virginia Gov. Terry McAuliffe.
Kaine choked up as he praised family members of people killed by gun violence for not letting their pain translate to hopelessness.
"You are refusing to let grief turn into despair ... when you're saying, just like Andy has, 'Yeah this might be the most painful thing I'm going to experience in my entire life, but I'm going to find a way to … '" Kaine said, pausing as his eyes teared up, "'... to take something really bad and maybe just turn it into something a little bit better for somebody else.'"
Margaret Eaddy of Hampton, Va., stood to the side of the rally holding up photos of her son Jonathan, who was killed in May 2014. She said he was shot in the head by a convicted felon who bought a gun at a gun show, where background checks aren't required, and who had previously killed three people. The man is currently on trial.
"I just don't understand, what is it so hard for them to do? Just put some ink on a piece of paper. Is money more important than our lives? That's what it's looking like. I just don't understand anymore," Eaddy said with tears streaming down her cheeks.
"You know, I had all confidence in America and Congress. I've always been a law-abiding citizen. Now that I'm looking at the way this is happening, it's making me lose faith," she added. "I'm just getting really, really aggravated. Just tired. And weary. And hopeless. When is somebody going to do something? When is it going to be enough?"
Calling all HuffPost superfans!
Sign up for membership to become a founding member and help shape HuffPost's next chapter
BEFORE YOU GO
PHOTO GALLERY
Pivotal Moments In The U.S. Gun Control Debate