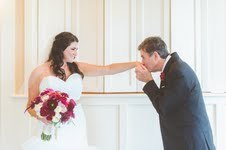 Photo courtesy Paper Antler http://paperantler.com/paper_antler/home.html
(NOTE: That's me kissing the hand of my darling daughter Summer at her wedding this past Saturday. My wife and I played host to more than 160 family and friends, gave toasts, and watched our daughter become Brandon Strand's life partner. I didn't cry at the wedding -- I was just too happy for Summer and Brandon -- but the tears came 36 hours later when I wrote the words I'm including below).
Now that it's over, and the last glass has been raised, the final hugs exchanged, and the closing "I love you" delivered, this father-of-the-bride wishes it hadn't all gone so fast, wants to freeze any one of those special moments in time and hold on to it, savor it, bask in it, if only for a few precious seconds.
And it is not just the moments of my daughter's memorable wedding weekend that I want to hold onto, but of her life with me, as her daddy, with my name part of hers, both of my hands in hers, my arms around her.
My daughter Summer and I have had a very, very special and deep bond, and while I and my heart know that will never, ever change, she does have a bigger love in her life, a man in Brandon Strand whom she treasures and loves so deeply, one who has given his vow, pledged his love, and offered her his name.
One who will become, in time, a daddy to his own little girl like I've been to mine.
And as I think about that, both reflect on it and live in it, I realize it's another of those cycles of time, one of those rhythms of nature like the tides and the seasons, that I didn't know existed until I'd lived it. It's the understanding that men like me only really grow up when we become fathers and only begin to know more about life's cadences when we watch our little girls leave us for a greater love. Our hearts ache a little bit more, our eyes get misty, and our arms are a little less full.