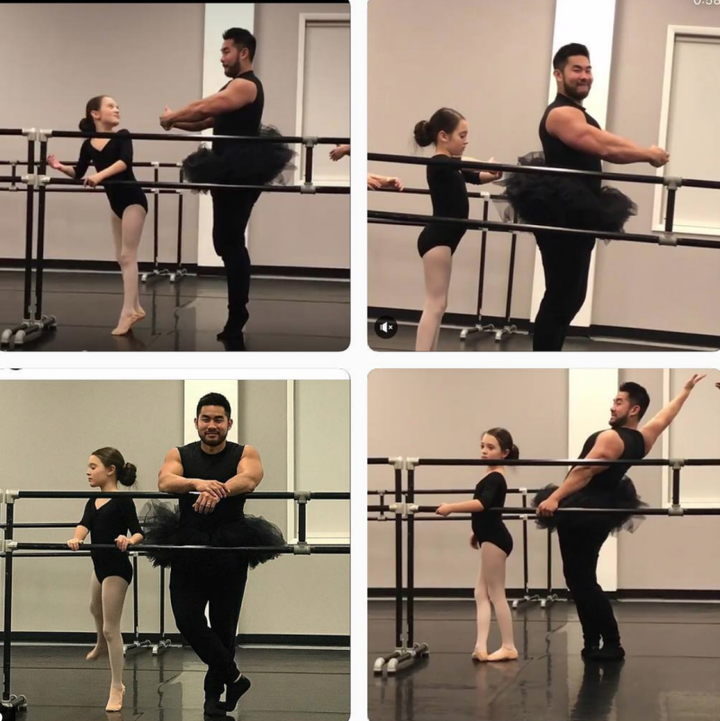 A father who attended ballet night at his daughter's school put his heart and soul into the evening by wearing tights, a leotard, and a tutu.
On Tuesday, Thanh Tran, a father from Knoxville, Tenn., posted an Instagram photo of the moment, which featured him wearing a proper ballerina's uniform while performing a pirouette alongside his daughter. "Dad life 101, you participate in every parent night no matter what it is," Tran captioned the post. "Even if it calls for tutu for ballet night. But the look back smile from her made it all worth it. Not gonna lie, my calves and toes were cramping up."
Tran and his wife did not return Yahoo Lifestyle's request for comment. But Instagram commenters wrote that the dad was "amazing" and commended him for doing a "good job for stepping up."
No doubt Tran has smooth moves, but he has competition from a slew of dancing dads who have seemingly taken over the internet.
In October, 19-year-old Branaye Kirk from Nashville, shared a YouTube video of herself, her father, and her sisters, busting a move at a high school football game. Led by their dad (who has serious rhythm), the sisters erupt into dance, triggering cheers from the packed stadium.
Ray Mason of Texas tore up the floor at his 12-year-old daughter's school dance back in March, drawing a crowd for his robotic moves. Mason told the HuffPost that very few parents were dancing, saying, "Me and my daughter danced to every song. I was glad to be there for her."
In 2016, a South Carolina father named Josh Rinder and his 6-year-old daughter Audrey's dance-off to Justin Timberlake's "Can't Stop the Feeling" went viral, earning a Twitter shout-out from the musician himself.
Read more from Yahoo Lifestyle:
Popular in the Community